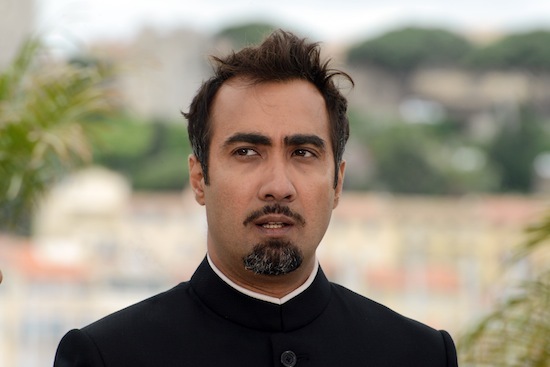 In my love of world cinema, I've gone through phases. At first it was films from Iran, then Bollywood movies took me in their healing arms right after 9/11, and when my demons had finally been expulsed, I started enjoying what at the time were called "art films" from India. But around 2010, even this kind of deeper, more cross-culturally enjoyable form of Hindi cinema seemed to be taking a turn for the absurd, there was little-to-no distribution for anything other than Bollywood mainstream, and so I moved on to independent cinema from the MENA region.
Yet, I could never really forget my first love, those films like Rajat Kapoor's Mixed Doubles, Anurag Kashyap's No Smoking and Sagar Ballary's Bheja Fry. By coincidence -- or perhaps not -- they all seemed to share one actor in common, the crowned prince of what is now thankfully called "alternative" Indian cinema: Ranvir Shorey. His dark turn as Abbas Tyrewala in No Smoking, his indecisive, sexually-curious typical male in Mixed Doubles, those were characters that stayed with me, long after the films ended, and through years to come.
So I was absolutely thrilled to get to meet Ranvir Shorey in Cannes, where he has been celebrated as he truly deserves, one of the stars of Kanu Behl's stunning study of humanity Titli which screened in the 'Un Certain Regard' section of the festival. The film is a beautiful example of just how great and universally appealing Indian cinema can be, when given a chance by major producers (Yash Raj Films co-produced it, along with Dibakar Banerjee Productions).
Sitting across from Shorey, inside the Grey Goose Lounge right on the Croisette while noisy luxury cars zoomed in the background, proved the highlight of my festival. As charismatic as his characters have been on-screen, that is Shorey in person. But the man I interviewed, coming straight off his premiere, and the standing ovation the film got in the Salle Debussy, and dressed in tailored Indian fineries, was also insightful, kind, funny, intelligent and humble.
This is an alternative film, but also representing India in Cannes. How do you feel about a film like Titli, and will newly elected Narendra Modi be really unhappy about it?
Ranvir Shorey: I think it's an alternative film in India, but here at Cannes, it shares the grammar of world cinema, as we call it. And that's something that was always the plan. It was not one of the films that I do to make money because I know it's going to do well at the box office. Why I chose to do this film was because the material was very close to me and second, it was a good film. It wasn't about the box office. It was about making a film. And it explores family values which are far more real than say Mr. Modi would believe the Indian family to be. It shows the darker side than what we normally celebrate in films, which are slightly more rose-tinted about the Indian family.
But a reality for a large majority in India?
Shorey: Yes, it is. Titli explores patriarchy, it explores the passing down of the affliction, generation to generation, sibling to sibling. And it's dark, it's upsetting.
And redeeming.
Shorey: Yes (chuckles, softly), I guess every generation gets a change to redeem themselves, not necessarily inherent to what they can spot as a problem. But a lot of times it's the sheer momentum of the system, it makes it impossible.
What attracted you to this role?
Shorey: One, it was an excellent script. I'm not fortunate enough to get such good scripts very often. I messaged Kanu and told him how I loved it, and that I was willing to do it. And then we had these discussions because I found the material dangerously close to my own life. I've lived in a house which has a father and three brothers, except I'm the youngest. Of course, we're not carjacking, as a family! But there were some similarities. And I've been through some of the passing on of the violence, which travels in a family. That was the main reason that attracted me to the film, I really wanted to see this made.
Was it difficult for you to go into that part of the role?
Shorey: No, because my empathy, like the director's and the audience, lies with Titli, the third brother. But I knew what the bigger brothers are about. How even when they seem to be the antagonists, they are not. They themselves inherited it from somewhere. So I knew that. It was accessible to me. It made understanding it easier. As for the nuts and bolts of it, we did a lot of workshops, Kanu briefed us a lot about how he wrote it. The macro picture of this dystopian world, these poor people aspiring to get out of poverty and trying to make a life for themselves. So the brother references were filled in for me, but the character itself was quite accessible to me.
As an actor I imagine you don't always have the luxury to choose your roles under a microscope, but do you try to choose characters which will have an impact?
Shorey: Always!
Do you think cinema can change someone's mindset?
Shorey: I don't know about change, about positive change, but I do consciously look out for characters which will stay with people.
I think you've successfully done that!
Shorey: Thank you, I've tried. I've been lucky enough to get some good scripts and some good filmmakers, but most of the time I'm just trying to make ends meet and get work.
You have changed the way that I look at Indian cinema.
Shorey: You haven't seen my "turkeys", that's why you're saying that. Fortunately, there haven't been many and now I've started doing some TV in India, so the turkeys will be even less. Frankly, my brush with absolute mainstream didn't settle well with me. I have now made a conscious decision to stay with films that have an alternative streak. Try not to be the sell-out.
The "B" word?
Shorey: I think people outside of India see Bollywood as some kind of freak show. I'm talking about the audience in general. How do I put it? How Hollywood films or alternative films from the west, how they're received in India. They're not seen as freaks, they're seen as good films. Even X-Men, which is actually the Hollywood version of Bollywood. They don't see them as "Oh, what are these guys doing?!" They're engrossed, they're engaged... I don't think Bollywood to the layman, to the common man outside of India has that quality.
When I go to India I'm "the Other", when you go to Cannes you're "the Other", how do you deal with that?
Shorey: It's such an external thing. The more I travel, the more people I meet in all the world, the more I feel we're just the same. And it's just that sometimes we get caught up in the externals a lot, I guess because they exist. Language, cultural differences, some people eat with hands, some people eat with chopsticks, some people eat with forks and knives, unfortunately, call it the animalistic nature of mankind, people still have to worry about these differences. But if you start scratching under the surface, nowadays, the more I travel, I feel cities are the same. There may be cities with better infrastructure, or different kinds of weather, maybe, but it's the same.
What do you think of your experience in Cannes?
Shorey: I've been living "la Vida Loca". I'm like a kid in a candy store. I'm really happy. It's my first time. I'd seen pictures, I had heard people talk, it's beyond my expectations. This is huge, I've never seen such a carnival -- a celebration of cinema. And for where I come from, I already feel pretty small within Bollywood, but when you come here and see how small Bollywood and the Indian film industry is it kind of puts you in your place, how much there is to this world.
Would you produce, direct?
Shorey: I don't have a production bone in my body. But I've been contemplating writing, I've been doing this for almost twenty years and I find that remains our biggest challenge. The problem I find about this whole Bollywood and art cinema and alternative, all these definitions, I find the problem is the material. We need to work more on material.
What projects are you working on right now?
Shorey: I've started some TV work, I just finished Celebrity Fear Factor, and the same channel wants me to host their version of Dancing with the Stars. So I'm going to be hosting after almost ten years. I find that if I have financial independence away from films, I'm able to choose better. If I don't depend on mainstream films for making money, I'm able to choose better films.
Describe yourself to others.
Shorey: That's a tough one. Fun-loving, I guess, what else...
Intense?
Shorey: Intense? No! I don't think I'm intense. Intensely fun-loving!
What would be your ideal project, one film to end all films? Or maybe it's not a film...
Shorey: I'm pretty sure it would be a film. Because that's really where my heart lies. And I definitely haven't read it yet. I may direct it... Not sure I'd write it. I'd set it in the future.
Your favorite place on earth?
Shorey: Home.
What's your ideal day?
Shorey: One where I can balance work and family and friends.
What's success to Ranvir Shorey?
Shorey: Not having to work for money. But that doesn't mean not working.
If you hadn't been an actor what would you have been?
Shorey: An assistant director because that's where I started off. I always say my approach to acting is I'm the assistant director in charge of this character. I'm there to please the director with this part.
If tomorrow you became the Hindi cinema equivalent of Tom Cruise, what would you do?
Shorey: I'd wake up.
Who is the real Ranvir Shorey?
Shorey: The one sitting with you now, amazed that somebody has bothered to follow my career.
Top image by Jean-Christophe Amusan RETIX-AGENCY, courtesy of Yash Raj Films, used with permission