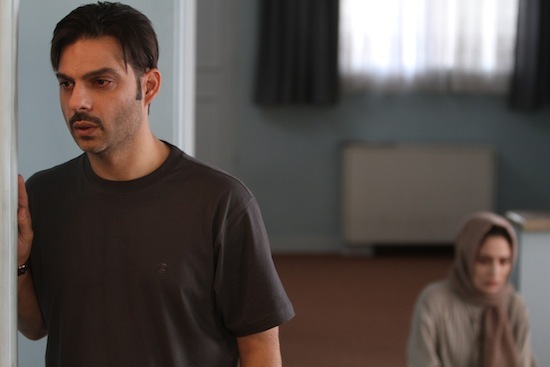 While most girls dream of interviewing George Clooney, I have always wanted to sit across from actor Payman Maadi, from the Oscar-winning Iranian film A Separation. Maadi to me represents the very best of the acting profession, a mixture of sultry sex appeal and an attractive lack of self-consciousness. His portrayal of two men, Amir and Hamed in Melbourne and Tales (Ghesseha) respectively, at this year's Venice Film Festival prove his undeniable talent, across borders, languages and nationalities.
This year, in Venice, my wish came true. But more on the incredible interview with Payman Maadi to come. Lets just say that a man who chooses the three words to describe himself to be "hard-working, family and peace" cannot be disappointing as an interview subject.
Coming into Venice is always refreshing. While Cannes is hectic and crowded, even the arrival into Marco Polo International Airport is a way to decompress, leave one's troubles behind. The vaporetto boat ride to the Lido, where the festival is held, is slow, undulating and filled with the color of sky and sea. With a few seagulls and Moresque architecture thrown in.
On the Lido, I hit the ground running. Rushed over to the "Cinema Village," where most of the screenings, conferences and interviews are held, to collect my credentials. It's lovely to see the familiar faces, the welcoming smiles of the Venetians, who definitely have a way with people. I shared an elevator with La Biennale President Paolo Baratta, who insisted I walk ahead of him, even though he was on his way to get changed for the evening. Distinguish doesn't even begin to describe him.
While waiting for some contacts at the Hotel Excelsior, where most of the celebrities stay while in Venice, I noticed Palestinian filmmaker Elia Suleiman in his signature hat and glasses. Think running into Scorsese for an American film enthusiast. I'm still looking forward to seeing Tim Roth on the streets of the Lido, he's on the Venice 71 jury along with Suleiman.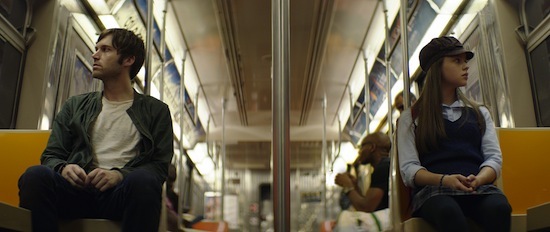 A visit to Venice cannot officially start until a stop at the Villa degli Autori, the Venice Days house where great films and sparkling conversations are always at hand. I got to sit down with the Before I Disappear crew, filmmaker Shawn Christensen and actors Paul Wesley and Fatima Ptacek. The story of a tragic hero who finds his saving grace through his niece, the film was clearly the product of some great collaborations between the director/writer/actor Christensen and his stars. Again, more on those interviews in the days ahead.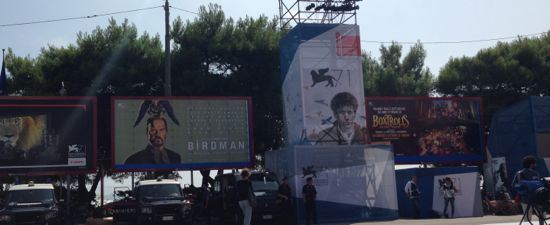 In the evening, it was time for a film, of course! And the film to watch had to be Alejandro G. Iñárritu's Birdman: The Unexpected Virtue of Ignorance, starring Michael Keaton, Edward Norton and Emma Stone. Birdman is loud, chaotic, strong, real, unbelievable and strange. And my favorite part, it's a great critique of critics, who, in the words of Keaton's character "never risk anything." The little hairs on my arms stood straight, it's so beautifully true. And that's the reason I detest when someone calls something I write a "review". Never, since an artist risks, compromises, creates and makes himself/herself vulnerable through their art. I would never dream of criticizing that.
This morning, I got to interview Payman Maadi and his Melbourne director Nima Javidi. Their film, which opened the Critics' Week sidebar in Venice, is one that asks of each spectator "what would you do, if?" and my answer turned out to be quite similar to the outcome of the story. That a filmmaker hardly 35 years old can make a film which understands not only human nature to the core, but also the fears of all mothers and the psyche of most people, is incredible. And he turned out to be just as insightful in person.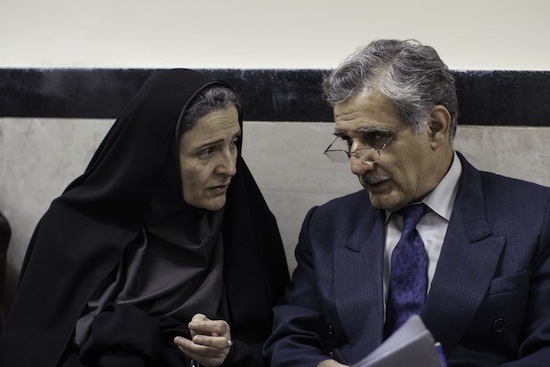 Tales (Ghesseha) by Rakhshan Banietemad, in the main Competition, is also a film that left me thinking. Again, it was Maadi's performance as Hamed that touched me deepest, in the final story of the film. Banietemad revisits a few characters she's already incorporated in past films and adds in new ones, like Hamed, to bring the stories full circle. Because of screening license issues, the filmmaker decided to take an eight-year hiatus from the movies, making only documentaries and not narrative features since 2006. But Tales reunites acting legends and new stars, to create an ensemble piece of short stories weaved together -- one that left me profoundly affected.
All images courtesy of the Venice Film Festival, Critics' Week and Venice Days, used with permission.