HONOLULU (June 3, 2014) -- In a series of 15 workshops held recently around both urban and rural areas of Myanmar, more than 560 participants from diverse sectors including government, business, civil society, education, religious groups, media and the arts came together to identify drivers of change that they believe will shape the rapidly transforming country through the year 2025.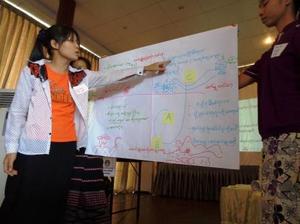 The 2014 version of the annual Myanmar Futures Exchange workshops, an initiative of the Honolulu-based East-West Center, involved a process of what the organizers term "civic creativity," bringing people from different backgrounds, ages and walks of life together to engage in scenario-building activities and learn empowerment tools to help turn their preferred futures for the country into reality.
"What we wanted to do is get people talking about what the future might be like, and that's really a brand-new conversation in Myanmar," said Scott MacLeod, director of leadership programs at the East-West Center. "And then also to get people to plan, to come up with a structure of what the future might hold."

In scenario-building workshops held in Yangon, Shan State, Mandalay Division, Kayin State and Mon State, the participants, or "civic creatives," identified 10 key drivers of change that a final invitational symposium then distilled into three focus areas that the group as a whole saw as being both most important and most actionable: 1) access to quality education, 2) responsive governance, and 3) financial system reform.
"There was a palpable sense of hope for the future in the room because the young entrepreneurs, social activists, government officials, professionals, teachers and students who became an integral part of MFE 2014 were not afraid to face the challenges, and while doing so saw the opportunities within them," blogged Lindsea Wilbur, a research affiliate with the Institute for the Future. "There was a recognition of the steady flow of time which unites us as a species - and those moments in history when we are called upon to act."
There were also some revelations about how different groups envision the future, with distinctly different perceptions of the process of change based on location and generation. In general, participants in more rural areas did not see the current developments as holding the level of fundamental change as did participants in major urban centers such as Yangon or Mandalay. In addition, younger participants tended to see both more continuity and more opportunities in the years ahead than older participants, who tended to see radical changes and challenges.
However, across all groups of participants, there was a notable desire to see top-down changes in the mindset of government, industry and other sectors to validate and provide space for the activities of individual 'civic creatives.'
Participants were also encouraged to discuss so-called 'black elephants,' which MacLeod described as "the things everybody knows will shape the future of Myanmar, but nobody wants to talk about," such as the country's eventual political future beyond the life of Aung San Suu Kyi, ongoing ethnic conflicts, strong intergenerational differences and a lack of substantive change outside of main urban centers.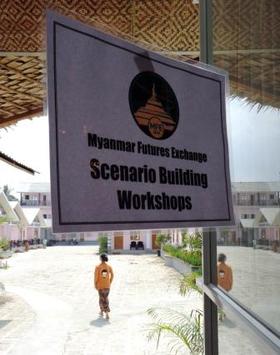 But just as valuable as the symposium outcome, the organizers said, is the applied learning and capacity-building built into the Futures Exchange dialogue process itself, and challenging the participants to put that experience into action.
"The challenge with all this is that sometimes we look too far in the future, so at the end of the process what we really needed to do was bring people back down to earth and say, actually, 'what are you going to do this week?" said MacLeod. "You need to know what the vision is and where you're going, but what can you do right now to effect some small change in that direction?"
The Myanmar Futures Exchange was developed by the East-West Center in conjunction with Myanmar-based partners including the Union of Myanmar Ministry of National Planning and Economic Development, United States Embassy, Pyoe Pin, British Council, Myanmar Business Coalition on AIDS, Myanmar Business Executives Association, Socio-lite Foundation, Myanmar Egress, Proximity Designs, and Mango Media. Additional research support was provided by the Hawai'i Research Center for Futures Studies.
Activities for the 2015 MFE are already in the preliminary stages, including planning for a series of ministry-level workshops in the national capital, Nay Pyi Daw.