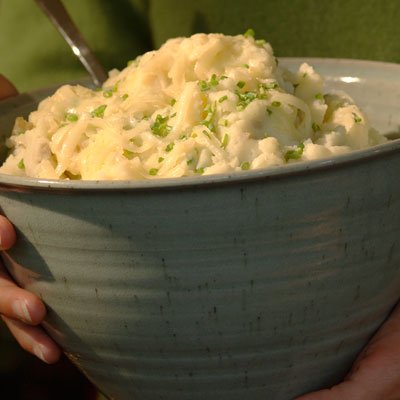 My grandmother used to make the most amazing smooth-as-silk mashed potatoes that were never gummy, lumpy or dry. What was her secret? Tons of butter and whole milk.
Related Recipes: Delicious Mashed Potato Recipes
I would love to follow in her footsteps and make her recipe as is, but I would have to spend the next month on the treadmill working those potatoes off.
Related Recipes: Easy Low-Fat Potato Recipes
21 Skinny Potato Recipes
So this year for Thanksgiving I've decided to forgo my grandmother's version of classic, fluffy mashed potatoes, my favorite Turkey Day side dish, and look into healthier ways to get the same result. We've tested and developed many mashed potato recipes in the EatingWell Test Kitchen, discovering a few tips to getting the classic fluffy result without the aid of tons of butter and full-fat milk.
Related Recipes: Layered Mashed Potato & Mushroom Casserole & More Thanksgiving Casseroles
Meringue-Topped Sweet Potato Casserole and More Easy Thanksgiving Side Dishes
PHOTO GALLERY
5 Tips For Mashed Potatoes
What is your favorite way to make mashed potatoes?
By Hilary Meyer

Hilary Meyer is assistant editor for EatingWell Media Group. Hilary spends much of her time in the EatingWell Test Kitchen, testing and developing healthy recipes. She is a graduate of New England Culinary Institute. More from EatingWell: