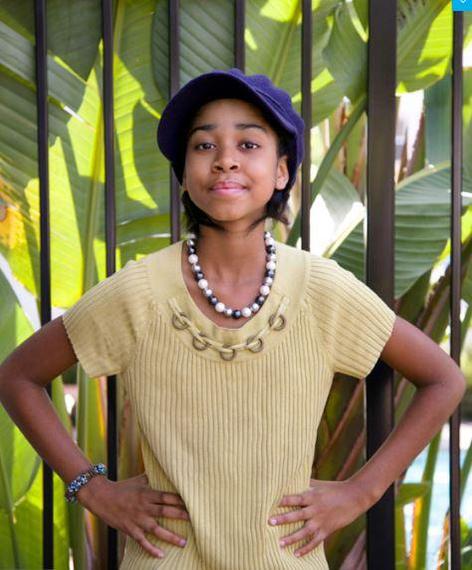 I first heard about Zuriel in November 2013, and I was so impressed and inspired by her work and talent that I promised myself that I was going to spend the rest of my life tracking her down for a stroll. After 10 months of online-stalking and praying, by the grace of God, I have finally secured a stroll with this incredible young lady. (round of applause please ☺)
Why I'm I crazy about this girl? Well, that's because, at 12, this documentary film maker has interviewed 14 presidents and prime ministers, and many other social figures like the Williams sisters and the richest black man on earth, Aliko Dangote. She's also the founder of ''Speak up. Dream up. Stand up'', a campaign she started to advocate for the education of the girl child.
True to her name which means, God is my rock/foundation in Hebrew, Zuriel solidly combines her childhood with flying around the world, making documentaries and high profile interviews, as well as, inspiring kids on the African continent to keep dreaming and reaching for the stars. In course of our stroll, we talked about her experience at the Brazil 2014 world cup, her dreams, International Literacy Day, and so much more. Here my stroll with Zuriel Oduwole;
Ebenezar: It's a pleasure having you on the stroll, Zuriel.
Zuriel: Thank you, Ebenezar.
Ebenezar: You've been up to so much lately. how have you been? and what was your experience at the World cup?
Zuriel: For me, at 11 years old, going to Brazil was just incredible, but going during the World cup was an even more amazing experience. All the people i met, all those who supported my #FollowTheBallForEducation project, and seeing many Nigerians there was all just so cool. I loved it and enjoyed it very very much too
Ebenezar: That's so cool, glad you enjoyed it. So, today is International Literacy day on the UN list of observances, and the UN says illiteracy is predominant in developing countries. As an advocate for education, what do you think is the main cause of this ugly trend?

Zuriel: I don't have many answers but in the little I know, I've tried to find out why children, especially girls, are not as educated in Africa and other developing countries and one thing I noticed is culture. More value is placed on boys than girls, and there's this belief that the girl's name would change when she gets married, so there is no need to give them resources that are already little.
Other reasons are, the governments have little resources, or don't see the need to invest in education because, it wont have results till maybe 10 years or 20 years later. Most governments feel they have other problems that are ''more urgent'' and so they give priorities to these pressing problems. That's what i think. I may be wrong, but I'm still learning.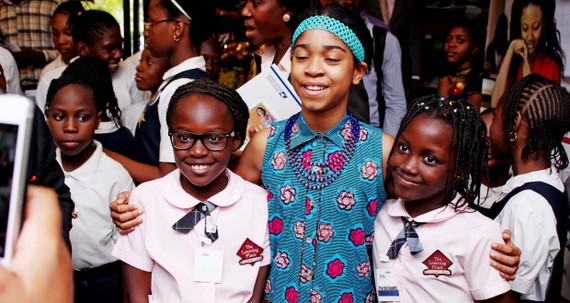 Ebenezar: You know what? I totally agree with you on that one, and it's just sad, but is this what inspired you to start the "Dream up. Speak up. Stand up" campaign?
Zuriel: In some ways, yes. In other ways, I saw young girls selling things on the streets with huge pans on their heads, and sometimes chasing cars on the street to try and sell one small item, and there were more girls than boys doing this. That's what I had the idea to tell the girls to stay in school and get an education so they can accomplish more things and maybe help their parents better.
Then again, I saw there were many other reasons why they were on the streets, like poverty, because sometimes their parents cant afford to send them to school. So I talk to parents too, and also to government leaders to make policies that would help out.
Ebenezar: Okay, so how far have you gone with this campaign and what are some challenges you've faced on this campaign so far?
Zuriel: I started the campaign in March 2013 in Lagos, Nigeria, at the Lagos Business School's Victoria island campus, and so far, I have launched the project in five African countries. they are Nigeria, Malawi, Mauritius, Ethiopia and Tanzania...
Ebenezar: Wow, that's really awesome...
Zuriel: Yeah, thanks. I hope to do more later this year when I have some time. Some challenges I think would be, simple things like making contact with the schools because, not all of them respond to e-mails quickly. We also have to wait to plan when the time will be right to visit, and sometimes, that time may not work well for that country...
Zuriel: Yeah, that could be very sad, but when the program eventually starts, it is always fun. The kids always love it, and always ask me to come back to their schools again. So far, I have spoken to more than 3,000 girls about the need to stay in school.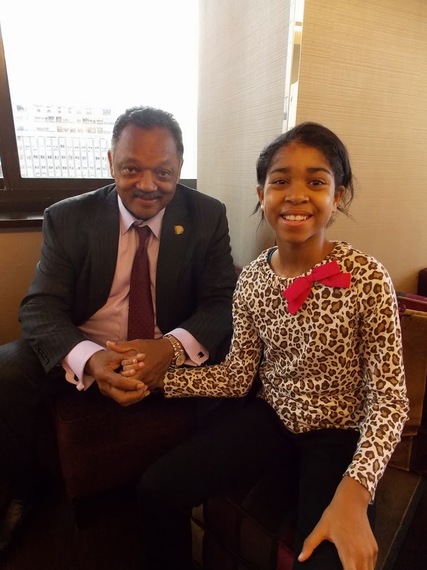 Ebenezar: Impressive, really impressive. Well done. One other way you've been spreading your campaign is by personally speaking with presidents, prime ministers, and the likes, around the world. now, I've seen you interview these dignitaries, and you are so confident and composed despite how young you are, how do you do that? it's just mind blowing!!
Zuriel: Its just by the grace of God I can do these things.
Ebenezar: Awww, that's cute.
Zuriel: My first interview was when I was 9 years old when i went to interview former president of Ghana, Jerry Rawlings, for my documentary on the Ghana revolution. I was so nervous, but wanted to do it. In the end, I enjoyed it so much and when I also saw myself on tape, when I was making the documentary, I thought to myself that I would like to do more of these interviews because of the answers I got form the presidents. So far, I have interviewed 14 presidents and prime ministers, and I may do some later this year.
Ebenezar: It's just mind blowing how you do these stuffs, and you also said you want to retire at 19 and become president of America? How do you intend to achieve this dear? or is this just a childhood dream?

Zuriel: I don't know what a childhood dream is, but I know the importance of dreams. As i tell students and parents when I speak to them, a dream is the first step in any major journey, and if its big enough, it might affect the lives of very many people. So I have dreams also, and i hope they affect the lives of many people, especially children.
I didn't plan to interview and meet 14 presidents and prime ministers, but it happened, and it started with a dream of making a documentary on the Ghana revolution. I sayI want to retire form interviewing high profile leaders, but I would still be encouraging children, especially girls, to stay in school and get an education. Do you know that anyone can be president in the United States?
Zuriel: Yeah, consider President Obama. He was a single parent's child, and look at him today. How cool is that? And I have two parents, so I have a greater chance. Also by the time he was 11, he had not even met one president, and I have met 14 already! I would dream on, Ebenezar.
Ebenezar: (hahah) You've just made a great point you know? Cool. I wish you all the best in seeing that dream come true. Again, I'm bothered about how you balance your school work with campaigning, and making documentaries? I feel like it's a lot of work for a 11-year-old.
Zuriel: It was new when I was 9, but i have learned a lot since then. I am home schooled so it gives me a lot of flexibility and more time to do these things. I am like most of my friends in my neighborhood. We play, ride our bikes, hang out, and I also play basketball in a league in my town. I also do chores at home, and I play at church with my friends also. The only difference is I interview leaders so they can make a difference, and I can show the world a different and positive Africa.
Ebenezar: Do you ever feel overwhelmed by the load of everything you have to do?
Zuriel: Actually, No. I could be watching TV, or movies, or playing Xbox all the time, or i can do it a little, and then other things, like my projects, and I like my projects a lot. Girls write to me at times to say how cool it is that I am doing this, and they ask how can they help. It's so nice to read from them, and above all, I like what I do.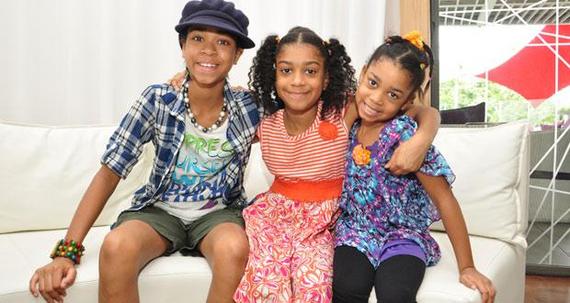 Ebenezar: That's really nice. One reservation people often have about young talented people, like you, is the fact that they can get so engrossed in their work and miss out on their childhood. And we know a number of child stars who later grew up having problems as adults because of this situation. so my question is, do you ever get to play with dolls, cook fake soups, and do other girl-stuffs? At least with Azaliah and Arielle your sisters.
Zuriel: I don't like dolls that much, but I play all the time with my two sisters, three girl cousins and friends in my community. I like when my sisters and I pretend and do movies and we act different parts, and sometimes my cousins join in too. i am not a child star, or i don't see myself as one. I had a school project and i did it, and people liked it. I also enjoy making new documentaries, and that's simply me.
Ebenezar: Seriously, I've had so much fun on this stroll that I don't want to let you go, but I have to. So before we go, what's your advice to girls who have dreams but are not allowed to pursue those dreams due to the society they find themselves in, or some other factors?
Zuriel: First, it is very sad this happens. they should not give up, and as long as they believe in their dreams, they would one day see where it takes them. Dreaming is a very cool thing to do because, it can also take you away from a bad situation and so, I encourage them to keep dreaming. I dream too, and I am already living some of my dreams.
Ebenezar: Thank you so much, Zuriel, for taking this Stroll with me.
Zuriel: Thank you for having me, Ebenezar. It was nice talking with you.
________________________________________