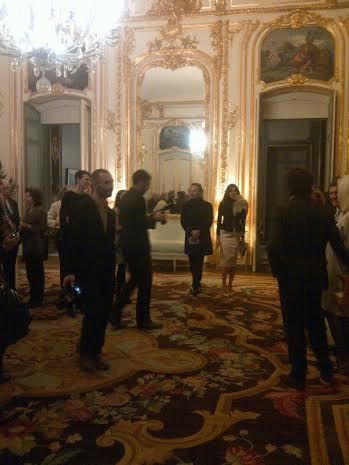 If a picture is worth a thousand words and a blog post is 750-1500 words; then I could write a novel to rival Marley and Me about the image above or dare I even say more pages than a September Vogue. It was snapped on February 28, 2013 during Paris Fashion Week at the American Ambassador's Residence fete in honor of Town & Country's Fashion Editor at Large, Jade Hobson. It was taken at a moment of extreme shock when I answered my cell phone because my ex was calling and my gut told me to take the call.
I had never heard him like this; he sounded both frantic and delusional. He had discovered the dog we co-parented in a noble but nonfunctioning state. He then scooped up the 75-pound, 15-year-old, one brown eye, one blue eye, Australian Shepherd mix in his arms and ran down blocks and across avenues to the emergency room. He confidently described the condition of Tyrone's twisted intestines and how the surgery was going to have him back home in days. I knew, I just knew this was it. My immediate concern was comforting daddy number two because our hairy baby was already living on borrowed time. He told me to go back to my event because he knew this was a big moment for me and he would call as soon as the old dog was out of surgery.
The room began to go out of focus with the tears filling my eyes and for some reason I just flipped the phone into camera mode to capture this milestone. I quickly retreated to a side room not knowing what to do. I found a fancy little sofa away from everything and slipped on some nonprescription fashion frames. Before I could compose myself to rejoin the festivities the phone rang again and I did not want to answer. He was only able to blurt out the words "he's dead". Now this is from a veteran journalist who had been witness to some of the worst disasters and wars of modern times. I began to pace and wait for him to catch his breath as I tried to tell him how lucky we were to have Tyrone and what an honor it was to share this magnificent being. We agreed to hang up quickly and I collapsed back into the doll furniture sofa.
In a nanosecond, I was surrounded by three huge men in black tailored suits and those clear, spiral earpieces. "Sir, sir what is going on?!" they demanded of me. I lowered my glasses as I looked up and said, "My dog of 15 years just died."
They melted into the most compassionate humans and quickly offered another route out of the event. They offered a car service, to retrieve my coat and help to inform my date. Those men gave me strength but it was the stunning, young blonde that was my date who kept me breathing.
She was an American exchange student that was introduced to me by her aunt. I had immediately grown fond of her when we met because as two Americans living in Paris, she felt like family. She was a tall blonde with a killer figure and charming personality. I had styled her in an asymmetrical, long sleeve, cashmere jersey dress with over the knee green crocodile boots. We had been so excited for this night; planning our looks and joking that unlike most fashion parties we were going to eat and drink everything put in front of us. There was a concert to attend afterwards in the aquarium for the French band "Sans Sebastien" plus just the glamorous fact that we were in Paris. She sweetly offered to get me to my room but I replied that wouldn't bring him back and I really didn't want to be alone. She was stuck with me whether she liked it or not and somehow in those moments she became my family.
We strutted into the aquarium like rock stars and the fact that I was hiding my tears behind those frames made everything more dramatic. There was a tour of the aquarium prior to the show and we faked interest in the darker rooms so that I could have momentary breakdowns with the sharks flying around my head. Everyone began to crowd into the performance space. Her French was strong enough that she was able to discreetly communicate to a couple that I needed to sit down. Meanwhile, she stood with her feet in bear traps of runway sample boots leaning from side to side to ease the pain. I felt like such a dork and hardly a gentleman in my tuxedo that had the lapels lined in vintage mink. Everyone was being so cool in that French way but I was a dressed up mess. After my favorite song played and we pretended to dance a little in support of the band, we exited to find ourselves standing directly in front of the Eiffel Tower during one of the moments it lights up like a sparkling space ship drenched in sequins.
I had to work the next morning as it was Paris Fashion Week and we were shooting a music video the next day. Wearing those crazy glasses every single moment for an entire week to hide my tears. Once they came off and more things focused, I worked up the courage to look at the photo. It looked like a piece of art. It felt as if someone else took it. More curious, why in the hell was Carine Roitfeld standing there absolutely gorgeous, poised, and backlit with the room parted staring at me? The strangest thing was that in my moment of absolute shock there was apparently a photo shoot scheduled and she served it up. I had as a model one of the most glamorous, powerful and cool women in fashion. If you enlarge the image, you can see Andre Leon Talley in the mirror. A fashion boy's dream turned to nightmare captured forever. Now the funny part, I try to find humor even in sorrow, is that every time I see her in press all I can think about is Tyrone. She gets a lot of press. Carine has become a bit of an angel to remind me of my dog and when I think of him all I do is embrace everything he brought into my world. Yes, I am comparing Carine Roitfeld to a 75-pound, 15-year-old, one brown eye, one blue eye, Australian Shepherd mix. One that brought so much love and beauty to the world and I hope she doesn't mind.