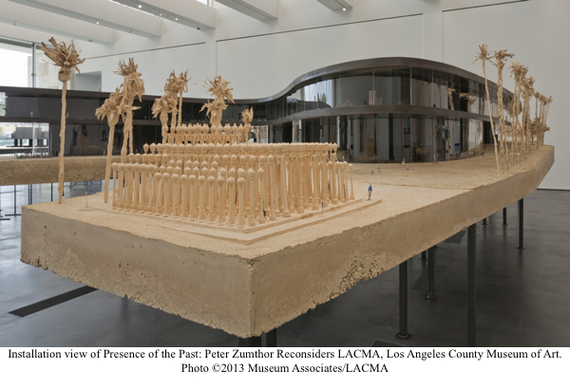 Having become one of the most important cultural centers, both national and international, Los Angeles imposes on us, Angelenos, certain pressures to keep up with the latest developments on its cultural front. For example, the Mike Kelley retrospective at the Geffen Contemporary and the Alexander Calder exhibition at LACMA both closed just a few days ago. Damn. I've seen these exhibitions several times, but it was not enough. And, my friends, if you missed these shows, I really am sorry for you.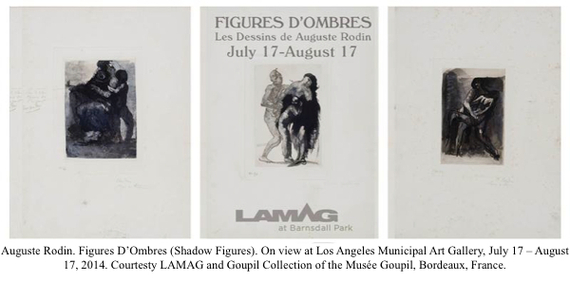 Receiving a press release from Los Angeles Municipal Art Gallery about its current Auguste Rodin exhibition, including 127 prints and rare artifacts, I rushed over to Barnsdall Park to see this show (which runs through August 17th). The exhibition celebrates the 50th Anniversay of the Sister City relationship between Los Angeles and Bordeaux, France. This body of work by Rodin is known as Figures d'ombres, or, Shadow Figures, having been inspired by Dante's Inferno. I had never seen these prints before, and was intrigued by this exhibition and, at the same time, frustrated. All labels were only in French. And though some of the prints bore handwritten notes by Rodin himself, no translations for these were provided either. It's a pity that the organizers of this Rodin show chose not to collaborate with any of Los Angeles' museums to help them make this exhibition more accessible, more public-friendly.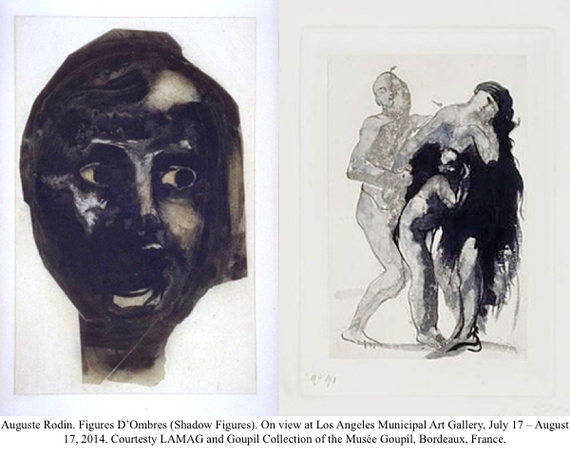 If you are an art aficionado, you are certainly aware of the latest development concerning LACMA's redesign by renowned Swiss architect, Peter Zumthor. Under the pressure from the Page Museum to protect its vulnerable paleontological site, Zumthor's new proposal shifts galleries across Wilshire Boulevard. To be completely honest, I was not much impressed with the original proposal, and even less so with the latest version.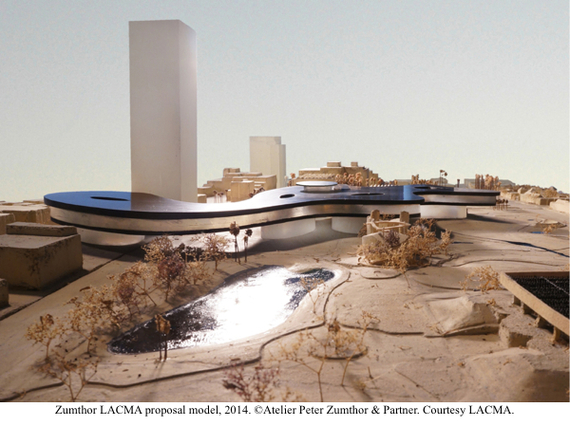 Renowned architectural critic Joseph Giovannini, in his lengthy and eloquent essay -- just published by LA Review of Books -- claims, "To bridge or not to bridge is not a trivial question." Giovannini pays respect to LACMA director Michael Govan as "one of the best informed, most charismatic museum directors in the country." And though Giovannini also praises Zumthor's small and medium-scale projects, he thinks that LACMA's newly proposed 400,000-square-foot grand structure is of a scale beyond Zumthor's comfort zone.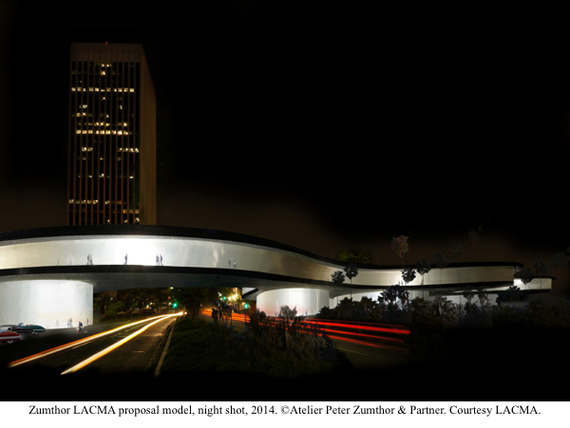 Defenders of the Swiss architect's proposal claim that it is still preliminary. However, considering that the project has been in the works for more than 7 years, excusing its flaws because the project is still in preliminary stages is a bit of a stretch. I'm in agreement with Mr. Giovannini in his feeling that the interior plans of last year's model were "vague and severely underdeveloped." And, in my opinion, the way the collections were proposed to be shown in this new Zumthor superstructure made the art look overwhelmed, if not even imprisoned by the whole grand scheme.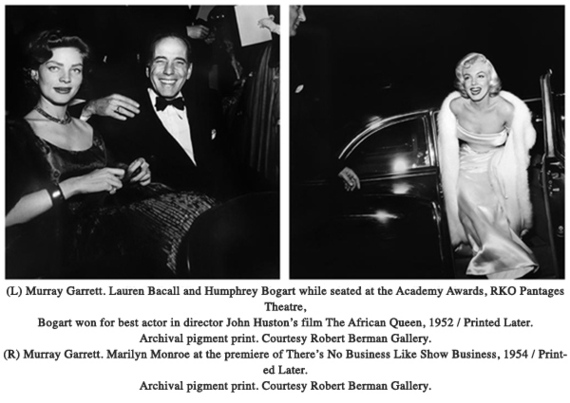 So, enough with all this whining and nagging, let's switch to something interesting, something special that all of us can enjoy and appreciate. How about Hollywood at its glamorous best? Here is a guilty pleasure --the exhibition at the Robert Berman Gallery of black and white photographs of Old Hollywood royalty, all of them snapped by well-known celebrity photographer Murray Garrett, who worked roughly between the 1940's and 1960's. Mr. Garrett, who is 88 years old, hasn't shown these photos for decades, so now is our chance to see and salivate a little over numerous images of Marilyn Monroe and Marlon Brando, Lauren Bacall with Humphrey Bogart, and Lucille Ball with Desi Arnaz. And you know what? In these photos by Murray Garrett, all these Hollywood Gods, even many decades later, are still alive, well, and kicking. As the saying goes, they don't make 'em like this anymore.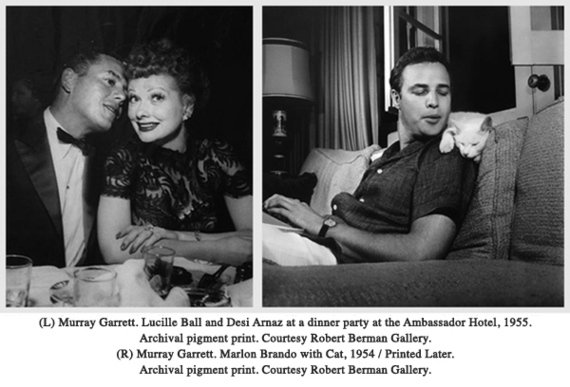 If you want to learn about Edward's Fine Art of Art Collecting Classes, please visit his website. You can also read The New York Times article about his classes here.
___________
Edward Goldman is an art critic and the host of Art Talk, a program on art and culture for NPR affiliate KCRW 89.9 FM. To listen to the complete show and hear Edward's charming Russian accent, click here.