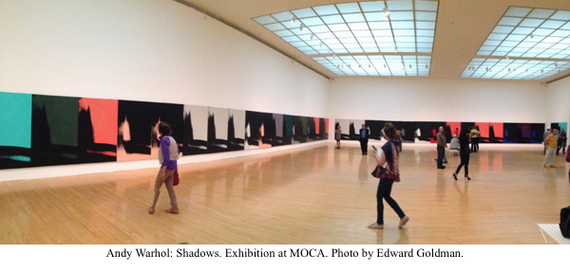 Using electric chairs, car crashes or a grief-stricken Jackie as subjects in his art, Andy Warhol knew better than anyone else how to stop us in our tracks and force us to stare -- and stare again -- at his paintings. But would his magic work if he decided to choose as a subject something as ordinary and mundane as, let's say, shadows in a corner of one of the rooms in his New York Factory?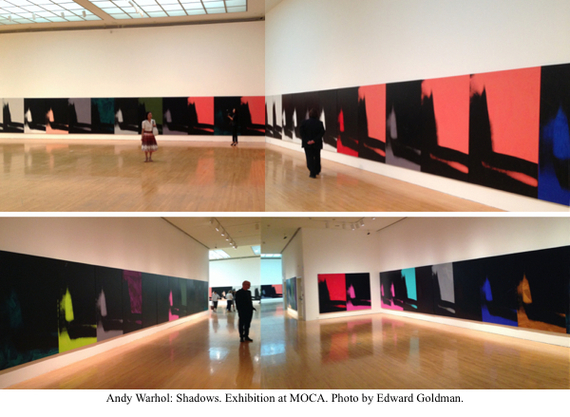 My smart and adventurous listeners, do yourselves a favor: hurry up and go see the new jaw-dropping exhibition, Andy Warhol: Shadows, at the MOCA Grand Avenue. Why jaw-dropping? Here's why. The exhibition consists of 102 large-scale paintings (1978-79) hung with no space between them so that they create one uninterrupted line that hugs the walls of several large galleries. All 102 paintings have silkscreened on them the black and white photo of the same shadow. On a few occasions, Andy used a negative of this image. And then, he applied his magic by giving each of the shadows its own distinct personality. Using wide brushes in wild sweeping motions, he applied bright, saturated colors to his canvases to the most theatrical effect. I was surprised to learn that the Andy Warhol didn't insist on any particular sequence for exhibiting these paintings, leaving it up to curators to decide how to show his Shadows. And MOCA's Senior Curator, Bennett Simpson, did an absolutely great job. Our hats are off to him.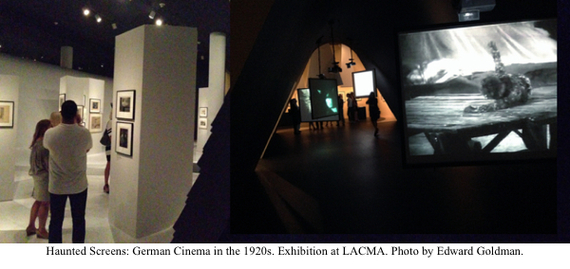 Another attention-grabbing museum extravaganza in Los Angeles right now is LACMA's exhibition, Haunted Screens: German Cinema in the 1920s. It consists of 250 film clips, photographs, posters, documents and movie cameras --all of them exhibited in a delightfully spooky manner.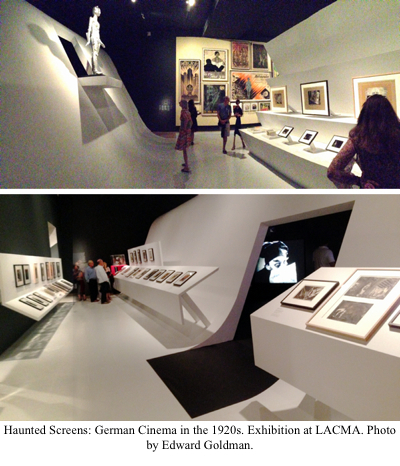 Brightly lit galleries alternate with pitch-dark spaces, with walls simply refusing to stand straight. The overall effect evokes the spirit of the most famous German horror movie of this period, The Cabinet of Dr. Caligari (1920). Los Angeles architects Amy Murphy and Michael Maltzan, responsible for the design of this exhibition, broke all the rules of traditional museum presentation, and we should be grateful to them for that.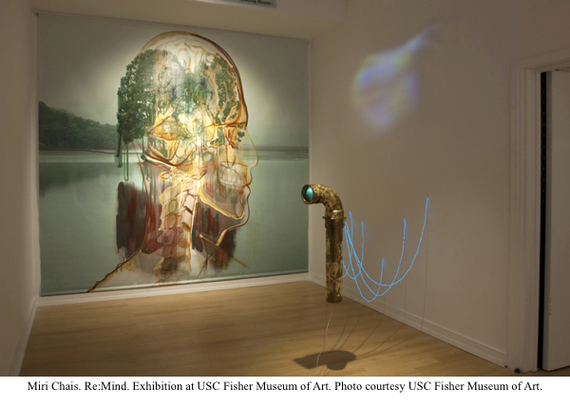 As a thriving cultural hub, Los Angeles continues to attract artists from around the globe. Among them is Israeli-born artist Miri Chais, who made LA her new home just a few years ago. USC Fisher Museum of Art is currently hosting the artist's first solo exhibition in the US.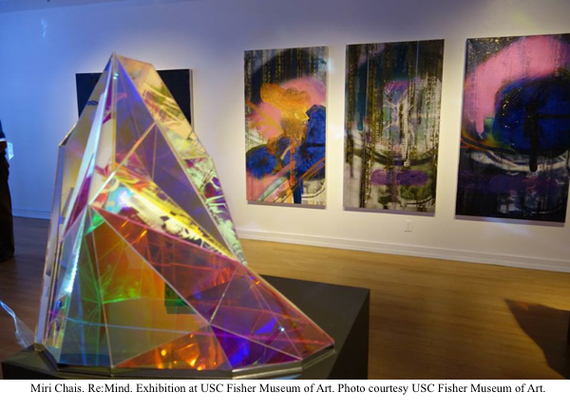 Among her multimedia site-specific installations, Miri Chais alternates between painting and sculpture, video and print -- all of them thrown together like happy guests in a slightly drunken garden party.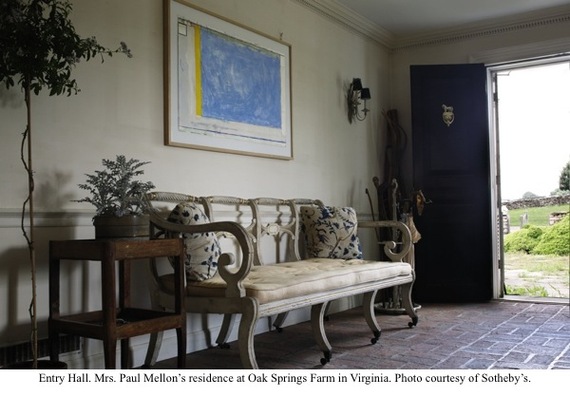 To whet our appetites for the upcoming November auction in New York of the collection of Mrs. Paul Mellon, Sotheby's organized a two-day show of the collection's highlights here in LA last week. With a few loose million dollars in your pocket, you can get a choice Richard Diebenkorn or Winslow Homer, but for the excellent early Sam Francis and Mark Rothko, you will need to sell your Malibu estate along with your firstborn. Yep, ladies and gentlemen, that's what it takes to build a serious art collection these days.
To learn about Edward's Fine Art of Art Collecting Classes, please visit his website. You can also read The New York Times article about his classes here.
___________
Edward Goldman is an art critic and the host of Art Talk, a program on art and culture for NPR affiliate KCRW 89.9 FM. To listen to the complete show and hear Edward's charming Russian accent, click here.