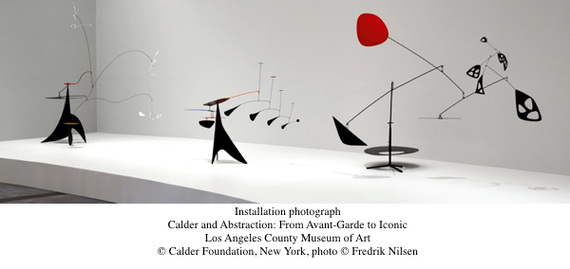 There is a big difference in my mind between just an exhibition of works by great artists and an exhibition that has the courage and conviction to present the work of a great artist in a surprisingly fresh and exhilarating way. Today I want to talk about the amazing, virtually "dancing" exhibition of Alexander Calder (1898 - 1976) that just opened this past weekend at
LACMA.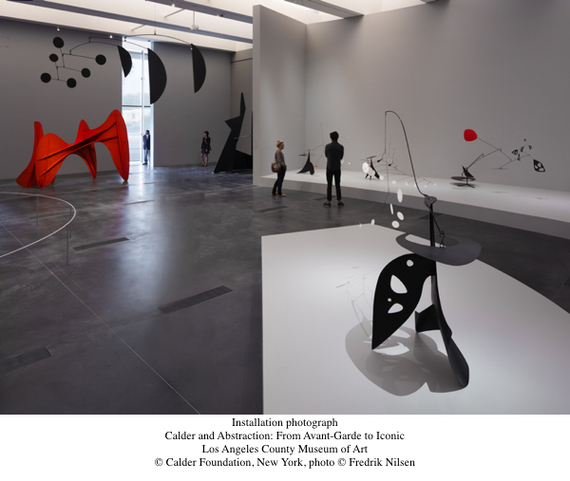 One of the best known and beloved artists of the 20th century, Alexander Calder is famous for his signature style sculptural mobiles. These metal mobiles, with their fluid, abstract shapes painted in prime colors, are suspended -or more to the point, "dance" in the air. If you are lucky and own one of these mobiles, you definitely want to touch them gently, sending all these metal shapes into slow, circular motions. All of a sudden, each abstract shape becomes a dancer, evoking the style and spirit of the choreography of Martha Graham, with whom Calder had collaborated on various projects.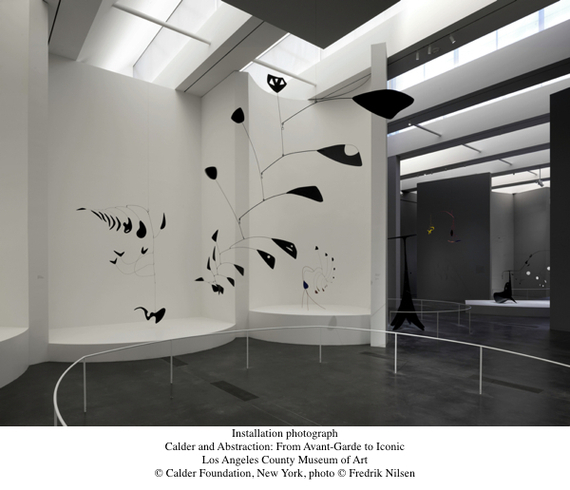 The exhibition, "Calder and Abstraction: From Avant-Garde to Iconic", was organized by Stephanie Barron, LACMA's senior curator of modern art who once again collaborates here with her designer of choice, the one and only Frank Gehry. Over the last 3 decades, they worked together on a series of remarkable, high profile exhibitions such as "The Avant-Garde in Russia" and "Exiles and Emigrés: The Flight of European Artists from Hitler." Less than a year ago, they came up with a exhibition honoring the work of major LA artist, Ken Price, whose luminescent ceramic sculptures sparkled in the display cabinets designed by his friend, Frank Gehry.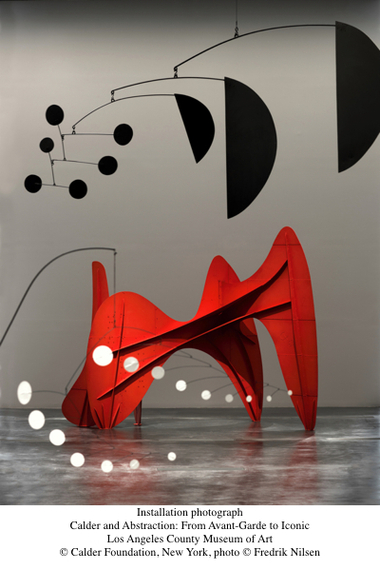 But this time, for this Calder exhibition, Gehry not only brilliantly designed the stage for artworks to dance, but he also couldn't resist joining in on the action himself. There is seemingly not a straight line in the way Gehry designed the series of curvilinear niches and pedestals for the exhibition. As a result, swirling motions of Gehry's design give the illusion that Calder's sculptures are moving and dancing before our very eyes. It is as if 84 years young Frank Gehry has become a dancing partner of Alexander Calder and we are the lucky witnesses of these two great men having a hell of a good time together.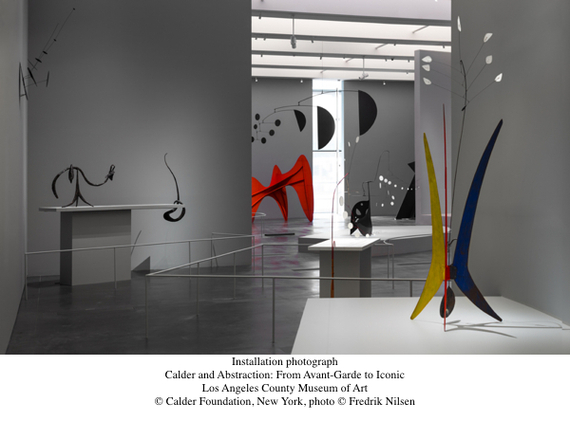 I hope that, after hearing this report, you will drop whatever you're doing and run over to LACMA to enjoy this exhibition. And after that, please step into the museum garden behind the Bing Center and say hello to Calder's Girls -his large fountain sculpture that he created for LACMA back in 1964 and, yes, named Hello Girls.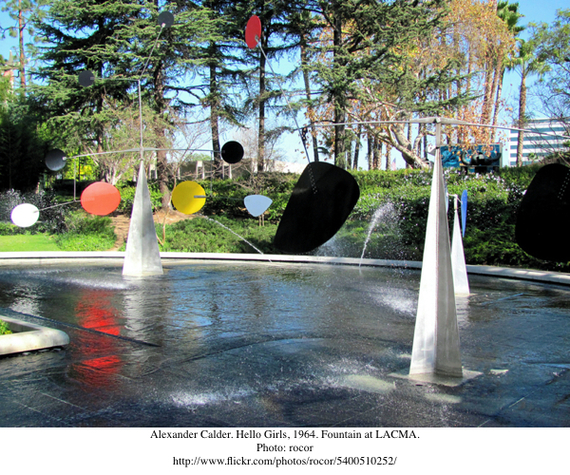 The day after the opening of Calder's show, I went to The Music Center to see a new production of Sleeping Beauty by Matthew Bourne. In visual terms, it was as provocative and over the top as his extremely successful Swan Lake, where the parts of the swans were danced entirely by men. A few years later, he came up with the equally memorable Cinderella, with the action taking place in London during the Blitzkrieg. But now, with Sleeping Beauty, which got rave reviews, I felt that the production needed a little bit more editing. Heavy-handed stage design and exceedingly accessorized costumes somewhat distracted me from Tchaikovsky's majestic score and obscured the dancers' bodies and their movements. One wonders what would become of this Beauty if Matthew Bourne had collaborated with a truly great artist of the caliber of Calder or Gehry.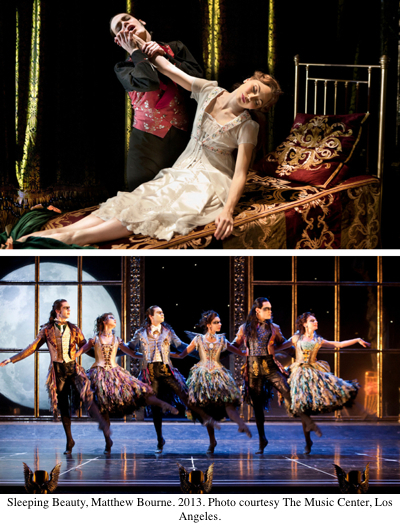 --
Edward Goldman is an art critic and the host of Art Talk, a program on art and culture for NPR affiliate KCRW 89.9 FM. To listen to the complete show and hear Edward's charming Russian accent, click here.