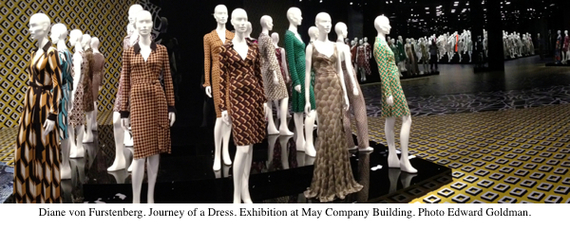 I wonder, how many of you remember the glory days of one of the best known LA department stores: May Co. It's been a quarter century since it was closed. And for most of those years, it sat empty, except for some of the exhibitions and projects done there by LACMA, which owns the building. Last week, this former department store had its bright past revisited.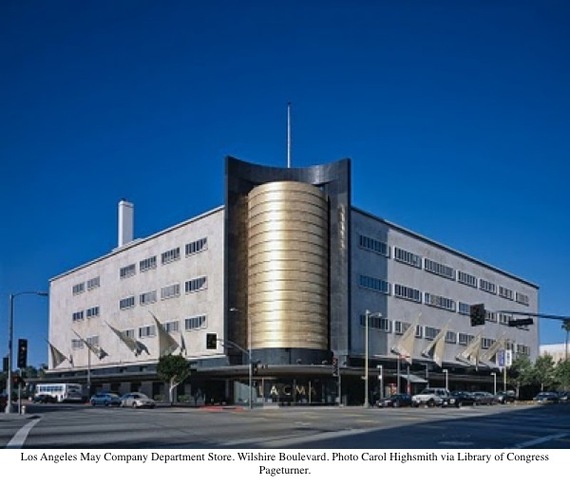 Driving past the May Co. building in recent weeks, you may have noticed in its windows and on its façade numerous banners with images of Diane von Furstenberg painted by her friend, Andy Warhol. This glamour princess extraordinaire rented out this historical building for her show, Journey of a Dress, telling the 40-year story of her famous wrap dresses.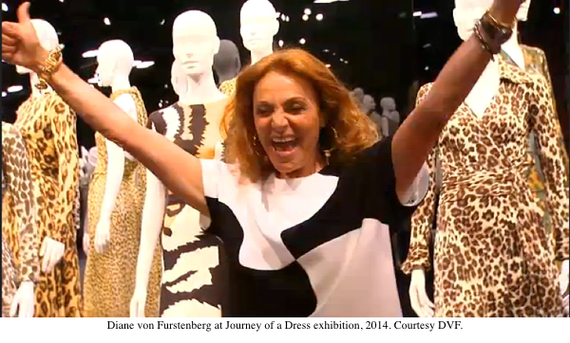 It's virtually impossible to say how many of these wrap dresses are on display. Hundreds? Or thousands? The entire army of specially designed mannequins wearing her dresses is reflected, again and again, in the mirrored walls for maximum dramatic effect. And if that is not enough, the floor and walls are decorated with unique geometric patterns immediately recognizable as the designer's artistic signature.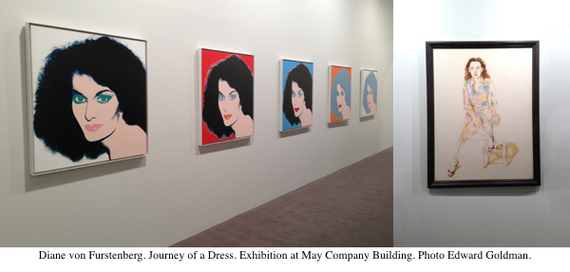 At the very entrance of the exhibition, there are numerous photographs of famous people and famous models wearing The Dress, including one glamour shot of First Lady, Michelle Obama. My biggest surprise was to discover a few galleries, tucked quietly away from the visual noise of the rest of the spectacle. And that's where Diane von Furstenberg is presented in numerous portraits, less as a glamour queen and more as a mere mortal -first young, then middle-aged, and then... you've guessed it. And I have to admit that with age her face got not only lines, but also more and more formidable character. You don't mess with this woman.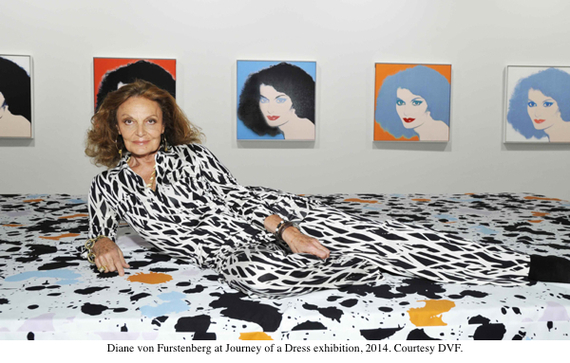 Among the artists included in this exhibition are Robert Longo and Francesco Clemente, Barbara Kruger and Annie Leibovitz, Helmut Newton and Chuck Close, just to name a few. Seeing this exhibition reminded me of two highly acclaimed fashion shows, which regrettably never came to LA: The Metropolitan Museum's 2011 tribute to Alexander McQueen, and de Young Museum's 2012 celebration of the couture by Jean Paul Gaultier.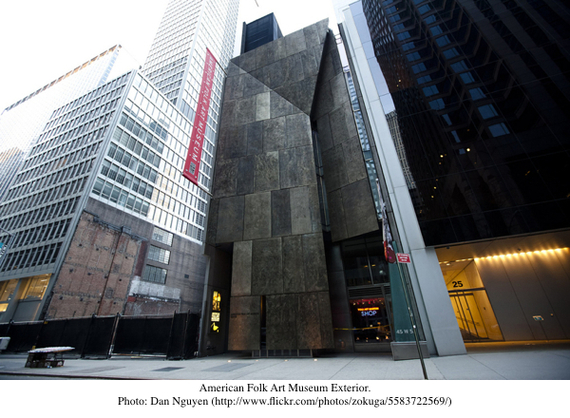 Now, changing gears, let me ask you: are you following the current controversy over yet another expansion at New York's Museum of Modern Art, which entails the demolition of the former American Folk Art Museum building designed by Tod Williams and Billie Tsien? In today's New York Times, Michael Kimmelman rightfully shames MoMA for this decision. I also find it indefensible that MoMA, with its high profile curatorial Department of Architecture and Design, is ready to tarnish their reputation by destroying the work of these much-acclaimed American architects.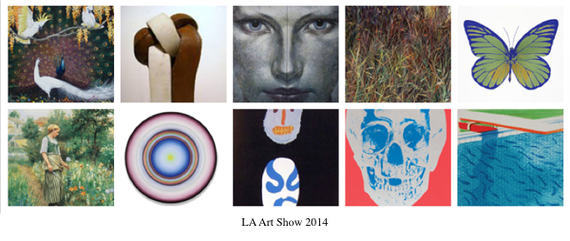 And now, ladies and gentlemen, let's get busy. This week, January 15 - 19, LA Convention Center is hosting the 19th Annual Los Angeles Art Show, with more than a hundred dealers from around the world showing Modern & Contemporary art, along with Historic & Traditional artworks. Yours truly will be talking on Thursday at noon with Bruce Helander, former Editor-in-Chief of The Art Economist. The subject of our conversation will be, what else? State of the Arts: Collecting Contemporary Art. It should be fun. Especially if I hear you throwing smart questions at us.
--
Edward Goldman is an art critic and the host of Art Talk, a program on art and culture for NPR affiliate KCRW 89.9 FM. To listen to the complete show and hear Edward's charming Russian accent, click here.