Summertime used to mean that the galleries and museums would take it easy, presenting lackluster group shows and few, if any, challenging solo exhibitions. Not any more. Economy be damned, the Los Angeles art scene is now sizzling year round.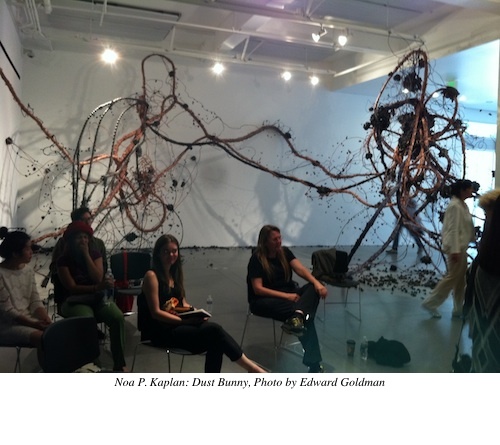 My routine sampling of the art shows over the weekend, turned out to be anything but routine. I was invited to UCLA's New White Gallery to participate in the MFA exhibition review of the students graduating from the Design Media Arts Program. Each of the artists had 15 minutes to talk about their work in front of the faculty members and then to respond to a friendly but pointed critique. I was intrigued by the diversity and quality of the art on display, which only confirms the fact that UCLA's art program continues to be one of the most prestigious in the country. This exhibition runs through May 31.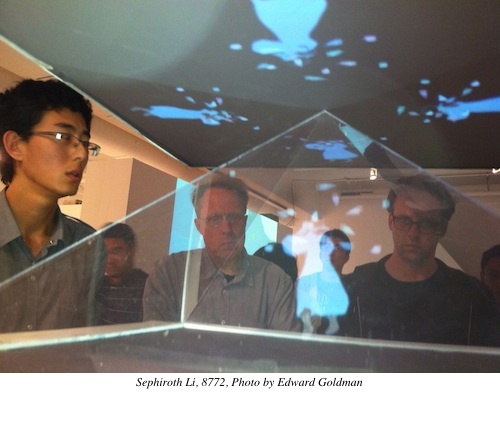 A new show organized by MOCA and inspired by the iconic movie Rebel Without a Cause just opened in a rather unexpected place -- in a commercial space near the corner of Highland Avenue and Santa Monica Boulevard. A number of artists contributed to the show, including Paul McCarthy and Ed Ruscha, but first and foremost the show is the vision of the actor/writer/artist James Franco, who played the role of James Dean in a 2001 TV movie. The show is full of bizarre, noisy and unnerving installations, with continuous references to violence, sex and mortality. Probably I need to see it one more time to be sure what I really think about it, but I was definitely not bored.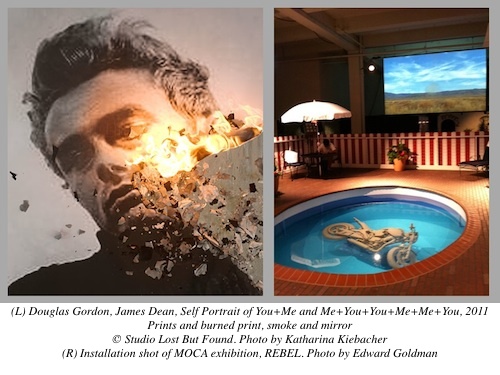 Two photography exhibitions at Bergamot Station turned out to be among the best of the last year. The works by Vietnamese-American artist Dinh Q. Le at Shoshana Wayne Gallery focus on the ancient cultures of Cambodia and Sumer. The artist shoots black and white photographs of archeological sites and peoples' faces, and then cuts these photos into long strips. These strips are literally woven together into mysterious and melancholy mosaics that merge ancient history with the political upheavals of our time.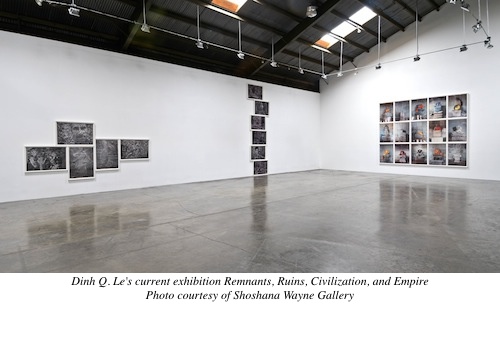 The exhibition of black and white photos by Japanese artist Hisaji Hara at Rose Gallery is a romantic and poignant tribute to Balthus, the Polish-French painter famous for his provocative paintings of languid, dreamy adolescent girls. Some of the photographs closely replicate the compositions of Balthus paintings. Others, including landscapes and still lives, are infused with the wistful, melancholic feeling of time past. I think Marcel Proust would easily recognize these exquisite images.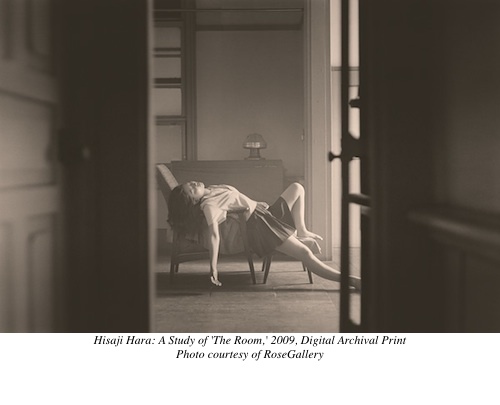 The stainless steel sculptures by Charles Ray at Matthew Marks Gallery, turned out to be less of the challenge one always expects from this well known LA artist. There are two life-size figures, one of a woman sleeping uncomfortably on a bench in a public space, and another of a naked man -- could it be a self-portrait? Master of elevating the banal to an unexpectedly complex level, this time the artist left me at a loss, trying to discover any meaning behind the impenetrable blandness of his latest sculptures.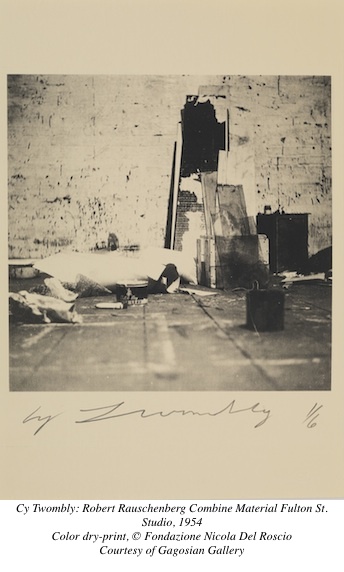 And let me finish today by reprimanding myself for initially ignoring the numerous photographs by Cy Twombly currently on display at Gagosian Gallery alongside his majestic late paintings. Only when I went to see the show a second time did these modest black and white photographs reveal themselves to me in all their beauty. Often presenting the messy interiors of artists' studios, these photos provide privileged access into the private world that inspired and sustained the long and illustrious career of this great American artist.
Banner Image: Charles Ray exhibition. Photo courtesy of Matthew Marks Gallery.
Edward Goldman is an art critic and the host of Art Talk, a program on art and culture for NPR affiliate KCRW 89.9 FM. To listen to the complete show and hear Edward's charming Russian accent, click here.