I hear that many of you greeted 2013 with coughing and sneezing -- me too. I treated myself with everything my late mother taught me: plenty of chicken soup (of course), followed by hot tea with lemon, honey and a good shot of vodka. But what ultimately turned things around was a generous dose of splendid art. I bid bon voyage to the ending year with a leisurely stroll through the Getty Museum's permanent collections. Just wanted to say hello to some old friends.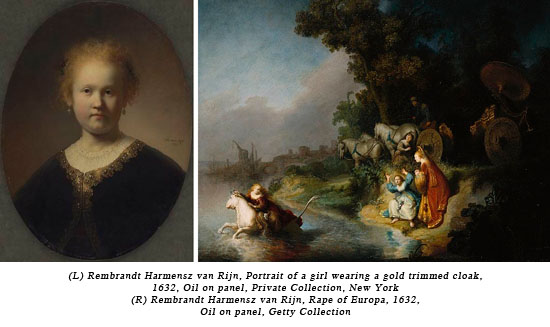 First, to the gallery belonging to my 17th century Dutch buddy, Rembrandt. There are four of his paintings, plus one on long-term loan from a private New York collection. This one -- a portrait of a young girl wearing a gold-trimmed cloak -- is infused with soft golden light. Though she still has an adorable baby face, her dark eyes have a hint of wisdom that is pure Rembrandt.
In the same gallery, there is another work by Rembrandt, The Abduction of Europa, painted in 1632, the same year as Portrait of a Girl. And if you look carefully at the young Europa, being carried off on the back of a white bull -- which is actually Zeus himself -- you will be surprised to discover a striking similarity between her face and that of the young girl whose portrait hangs on the opposite wall.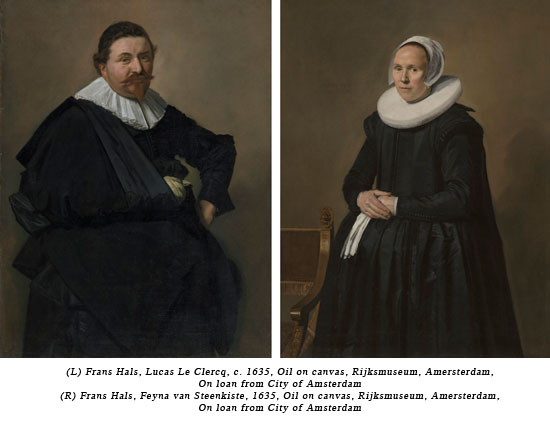 A few steps down the hall, I discovered two compelling, large-scale portraits by Frans Hals, a compatriot and contemporary of Rembrandt. When Hals wants to be flamboyant, his wild, dancing brushstrokes can take your breath away. But here, in these commissioned portraits of a middle-aged man and woman, he is somber and restrained, conveying their social position and wealth. What always surprises me about his portraits is how his subjects look familiar and almost contemporary, minus their 17th century outfits. If you want to see these two portraits -- hurry up -- because soon these loaned paintings will return to the Rijksmuseum in Amsterdam.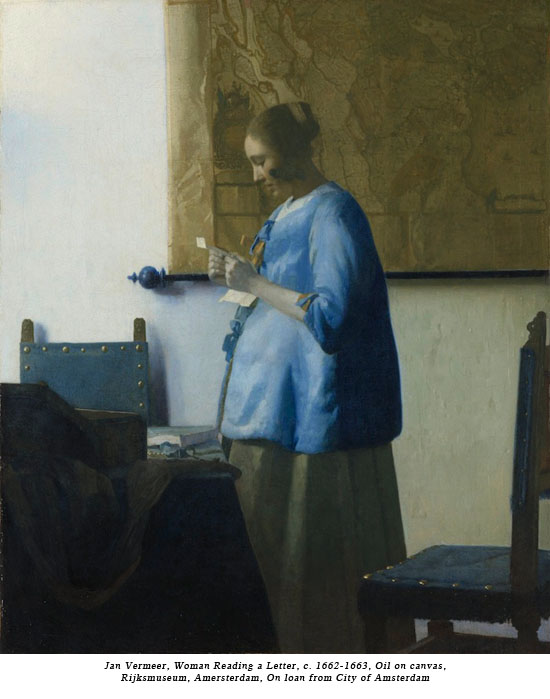 And now let me tip you off to an upcoming, brief visit to the Getty by another 17th century Dutch beauty; Vermeer's masterpiece, Woman in Blue Reading a Letter, will be on view next month before it returns to the Rijksmuseum for its re-opening after more than a decade of restoration.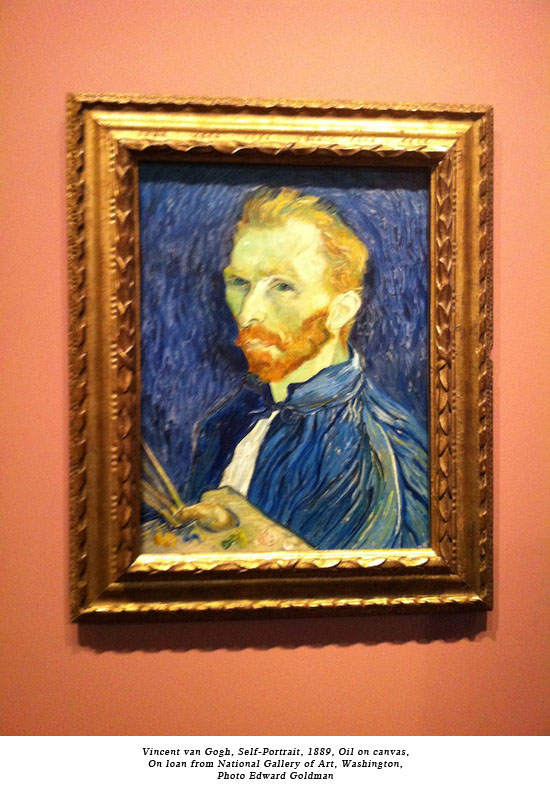 And while we are talking about celebrity visitors to our City of Angels, you definitely don't want to miss Van Gogh's striking Self Portrait at Pasadena's Norton Simon Museum, on loan from the National Gallery in Washington. Painted in the last year of his life, this self-portrait, with its gaunt features, intense brushstrokes and dark palette, gives the impression of a troubled man saying his last goodbyes.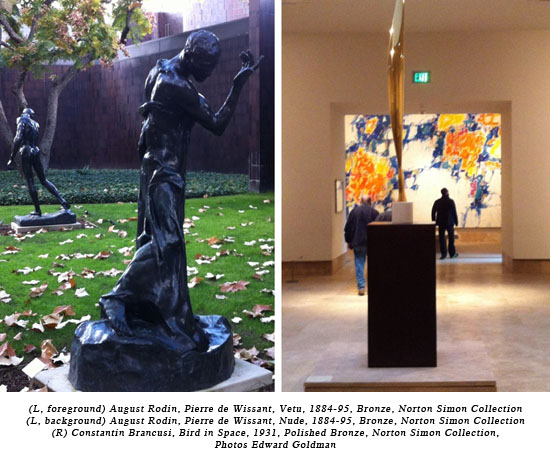 The Norton Simon Museum has a particularly dramatic way of showing its diverse collection of European and South Asian sculpture. One hopes the curators at LACMA will take a lesson from the Norton Simon on how to show a Rodin sculpture to maximum effect. While the monumental portrait of Balzac is almost lost at LACMA next to Chris Burden's massive Urban Light installation, at the Norton Simon, Balzac greets you up close and personal the moment you approach the museum's entrance.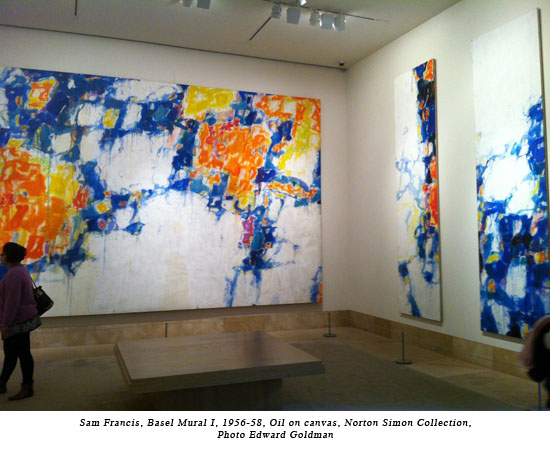 My favorite way to end a visit to the Norton Simon is to pass their iconic golden-bronze sculpture by Brancusi on the way to the glorious early paintings of Sam Francis, the so-called Basel Murals from the 1950s, when the artist was at the absolute top of his game. Here is a young American artist, living in Paris, stealing the torch of the avant-garde from his European colleagues and thus announcing the dominance of American art for decades to follow. If you need a remedy for your body and soul, his Basel Murals are the best medicine I can think of. And with that, a Happy New Year, my friends.
At the Getty:
Rembrandt's Portrait of a Girl Wearing a Gold-Trimmed Cloak will be on view through March 2013.
Frans Hals's Lucas de Clercq and Feyna van Steenkiste will be on view through March 31, 2013.
Vermeer's Woman in Blue Reading a Letter is on a world tour as an ambassador for the Rijksmuseum's stellar collection of Dutch masterworks. The Getty is the only North American stop for this painting, which will be on view February 16 through March 31.
At the Norton Simon:
Van Gogh's Self Portrait will be on view through March 4.
Banner: (foreground) August Rodin, Pierre de Wissant, Vetu, 1884-95, Bronze, Norton Simon Collection (background) August Rodin, Pierre de Wissant, Nude, 1884-95, Bronze, Norton Simon Collection
Edward Goldman is an art critic and the host of Art Talk, a program on art and culture for NPR affiliate KCRW 89.9 FM. To listen to the complete show and hear Edward's charming Russian accent, click here.