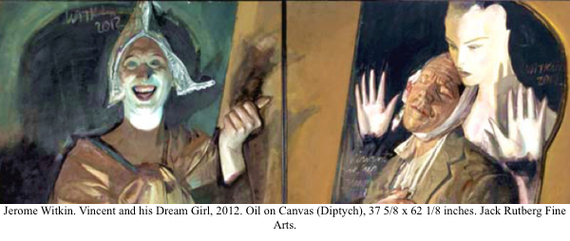 The life and art of two well-known artists --Jerome Witkin and Joel-Peter Witkin, two brothers, who also happen to be identical twins (b. 1939)--is perfect fodder for an over-the-top Hollywood movie. You name it, it's all there: Beauty and the Beast; Life and Death; Hope and Despair; History and Religion.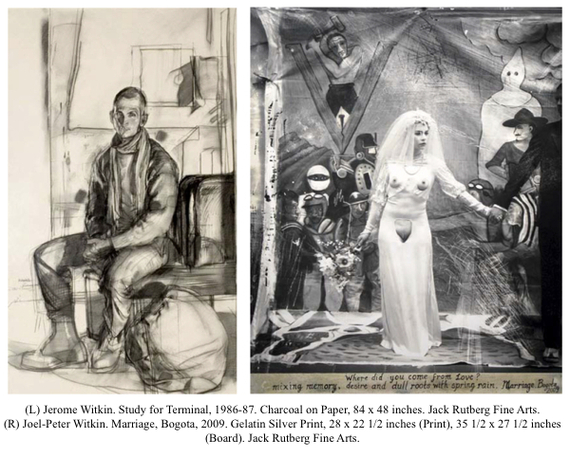 If you think I've gone a little over the top in my description of their art, drop by Jack Rutberg Gallery on La Brea and see their exhibition for yourself. But be warned: don't take your kids or in-laws with you. These brothers' paintings and photographs are definitely not for the faint of heart.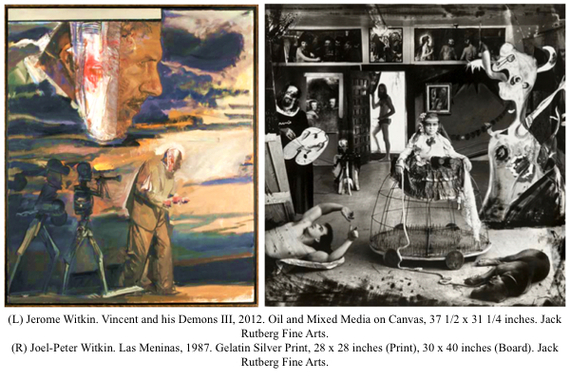 I would describe their art as deeply rooted in traditions of classical art. The human body is central to their storytelling. However, the brothers' artistic sensibilities are worlds apart. While Jerome Witkin, in his large-scale figurative paintings, tells complex stories rooted in the real world, Joel-Peter Witkin's photographs are macabre, mind-boggling fantasies that butcher reality into unsettling, hauntingly mesmerizing compositions.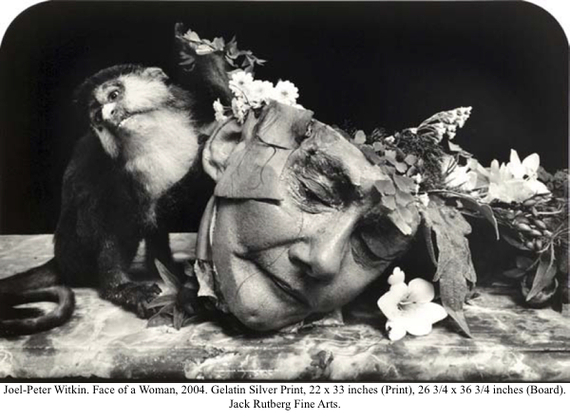 Here is an example: Face of a Woman, 2004 is one of the numerous black and white gelatin silver prints by Joel-Peter Witkin. It is a carefully composed still life consisting of a woman's head next to a little monkey, both placed on a marble table. The woman's head is crowned by flowers, her eyes are closed; she seems to be at peace. Now look closer. The little monkey next to her is alive, but the woman herself is dead. There is no confusion about that. Joel-Peter Witkin's photographs are at once famous and notorious for incorporating dead human bodies and body parts in his compositions. If you are not at least slightly scared by the image, there is definitely something wrong with you. But, if at the same time you find yourself strangely attracted to it, don't feel guilty; with plenty of references here to classical art --both in composition and subject --these photos are simply horrifically beautiful.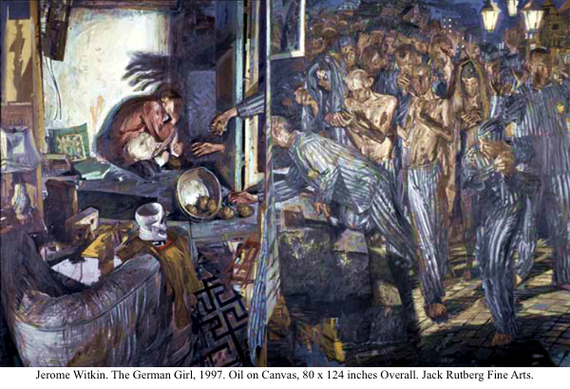 In his large-scale oil paintings, Jerome Witkin, like his brother, goes for big, dramatic effect, though his complex compositions tell the story of people who are still alive but obviously at a moment of crisis. In a monumentally scaled painting titled The German Girl, 1997, we see a horrified girl crouching on the floor while starving Jewish prisoners from concentration camps reach out for the potatoes she offered them. The horror of the Holocaust and World War II is often the subject of Jerome's work.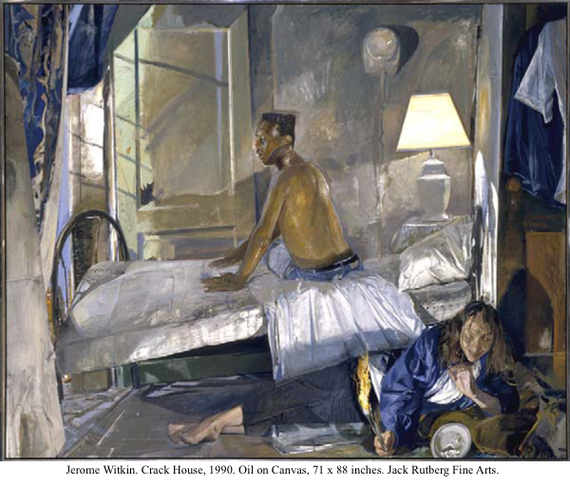 Being identical twins, the brothers had anything but similar upbringings. Their father was Jewish while their mother was Catholic. Unable to resolve their religious differences, their parents divorced while the twins were still very young. As a result, Jerome Witkin, the painter, was raised Jewish, while Joel-Peter, the photographer, was raised Catholic.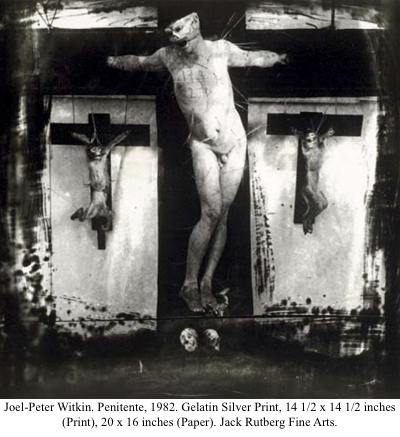 It's impossible not to speculate about the life and art of these very gifted brothers.
Why, until this very exhibition, their paintings and photographs have never been shown side by side? Why, for almost half a century, did the twins keep such a polite distance?
The exhibition's closing has been extended to May 31st, and if you are not afraid to go through the gamut of emotions from A to Z, seeing this exhibition is simply a must.
P.S. If you want to learn about Edward's Fine Art of Art Collecting Classes, please visit his website here. You can also read The New York Times article about his classes here.
___________
Edward Goldman is an art critic and the host of Art Talk, a program on art and culture for NPR affiliate KCRW 89.9 FM. To listen to the complete show and hear Edward's charming Russian accent, click here.