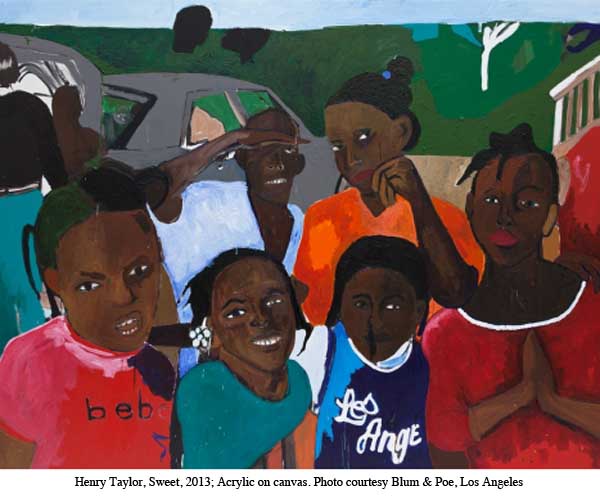 Today's breaking art news came to my inbox in the wee hours of the morning, in the form of a press release from the Museum of Contemporary Art, Los Angeles.
Rest assured, this internationally renowned museum is not merging with LACMA or partnering with the National Gallery -- options previously under consideration to save this flailing institution. MOCA's trustees have announced that the museum will remain independent, financed by $60 million in commitments and a plan to eventually triple the museum endowment to $100 million.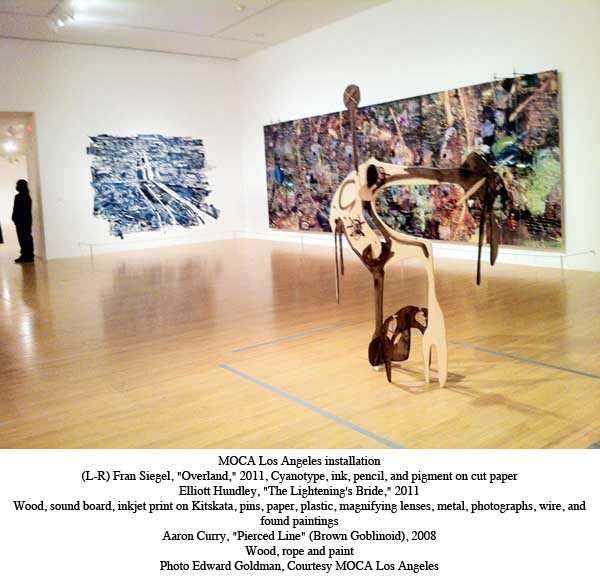 Interestingly enough, $100 million is exactly the fundraising goal that Michael Govan, the director of LACMA, proposed in his recent plan to save the downtown institution. But his offer came with a price: though MOCA would have retained its name and locations, it would have been practically absorbed into LACMA and thus lost its institutional independence.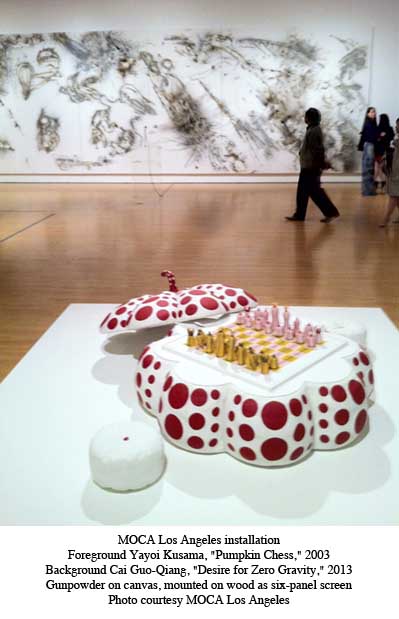 As an aside, it seems to me that Govan's offer significantly raised the bar for any other institutions or billionaire philanthropists willing to put their hat in the ring for MOCA's future. I doubt if MOCA's trustees would go for such a lofty fundraising goal without his offer. The question is, could this have been Govan's intention all along?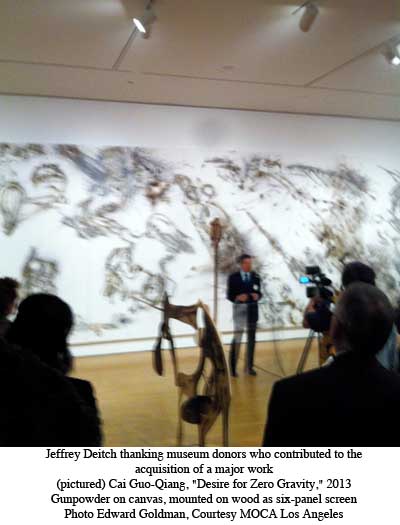 And needless to say, I find it rather ominous that the name of MOCA director Jeffrey Deitch is virtually nowhere to be found - either in today's press release or in the most recent articles in the Los Angeles Times and New York Times. On the one hand, I want to congratulate MOCA's trustees, who woke up, at last, and smelled the coffee. But I wonder if they realize that money alone will not resolve the museum's problems... Will MOCA be hiring a new chief curator to replace the pushed-out Paul Schimmel? Will Jeffrey Deitch keep his job? I welcome you, my listeners, to offer your input. What do you think MOCA needs to do to get back on track?
Well, here are my two cents. We don't need yet another banal art-star exhibition from the likes of Jeff Koons. It's embarrassing that a nationally and internationally recognized artist, like our own Mark Bradford, recently had a high profile exhibition travelling to Boston, Dallas, San Francisco, Chicago -- seemingly everywhere, but not here to LA.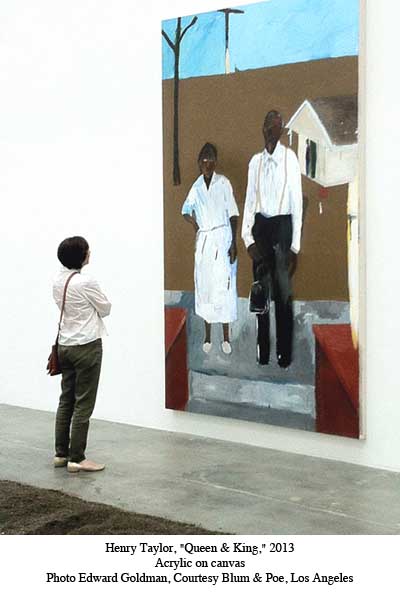 But thanks to Blum & Poe, one of our major galleries, we have an exceptional show of new work by Los Angeles artist extraordinaire Henry Taylor. I've been a big fan of his since discovering his work at a small show at the Santa Monica Museum of Art a few years ago. His current show, occupying all three ground-floor galleries of Blum & Poe in Culver City, has the weight and gravitas of a full-scale museum exhibition -- any contemporary art institution worth its salt would be happy to have it.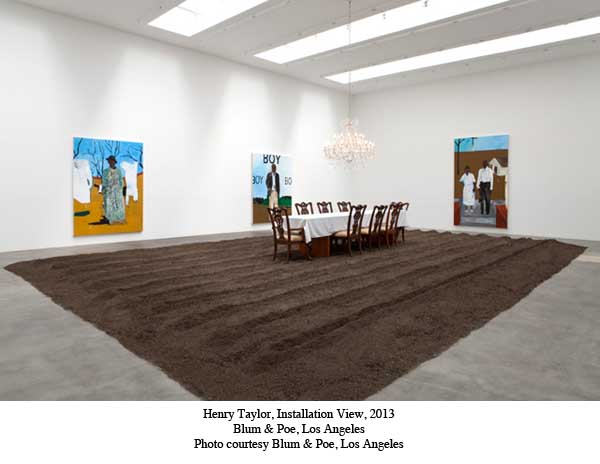 The vast space of the main gallery has been turned into a freshly plowed field, its floor covered with a thick layer of soil. In a jarring juxtaposition, in the center of this field sits a long formal dining table, surrounded by Chippendale chairs and lit by a beautiful crystal chandelier. The genteel owners of this luxurious setting are noticeably absent, while large portraits of African American farm workers hang on the walls. These are the only images we are confronted with in this deeply metaphorical setting, in reference to the troubled pages in American history.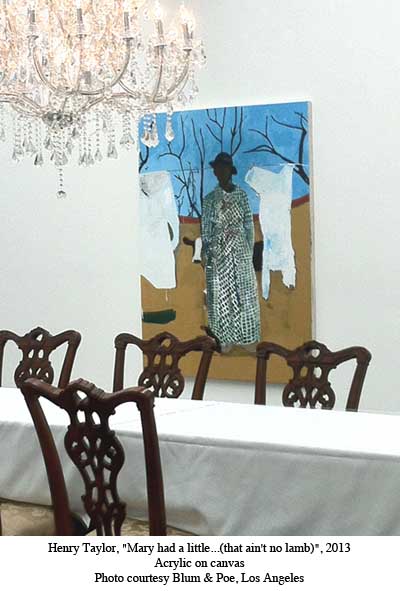 Each of these monumental works is both an eloquent portrait and, at the same time, a roughly executed painting. All of them have an iconic presence. For his source material and inspiration, Henry Taylor turned to Depression-era WPA photographs of anonymous farm workers. The exhibition allowed me to absorb their untold narratives worthy of an epic novel, each portrait worth a proverbial thousand words.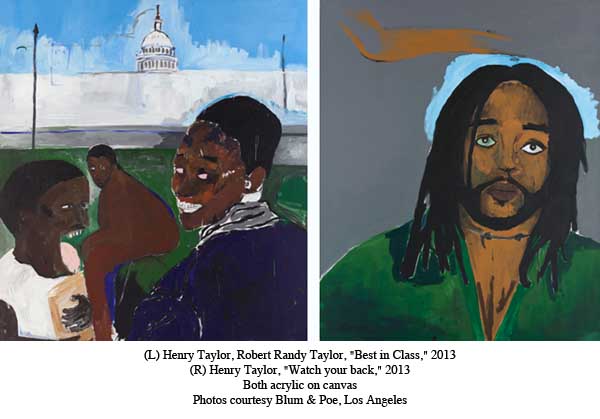 So my friends, hurry up and see this exceptional exhibition before it closes at the end of this week; and if you haven't encountered the art of Henry Taylor yet, this is your chance to discover a truly remarkable local talent still flying under the Los Angeles museum radar.
--
Edward Goldman is an art critic and the host of Art Talk, a program on art and culture for NPR affiliate KCRW 89.9 FM. To listen to the complete show and hear Edward's charming Russian accent, click here.