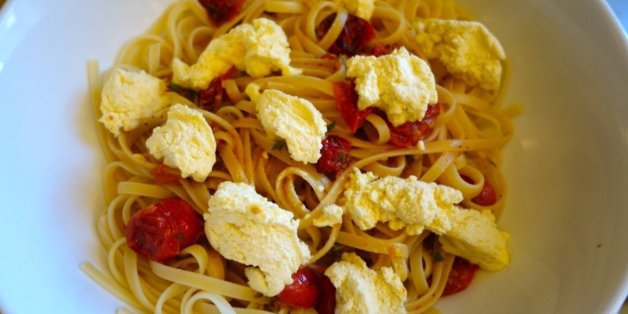 Two weeks ago, while on vacation, I wrote about the homemade ricotta at London's Cafe Murano, saying that I was going to try making some when I got home. Well, I did, because the restaurant's chef, Samantha Williams, was kind enough to outline how she prepares it.
There's no huge mystery to making ricotta, but Ms. Williams cleverly tweaks the standard process in two main ways. First, she uses a lot of cream: half a liter/quart per liter/quart of whole milk (from excellent sources). And secondly, she steeps rosemary, thyme and garlic in the milk-cream mixture, as well as seasoning it with salt and pepper, which aromatizes the ricotta in a haunting way.
I used a quart of milk and a pint of heavy cream from my favorite farmers' market vendor. These are delicious all year round, but in summer, when the Jersey herd has been on pasture for a while, they are extraordinarily flavorful (and beautiful to look at -- a rich ivory color, almost yellow). In a fairly heavy stainless steel pan, I slowly warmed the mixture with a small clove of garlic, peeled and cut in half, some fresh rosemary and thyme, and a little salt and coarsely ground black pepper. I stirred it gently from time to time, and when it just began to bubble I removed it from the heat and left it alone for 10 minutes. I strained out the herbs, garlic and pepper and returned the strained milk and cream to the pan, which I'd washed (you could use a fresh pan, of course). Over medium-low heat, I brought it to a full boil, then turned off the heat and gently stirred in the juice of two good-sized lemons, which pretty quickly began to coagulate the liquid.
I set it aside for half an hour, then poured everything into a strainer lined with cheesecloth. (Actually, as an experiment, I used a big piece of polyester shower-curtain liner, which is very finely woven and is very easy to wash and reuse. Next time, I'll try cotton cloth and see if there's any difference.) I poured off and saved the watery whey: It had an excellent light dairy flavor and good tartness from the lemon juice. When the curd had cooled a while I moved it into the fridge, still draining, and left it there until it was... ricotta. Depending on quantity and speed of draining, this could take anywhere from two to four or more hours. If you drain it too long and the ricotta becomes dry, you can stir some of the whey back into it, which an experience ricotta-maker would probably view as cheating.
It was delicious -- obviously very fresh and creamy, but also tart and subtly redolent of herbs and garlic. At Cafe Murano, Ms. Williams currently serves it with spring vegetables, drizzled with good olive oil and sprinkled with crunchy salt and cracked pepper. If you plan to use the ricotta for desserts as well as savory dishes, you must omit the garlic, though if you like you could still use the herbs in small quantity along, perhaps, with the grated zest of half a lemon.
As to the whey, I really wanted to use it alongside the ricotta. I'd been thinking of simmering new potatoes in it and going from there, but I couldn't find any in the market, even at the beginning of June. What I did find was spring garlic, mature enough that its cloves had begun to form but young enough that they were not yet surrounded by tough papery shells. I cut up a head of this juicy garlic and simmered it for ten minutes in whey just to cover, then pureed the mixture with an immersion blender. This, combined with cherry tomatoes halved and roasted at 330 degrees F (165 C) for 45 minutes with olive oil, thyme and salt, I used to lubricate a dish of trenette pasta (like broad linguine). The pasta was topped with blobs of my freshly made ricotta, which I'd taken out of the refrigerator an hour in advance to come to room temperature. It softened and melted in the warmth of the bowl.
Even with market-bought ricotta, pasta with spring-garlic cream, roasted tomatoes and ricotta would be a lovely dish, but nowhere near as lovely as it was with the Cafe Murano version and its herb-and-garlic-scented creaminess. Thanks, Samantha Williams!
PHOTO GALLERY
Homemade Ricotta!