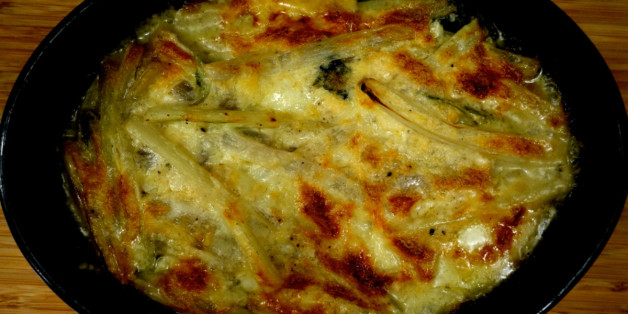 A dear friend who died a few years ago was a man of unbreakable habits in many areas of life, notably in his food preferences. The moment he retired, he moved to Paris and, when he wasn't trying (in vain) to get French butchers to grind enough fat into his hamburger meat, he ate in old-fashioned bistros and brasseries. Some of these were pretty good. Others were lousy, even if they'd been okay in the 1950s and '60s, back when our friend had caught the Paris bug. Still, even those lousy restaurants usually offered a couple of well-prepared dishes, and once Jackie and I figured this out we were able to face them with equanimity. One such place had an excellent help-yourself charcuterie board, which we'd sometimes order as our main course, preceded by another reliable option: gratin of Swiss chard.
Like every other self-respecting chard gratin in Paris (probably in France), it used only the stems, which are particularly broad and fleshy in European varieties. They are pre-cooked, arranged in an enameled cast iron dish, and baked and/or broiled with béchamel sauce and maybe some cheese. It is a delicious way to treat Swiss chard, even if at home I tend to cook it in a more Italo-Mediterranean way, with garlic and olive oil, to be eaten with pasta or on grilled bread - or as part of a soup - and make a French-type gratin only once a year or so, if that.
I've always wondered what old-fashioned French restaurants do with the chard greens; I suppose they end up in soups or are fed to the waiters (except when they - the leaves - are stuffed, like cabbage). I've also wondered why I couldn't just use the whole thing, stalks and greens, in a gratin. Turns out I could - and so can anyone else with a bunch of chard in the market basket - and it also turns out to be even better than the stalk-only classic.
First of all, I cut the leaves off the stems (I sometimes tear them off by hand - both ways work fine). I trimmed the ends and any discolored areas from the stems (such as where they'd broken and were scarred), cut them across into three- or four-inch (7- or 10-cm) lengths and cut particularly broad ones in two lengthwise. I washed them thoroughly, then boiled them in lots of heavily salted water until they reached the tender end of al dente. I refreshed them in cold water, then drained them and let them dry on a towel - they mustn't be wet when they're topped with the sauce.
The leaves I cut into 3/8-inch (1-cm) strips, then washed them well. Without draining them too thoroughly, I put them into a sauté pan over medium heat, salted them and covered the pan. In this way, the leaves steamed in the water that had clung to them enhanced by their own juices. I stirred them from time to time to make sure the water wasn't boiling away; by the time they were reasonably tender, there was very little liquid left. I let them cool in a strainer, then squeezed them dry.
Earlier, I'd made a simple béchamel sauce, using about two tablespoons (30 g) of butter and a similar volume of flour, cooked together for a couple of minutes to form a roux; to this I whisked in two cups (something less than half a liter) of cold whole milk, a little at a time, making sure no lumps were forming. I simmered this over very low heat for a few minutes, until there was no taste or feeling of flour, and seasoned it with salt, black pepper and nutmeg (the nutmeg is important: its affinity with Swiss chard is something you want to take advantage of).
Since I was cooking all of this in advance, I let the sauce and the chard cool and kept it in the fridge (with the chard wrapped in paper toweling to keep it dry, then covered with plastic wrap to keep it from drying, which is another matter). At cooking time, I buttered an ovenproof oval dish, mixed about a third of the sauce into the chard greens, tasted for seasoning, and placed the mixture into the dish sprinkled with grated parmesan (optional). I arranged the stems on top, lightly salted them, and spread the remaining sauce on top (it had thickened in the fridge, but would liquefy in the oven). I topped the sauce with coarsely grated cheese (Pawlet from Consider Bardwell Farm in Vermont, but a Gruyère-type cheese would be perfect too), covered the dish with aluminum foil and baked it for 35 minutes at a little more than 350 degrees F (say, 180 C, though the temperature isn't that important). I then took off the foil, raised the oven temperature to 375 F (190 C) and baked it for another half hour, until it was bubbling and its surface was appetizingly brown. You could also bake it at 350 for 45 minutes or so, then finish it under the broiler. Let it settle for a few minutes before serving: it is too hot to eat at this stage.
Lacking a charcuterie platter that would rival that over-the-hill bistro's, we served our gratin with a steak, sliced for service - not the tenderest we or our guest had eaten, but beefy and delicious. The chard had all that vegetal earthiness we love it for; the stems were tender and sauce-coated, while the slivered leaves - also full of flavor - held onto the sauce, which actually made the dish easier to eat than the stems-only version, because the béchamel didn't run around on the plate quite so much.
So, when you make this Paris bistro dish, use the whole chard by all means.
PHOTO GALLERY
The Whole Chard Makes a Better Gratin