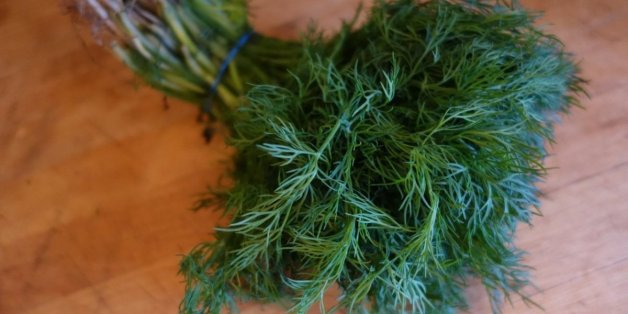 I know it was naïve to think that seeing and eating all that spring-into-summer produce in Sicily and Naples meant we'd come home to find our Manhattan farmers' market glittering with peas, strawberries, fava beans and even a few early tomatoes. No, it's still early here in the north-eastern U.S., and my first post-vacation visit to the market yielded little more than asparagus, "wild" arugula (rocket), dill and spring garlic and scallions. Which was not too shabby a haul, come to think of it.
I felt obliged to make the most of those ingredients and, along with a few helpers from the cupboard, they provided three light and delicious asparagus-centered meals for Jackie and me. This was pretty good considering I'd bought only one bunch each of asparagus, early garlic and fat red spring scallions.
Except when we just want to gorge on asparagus, either at room temperature with chopped egg and vinaigrette or hot with something like hollandaise, I generally treat the tips and the stalks as distinct ingredients, and that's what I did this time.
The first meal, a day after we returned home, made use of the tips in a frittata/omelette. I sliced two scallion bulbs and two garlic bulbs (the cloves hadn't yet formed in these ultra-young plants) and softened them in olive oil with a sprinkling of salt, using a small non-stick skillet; to these I added the well-washed tips of the rather skinny asparagus and cooked them for a few minutes until they were hot and just beginning to seem cooked. If they'd been thicker, I might have cut them in half lengthwise. I added a little more oil and beat four eggs with salt and pepper and added them to the skillet over medium heat to make the frittata - an Italian-style pancake omelet, of which we saw many on our trip: several restaurants offered them as an antipasto, made with various vegetables or with ricotta. To reinforce the Southern Italian theme, once I flipped the frittata (using a plate, not freehand) I sparingly sprinkled the top with lightly smoked provolone cheese, finely grated on a box grater.
With the frittata we had thick slices of sturdy, crusty bread with salted butter and a salad of small-leafed "wild" arugula dressed with olive oil, crunchy salt and just a few drops of lemon juice.
The following day we had pasta using the next couple of inches of the asparagus spears, which were still tender enough to require no peeling. The sauce was an arugula pesto, something else we'd seen on our travels. To start the pesto, I used the food processor to chop an ounce (30 g) or so of that smoked provolone (with a fairly hard, dry cheese like this, the result is like grating - soft cheeses will turn to mush). I sweated the rest of the young garlic bulbs in olive oil; when they were tender but not mushy, I drained them, leaving the oil in the pan, let them cool completely and added them to the food processor bowl with the cheese. When this had been processed to a paste, I added the rest of the arugula - a couple of big handfuls, but probably less than 2 ounces (60 g) by weight - and 1/3 cup (80 ml) olive oil and processed it to a chunky pesto. It needed salt, and I added some; the flavor of the arugula obviated the need for pepper.
As the ditali pasta boiled (ditali are like ziti, but very short, around 3/8 inch or 1 cm; the word means "thimbles"), I cut the asparagus into lengths about the same size as the pasta and cooked them in the garlic-scented oil that I'd reserved, keeping them crunchy. I combined the cooked pasta and the asparagus, then dressed the dish with the arugula pesto, loosening it a little with salty, starchy water from the pasta pan.
You could make a similar pesto with watercress, and that would be good with asparagus too.
The next night there was cause for celebration, and we went to a restaurant, where we ate and drank wonderful things in fine company. The following evening we looked forward to a small portion of something lighter. In London we'd been served a disappointing dish of spaetzle, so I thought we'd make up for it. I began with the batter. For two modest main-course portions, I used 1 cup flour (about 125 g), 2 eggs and 1/3 cup (80 ml) milk, first beating the eggs into the flour to form a lump-free paste, then gradually adding the milk to yield a thick but not immobile batter. I seasoned it with salt, pepper and a lot of finely chopped dill, and left it in the refrigerator to relax.
When it was time to eat, I put up a pot of water to boil, then trimmed the remaining asparagus stems. This time, the nether ends needed to be peeled. I cut the asparagus on the bias, and did the same to the last few spring scallion bulbs. I salted the scallions and sweated them in butter for a few minutes over low heat, then added the asparagus and cooked for perhaps a minute. I scraped the spaetzle batter into the hopper of my cheap but effective spaetzle maker and deposited the spaetzle into the pot of boiling water. They were done in less than a minute, and I scooped them into the skillet containing the asparagus, tossing everything together. I finished the dish with dill and some water from the spaetzle pot.
There's something about the edgy flavor of dill that mates it well with so many things in so many cuisines - I use it in Italian-style salsa verde among other unexpected preparations. It's a natural with asparagus, which is a natural with spaetzle, which are a natural with onions, so this dish just made sense. And it was delicious.
We felt very virtuous extracting three meals from one bunch each of asparagus, scallions and garlic. And very well fed.
PHOTO GALLERY
Three Meals From One Bag of Spring Produce