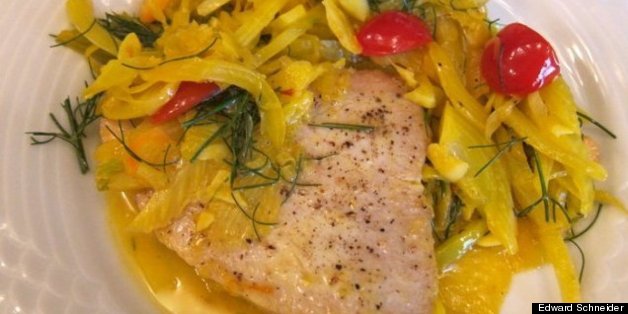 A few weeks ago, I bought some little artichokes grown in New Jersey by Bill Maxwell, one of the few local farmers who can be bothered with this crop that has no business being raised in our corner of the North-East. We had them in a Spanish-type rice dish; we had them simmered in dashi along with some new-season potatoes; and we had them in a room-temperature dish loosely based on artichauts à la greque -- with white wine, vegetables, herbs, lemon juice and lots of olive oil.
The cooking liquid turned into a lovely bright, tart dressing for the painstakingly trimmed artichoke hearts, and it occurred to me as we ate that the same technique, with or without the artichokes, could be used to generate a sauce, or rather a braising medium, for fish. Specifically, for the tuna that is fished off Long Island and that comes to our Manhattan farmers' markets in impeccably fresh condition.
The day I decided to give this idea a whirl, the Pura Vida Fisheries stand had a perfect chubby piece of albacore that weighed just over half a pound yet was well more than an inch thick. Cut crosswise into two steaks, it would give us four ounces each: plenty, since it would be served with a vegetable-heavy sauce/garnish. And note: This would be cooked through, as a southern Italian cook might prepare it, not left raw in the middle as we've grown accustomed to in the New World. You need to be attentive so as not to overcook the fish, but the result is full of flavor.
Elsewhere in the market were fragrant fennel, juicy young onions and garlic, and very flavorful cherry tomatoes, all of which were perfect for this sort-of-Mediterranean dish.
To make it, I thinly sliced a medium onion, two cloves of garlic and a small "bulb" of fennel (botanically, this is actually composed of the lower part of the stems). I sweated the onion and garlic, nicely salted and aromatized with thyme, in plenty of olive oil over medium-low heat; when they had softened a bit, I added the fennel, and when this too had slightly softened, doused the mixture with 3/4 cup white wine into which I'd previously infused some saffron. At this point, I tasted it and thought it would benefit from some carrot; I peeled a couple of tiny ones and sliced them very thin before adding them. When the vegetables were tender but not mushy and the cooking liquid no longer tasted like raw wine, I adjusted the salt and set the pan aside until needed.
While this was cooking, I quartered half a dozen cherry tomatoes and flavored them with salt and some of the pretty green fennel fronds.
A couple of minutes before dinner I warmed the vegetable mixture and started the tuna: I thoroughly heated a skillet over medium heat, added a little olive oil, then laid in the tuna steaks, nicely salted. After about a minute and a bit, when they were just starting to turn golden, I flipped them, waited less than half a minute, lowered the heat to medium-low and added the vegetable mixture, the tomatoes and the juice of half a lemon. After just another minute of simmering, the fish was cooked through but still moist, and that was that. (If you should contrive to overcook the tuna, it will still taste good but could be very dry, so don't use too much heat and don't take too much time.)
The wine and lemon juice ensure that this will be a sparkling, slightly tart dish; the vegetables all add their own sweetness and aroma. At room temperature, you could eat the accompaniment on its own, with crusty bread, but it is a natural with fish. Beyond tuna, it would be great with sardines, mackerel or bluefish too, or swordfish. And sure, include a few little artichoke hearts as well if you have the energy to trim them.
PHOTO GALLERY
A Bright Summery Accompaniment For Tuna Steaks