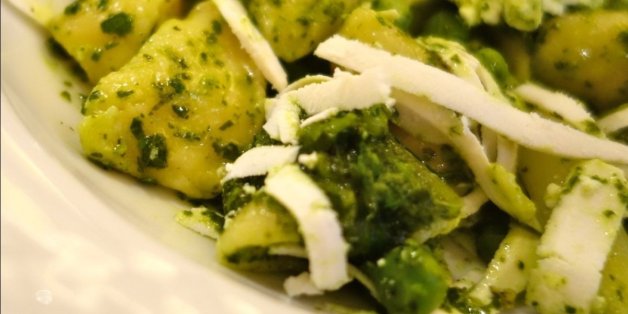 Not long ago I wrote about making ricotta at home. I've made it several times since then, both as written and in a "sweet" version without the garlic and herbs, and Jackie and I have been eating lots of it, sometimes plain but mostly as an element of other dishes. I've also discovered a versatile ingredient in the whey -- tart with lemon juice and with a fine dairy flavor.
Here are some of the ricotta things we've eaten. (All of them can, of course, be prepared with ricotta that someone else has made. If you use supermarket ricotta, leave it in a fine sieve, refrigerated, to drain for 24 hours; farmers' market ricotta is usually dry and fluffy enough to use as is, but keep your wits about you as you cook, and if the dish needs tinkering with, tinker away.)
Our new Favorite Food in the Whole World is ricotta gnocchi, made with the savory version as described in the original post. The recipe works perfectly by weight, so I won't give volume measures. For two or three generous portions (four to six starter portions), use a wooden spoon or (better) a rubber spatula to beat an egg into 250 g ricotta, then add 125 g flour and 60 g grated parmesan, plus salt and pepper (taste the resulting mixture for seasoning). When kneaded for half a minute, this should yield a dough that's firm enough not to be sticky but that's easy to form into a "rope"; adjust as needed with additional flour or spoonfuls of whey (or milk). Form a 5/8-inch (1.6-cm) rope, then cut it into gnocchi. Emulating our friend Zoe's boyfriend, I use a sort of Chinese roll-cut, cutting at a 45-degree angle, giving the rope a quarter turn, then cutting again. Here's a video demonstrating the cut -- though I turn the rope toward rather than away from me as I go. Use immediately or hold in the fridge on a waxed-paper-lined, well floured tray (or put the tray into the freezer until the gnocchi are hard, then transfer them to a plastic bag for storage). If not frozen, they take five minutes to cook in gently boiling salted water; use a skimmer to transfer them to the pan containing whatever sauce you're serving them with and toss to combine.
We've eaten these gnocchi with a simple tomato sauce; with lots of freshly shelled peas (cooked with spring onions, chicken stock, mint and butter); and with mixed-herb butter with a few peas and strips of lettuce, topped with shredded ricotta salata (store-bought). Each one was the best thing we'd ever tasted. The gnocchi are tender but bouncy and are just so delicious: Move over, potatoes.
The same herb/garlic-infused ricotta has found its way onto a pizza bianca, too -- much more interesting than bland ricotta; it would be excellent in calzone too, or of course in ravioli.
From a little batch of ricotta made without the garlic and herbs, but with some grated lemon zest, I made an elegant dessert tart - a small one, about 6 inches (15 cm) across. I first completely baked the pastry shell (4 oz / 115 g flour; 2.5 oz / 70 g butter; a little simple syrup to hold it together; and salt), lined with aluminum foil and dried beans to keep it from bubbling up. The filling was a good cup (250 ml by volume) of ricotta vigorously beaten with 3 tablespoons (35 g) of sugar, a whole egg and an egg yolk, plus a few (very few) rum-soaked raisins. It took 15 minutes to set in a 350-degree F (175 C) oven and was served at room temperature.
I've done a number of things with the whey, too. In the original post, I wrote about cooking spring garlic in whey, then pureeing it into a creamy, garlicky sauce. I've since made mashed potatoes in a similar way -- and have also cooked small dice of new potatoes in whey, then added them to that spring garlic puree: this aromatic, lemony-tart sauce/vegetable was terrific served with scallops.
The whey has also ended up in two kinds of savory pancakes. One was made with stale bread soaked in whey and broken down in the food processor to a sort of pap, to which I added eggs, sweated shallots and slivered herbs before cooking in oil flavored with butter. Bread pancakes of any kind are a great thing, and the whey added a new dimension. The other was a grand way of using a scant cup of leftover basmati rice that had been cooked as a gently spiced pilaf: I warmed the rice in whey (this softened the grains, which were fridge-hard), pureed it with an immersion blender, then added more whey, an egg and lots of herbs. The aroma of the basmati rice was striking, and the tartness of the whey made perfect sense -- we eat yogurt with pilafs, don't we?
Could I have done all these things with store-bought ricotta and, say, buttermilk? Yep. Would I? Not in the space of two weeks, that's for sure. And there's more to come, I'll bet.
PHOTO GALLERY
Using Homemade Ricotta