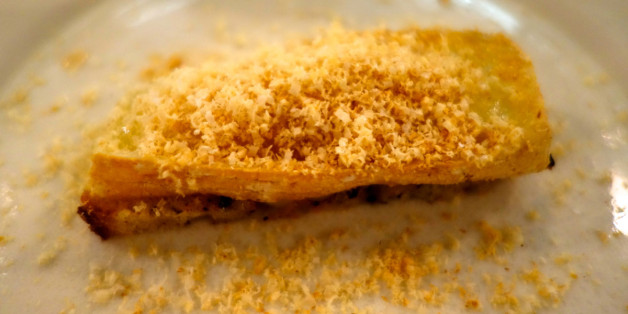 Come evening, the Shoreditch area of East London can be more than a trifle Williamsburg-y, with good-natured, generally youthful crowds making a little too much noise for those of us who are not quite so good-natured or youthful. And this high-decibel liveliness often seeps into the neighborhood's bars and restaurants, some of which are loud enough that I'll probably never find out whether they're any good. There are striking exceptions, of course, like the excellent Merchants Tavern, which is grown-up without being stiff and which serves remarkable food and drink.
Since April 2014 there's been another restaurant where you can eat well and suffer no hearing loss: Lyle's, in a former industrial building (where else?) just before Shoreditch stops being Shoreditch and becomes what I'd call Spitalfields, though such nomenclature is best left to the real estate agents. Lyle's is operated by its chef, James Lowe, and its general manager, John Ogier, both of whom previously worked just down the road at St. John Bread and Wine ("Lyle's" comes from the surname of Mr. Lowe's wife). The St. John style is evident in the spare, art- and music-free, white-painted-and-tiled dining room, in the warm, knowledgeable and enthusiastic service and in the roots of the cooking: good, mainly British ingredients carefully cooked and presented in sophisticated yet not over-elaborate ways. But Mr. Lowe's style is his own: Clean is a good way to describe it, and to my mind lighter in touch than that of the St. John school (founded, believe it or not, twenty years ago).
That light hand is particularly welcome in the evening, when Lyle's offers what might sound like too much food for some people: a single no-choices menu of five courses plus snacks (you order à la carte at lunch time, and of course allergies will be accommodated with advance notice) at the bargain price of £39 (around $65 given the rotten exchange rate), with lots of interesting wine for the £25 or £30 that in many other restaurants would buy the slightest of bottles. But thanks to the cooking style and the well-calculated portion sizes, Jackie and I walked away entirely satisfied but by no means stuffed.
That night's dinner (the menu is written daily) started with two pre-meal snacks (and very good bread and butter, both homemade): grilled corn with butter subtly sweetened with flavorful honey; and crisp, porky little pig's head fritters. I'd have expected something sharply acidic with the unctuous fritters, but Mr. Lowe served a light tarragon mayonnaise of such fresh flavor that it worked to perfection.
Indeed, the whole meal was marked by plenty of clear flavor: a piece of gurnard set in a savory roasted-tomato broth made with tomato water and fish fumet extracted from the gurnard trimmings, all scented with marjoram and marjoram flowers; aromatic chanterelles (some of them almost microscopically tiny but still full of that fruity chanterelle flavor) with a liquid-yolked slow-cooked egg, arugula and sweet onions charred around the edges - croutons lent some extra texture; seared, slowly cooked and evenly rare Dexter beef (dry aged for 12 weeks) with the beefiest jus you can imagine and accompanied by a briefly grilled leaf of Little Gem lettuce (a sort of miniature romaine) topped with a bright, acidic dice of house-cured anchovies, pickled gherkins and marinated shallots - full of contrast, but none the less harmonious; warmed St. James cheese on a finger of toast, with honey and shaved hazelnuts; and a dark-colored variation on summer pudding called Black Hat, made with fruit like blackcurrants, blackberries and damson plums and served with a particularly light and refreshing vanilla ice cream. After that came a couple of little brown-butter cakes crisp and hot out of the oven.
There's a (fairly) current menu on line, but for future visits I'm going to try not to peek: I'm full of faith in Messrs. Lowe and Ogier and their welcoming staff, and I'm confident that any surprises will be pleasant ones.
f
Lyle's http://www.lyleslondon.com/. Tea Building, 56 Shoreditch High Street, London E1 6JJ; +44 (0)203 011 5911; info@lyleslondon.com. Open for lunch and dinner Monday to Saturday. Dinner for two with a bottle of interesting wine, about £110 ($180).
PHOTO GALLERY
Lyle's: Shoreditch Dining Without the Hullabaloo