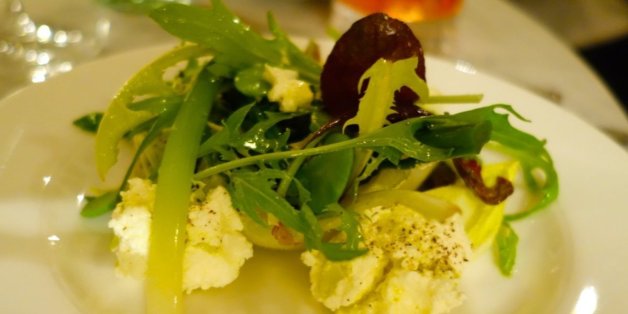 There's been no cooking in our house for the past week, unless burglars have gotten in and are making a batch of duck confit. We're traveling again, this time to Denmark and Sweden, via London of course (must build up those British Airways frequent-flier miles -- and BA flies everywhere).
So here are a few things Jackie and I have tasted on our trip, some of which will certainly get shoehorned into my home cooking sooner or later.
In London, at Cafe Murano, the chef Sam[antha] Williams has been making her own ricotta and serving it with spring vegetables. It was not like the ricotta you buy in the supermarket and not even like the ricotta you buy from good producers at the farmers' market or the Italian deli. It was amazingly creamy and aromatic, in an almost alpine-grassy way. She told me how she did it, and you can be sure I'll be making some PDQ once we're home. If I succeed, I'll write about it.
At Café Rosa in Copenhagen's Torvehallerne food market (not a farmers' market but a nice collection of vendors), we had a more-or-less classic Danish cardamom bun, our first. If you like cardamom, you'd love this pastry. When our friend Trine's new baking book comes out, I'll be checking the index for these buns.
Finally -- for now -- another homemade dairy revelation. In Gothenburg, Sweden, the restaurant Thörnströms Kök serves two butters that they make themselves. One was regular (heavily salted), and it was delicious but not a life-changing spread. But the other was made of rich sour cream -- like crème fraîche -- and it almost wasn't butter at all: very tangy and very light, it was something in between the starting point as cream and the finish line of low-moisture butter. I asked about this (just about everybody speaks English in these parts, fortunately), and was told that, yes, they stop short of completely churning the cream into butter and they drain it in a cloth, but not too long. That's a pretty vague recipe, but I'm going to conduct a couple of experiments -- between that and Cafe Murano's ricotta, we'll be going through quite a bit of milk and cream from our favorite farmers' market vendors.
By the time this post is up, we'll be in Stockholm -- there, then once again in London, I expect to find more flavors to emulate once we get home.
PHOTO GALLERY
On The Road Again: London and Scandinavia