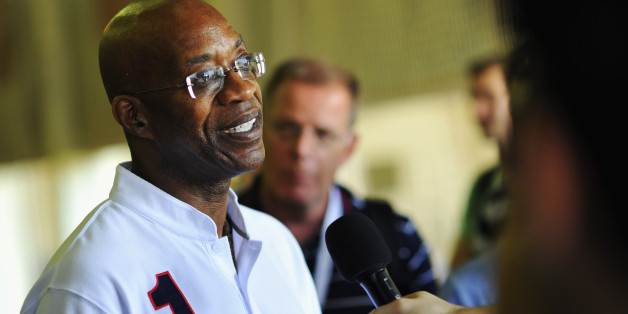 The concept of "Think Globally, Act Locally" is something that is often discussed in the nonprofit world. For international organizations to be successful and create lasting change, they need to take a holistic view to assess the issues at hand, and then build out programs locally that will have the capacity, structure, and support to make a difference. Once enough local programs are in place, the hope is to reach a tipping point where the effects are felt around the world.
In no other sector is this more evident than in what we call Sport for Good. The idea of Sport for Good focuses on using the power of sports to tackle some of society's most pressing issues. This means much more than providing recreational sports or just building a soccer field so kids have a place to play. Instead the focus is on using sports as the platform to provide the structure, mentorship, and guidance necessary for underserved children to gain an education, learn how to lead healthy lives, and put them on a path for success in life beyond the playing field.
As the sector continues to grow, we collectively owe a huge debt of gratitude to the late Nelson Mandela. Mandela was a major advocate for using sports to promote change, and many people credit him with being the "father" of Sport for Good. In fact, he was the first Patron of Laureus back in 1999 and truly helped set the vision for what Sport for Good could be. As the Laureus Sport for Good Foundation approaches its 15th birthday this month, his guidance and leadership are still found throughout our programs, as well as with other leading organizations that share our mission.
He was instrumental in recognizing the impact sports can have on a community, establishing the Nelson Mandela Children's Fund that provided programs throughout South Africa. He encouraged youth to participate because he understood the lasting positive effects it would have on his people. He had innate understanding of the need for community involvement to truly make a difference on a larger scale. This inspired thousands of sport for development non-profit organizations to grow from the grassroots level over the years, all of which help to fulfill his legacy and mission he set forth for us.
In order for the ultimate power of sport to be realized, Mandela created an overall global vision that would be supported by customized, youth-oriented programs implemented on a local level. To make this happen, a strong network of organizations working together needed to be established along with a solid pipeline of funding support from outside sources, which Mandela helped mobilize first in South Africa, and then around the globe.
Sport for Good is still young, particularly in the U.S., but a number of local organizations have emerged, working hand-in-hand with international nonprofits and backers to bring the global vision to life. For example Up2Us, a nonprofit based in New York City, has established the Coach Across America program that provides training to coaches in 33 states to ensure kids have effective mentors and guidance. Playworks is another organization providing structured in-school recess activities to kids in 23 states, where they also help train coaches and mentors in under resourced communities. These are just a couple organizations, along with the likes of the Aspen Institute's Project Play and countless others that share common goals in the effort to push Mandela's legacy forward and bring his vision to life around the world. Additionally, a number of corporations such as Mercedes-Benz USA and IWC Schaffhausen have provided outstanding support and grants, making most of this great work possible. Without the support of corporate backers, a strong network of individual donors, and foundations, none of Mandela's vision or these local programs would be able to survive.
At the first ever Laureus Sports Awards in 2000 in Monaco Mandela said, "Sport has the power to change the world. It has the power to inspire. It has the power to unite people in a way that little else does. It speaks to youth in a language they understand. Sport can create hope, where once there was only despair. It is more powerful than governments in breaking down racial barriers. It laughs in face of all types of discrimination."
Those words are what Sport for Good is founded on, and what the organizations I mentioned strongly believe can lead to global change. Mandela provided us with the global vision; it's on us to make it happen in schools and communities around the globe.
As the Sport for Good sector matures and these networks and programs evolve and become more sophisticated, the power of sport that Mandela spoke of will become much more evident in people's everyday lives. Whether it's making communities safer, improving health and reducing obesity, or educating and mentoring, sports truly do have the power to change the world.