By Eliza Klein (MA)
At 8:30 in the morning on March 21, 2015, 500 youth activists at the EF Global Student Leaders Summit sat silently in a conference room outside San Jose, Costa Rica. After a few minutes of anticipation, renowned conservationist Dr. Jane Goodall graced the stage.
In the hour that followed, Dr. Goodall delivered a beautiful keynote speech in which she shared her story as a trailblazing woman in science, answered student questions, and encouraged all of us to fight for animals, the planet, and each other.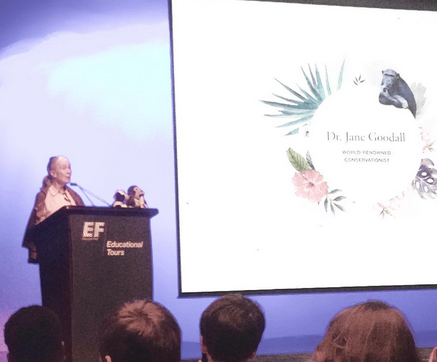 Photo credit: EFTours/Instagram
Dr. Goodall always speaks beside her stuffed cow and stuffed monkey, Mr. H. At almost 81 years old, Jane is still going strong. She travels over 300 days per year to spread her message of hope.
During her keynote, Dr. Goodall told us that she feels ashamed on behalf of the human race, given how much of the Earth has been destroyed since she was our age. Climate change, poverty, and the rise of agribusiness are pillaging our planet. Jane was very adamant about the fact that my generation has inherited countless problems that we must solve.
However, Dr. Goodall was not entirely cynical about the fate of humanity. In her speech she told us about a few success stories, including the revitalization of Gombe National Park in Tanzania, and she also provided us with her four main reasons for hope: the indomitable human spirit, the human brain, the resilience of nature, and the determination of youth.
I was particularly moved by Dr. Goodall's speech. As a participant in her youth activism program, Roots & Shoots, and as a member of her National Youth Leadership Council, I have had the privilege of seeing her speak multiple times. However, I find watching her talk to an audience entirely composed of young people far more inspiring than watching her talk to one mostly composed of adults. As the rising environmentalists of this generation, we are her legacy.
Following Dr. Goodall's keynote, summit participants broke into groups to participate in "innovation sessions," where we identified environmental issues in our communities and brainstormed creative solutions using a process called design thinking. Design thinking is a version of the scientific method that involves empathy as one of its key steps.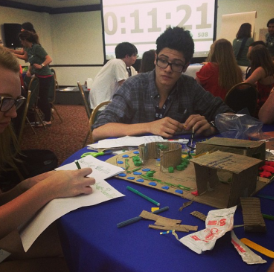 Photo credit: EFTours/Instagram
During the innovation sessions, groups brainstormed inventive environmental solutions, including turtle rehabilitation centers for invasive species and 3D printers that take plastic water bottles and revamp them into reusable containers.
I was lucky enough to attend a lunch with Dr. Goodall after the innovation session ended. Though she is ever-inspiring, for me the highlight of the lunch was talking to Severn Cullis-Suzuki. Cullis-Suzuki garnered international attention when her 1992 speech at the UN Earth Summit in Brazil became famous. Though she was 12 at the time, her speech, "The Girl Who Silenced the World for 12 Minutes," has since gone viral. Today she is working on a number of climate justice issues and is an environmentalist in her community in Canada. She is also on the Earth Charter Commission.
Later in the afternoon, students broke up into groups once again, this time to attend workshops. I had the honor of running a workshop with my fellow Roots & Shoots Youth Leaders, Dana and Hasib. Our session was titled "So You Want to Make a Difference?" and in it we taught students how to use digital mapping strategies to discover local needs. Through community mapping, young people can explore the nuances of their regions and design effective environmental service projects.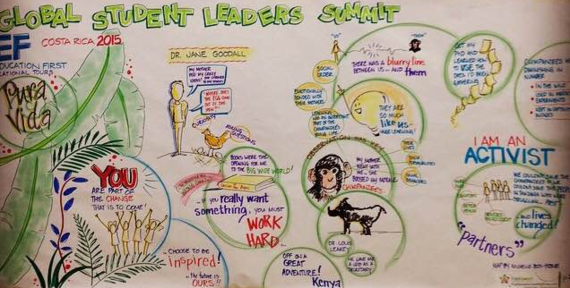 Michelle Boos-Stone's visual representation of day 1 of the conference
Over dinner I had the pleasure of sitting next to Joe Levine, a renowned scientist who co-wrote the Pearson biology textbook. He talked to my young female friends and me about how we need to start following our climate heroes, like Dr. Goodall, as soon as possible. He explained how many of the original trailblazing female scientists of his generation -- Dr. Goodall, Rachel Carson, Dr. Eugenie Clark -- are looking to the leaders of tomorrow for help. Thus, the world needs us to rise up in their place.
In a conversation about climate action over lunch, Cullis-Suzuki said that "we need a metanarrative." Hopefully, youth will leave the EF Global Student Leaders Summit ready to work toward establishing that overarching metanarrative, or "big story," that can help mitigate climate change.
About the Global Student Leaders Summit Series
This post is part of a series produced by EF Educational Tours, in recognition of the EF Global Student Leaders Summit.
Throughout the next two weeks, you will hear from EF Student Journalism Interns detailing their experiences before, during and after the 2015 Costa Rica Summit. The internship offers a way for students traveling to Costa Rica to become even more engaged with their journey and gain real-time, deadline driven writing experience. During the Summit these students will be covering stories as they unfold and sharing their experiences through their writing!
For more information on EF Educational Tours click here.