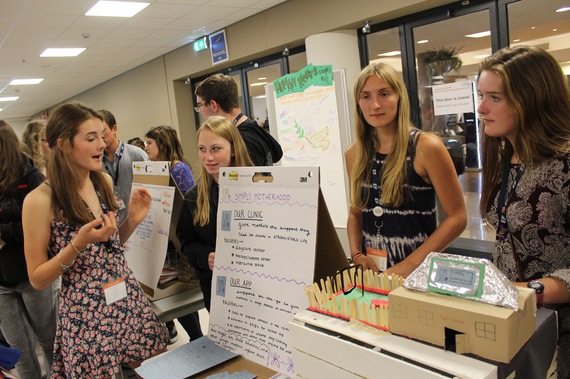 Students at the EF Education First Global Student Leaders Summit created proposals to address human rights throughout the world, which they presented at the conference's Innovation Village. Photo Credit: Sara Vanderhorst.
By Sabrina Epstein
What can I do?
Over and over again, I heard this simple question asked at the recent EF Global Student Leaders Summit, a human rights conference for students around the world hosted by EF Educational Tours. As we immersed ourselves in the subject of human rights, notable leaders offered their answers. We heard from a diverse group of speakers including Arun Gandhi, Ndaba Mandela, Nicholas Kristof, and Sheryl WuDunn. We learned design thinking and applied it to solving real problems. We participated in interactive performances, learned to harness our unique strengths, and joined in celebration of our collective commitment to human rights.
The goal of the Summit wasn't just to provide information, but also to encourage and inspire the students to take action in their own communities. My answer to the question "what can I do" is rooted in my experience with Artful Start, a nonprofit that I founded to help improve human rights in my community, specifically for people with disabilities. Here are the steps to get you moving towards shaping the future of human rights.
Start with yourself.
During his keynote, Dr. Arun Gandhi said, "If we change ourselves, we can change the world." This message perfectly sums up how to begin change. Nothing can happen until you take the time to reflect on your own strengths, weaknesses, and desires. Improve yourself before you try to improve others.
Believe in the power of your own voice.

In the words of Abii-Tah Chungong, a graduate of the African Leadership Academy, "My least favorite word is 'Shhhhh.'" Don't let anyone silence you. Your voice has power, regardless of your age or background. Most importantly, remember that you are your own worst critic. Stop telling yourself that you can't change anything, and channel that negativity into action.
Listen.

Look around you. You are surrounded by people with their own unique stories and journeys that are more complex than you can ever imagine. If you truly want to solve a problem, you need to understand it first. To do so, find the people experiencing it. Ask for their stories, and simply listen. Storytelling is an incredible opportunity to build empathy, a crucial step towards positive change. My interest in human rights for people with disabilities began when I volunteered at a summer camp for children with special needs. Listening to the experiences of the campers and their families opened my eyes to the hardships in our society for people with disabilities.
Embrace your passion to harness your strengths.

This step is especially relevant to me. For as long as I can remember, art has always been an important part of my life. When I became increasingly frustrated with the problems people with disabilities faced in my own community, I turned back to my passion and I founded an accessible art program for children with disabilities. Everyone has a passion--that thing that makes you smile, makes you jump up and down, makes you angry. The beauty of this subject is that regardless of your passion, you can relate it back to human rights. Sheryl WuDunn said that "this revolution needs people with skills from different backgrounds." Bring your unique skills to the table to maximize your impact.
Harness the ripple effect.

Dr. Arun Gandhi compared inner peace to a grain of wheat. If you lock it up, it will whither away, but if you expose it to the elements, it will grow into a field of wheat and nourish others. Your change needs to grow into the fabled field of wheat. To do so, think of your impact not as a stand-alone project, but as part of a larger change. Sheryl WuDunn beautifully described each individual impact as a link on a chain, and embracing the ripple effect is connecting the links together. You're not going to save the world on your own, but if you focus on the link that you're best at, you can form a crucial part of the chain. I've done this in Artful Start by partnering with existing programs in my community.
Keep going.
Change does not occur with a single action. The unique thing about each of the individuals who took the stage at the Summit is that they are continuously working to change their communities. In design thinking workshops at the Summit, the process is illustrated as a cycle rather than a linear set of directions. Your path to change the world is not a straight line. You are going to have to take some twists and turns, step back and reevaluate, and even stumble and fall every once in awhile. What matters is that regardless of your path, you keep moving forward on the road to change.
On my bulletin board above my desk, I have a postcard with my favorite quote from Margaret Mead. It reads, "Never doubt that a small group of thoughtful, committed citizens can change the world; indeed, it's the only thing that ever has." The small change you make today is truly just as significant as the larger ones. You never know whether that change is the one that completes the chain of actions to solve some global problem, or perhaps more importantly, starts that chain, initiating many more links of improvement.
So find that small group. Be confident in your ability to make a difference. Commit yourself and your talents towards fixing our flawed world.
Go take that first step.
Sabrina Epstein is a rising senior from San Antonio, Texas.
This post is part of a series produced by The Huffington Post and EF Educational Tours about the recent EF Global Student Leaders Summit, which explored human rights in the Netherlands. The Summit Series combines educational travel with a two-day leadership conference, and asks students to tackle global challenges in places where those challenges are notably present or well-addressed. To view all posts in the series, visit here.