By Carolyn Cross
Michelle Obama recently traveled to China with her daughters and mother to promote cross-cultural exchange, education, and the power of today's youth. At the same time as the Obamas were touring China, I was too, with a group of students and teachers attending the EF Global Student Leaders Summit. As I read more about the Obama's experience, I realized that my experience at the Global Student Leaders Summit aligned almost seamlessly with what Mrs. Obama was promoting: working together with high-school students from all over the United States and China to solve today's global issues. I'd like to share with you my reflection and what I learned during the EF Summit in Shanghai.
As a student at Wilbraham and Monson Academy, located in Massachusetts, where many of the international students are from China, I was interested in visiting the cities where many of my friends and classmates had grown up. The rapid economic growth and large population are some aspects of the country that I already knew about, but I wanted to learn more and see the country for myself. I had never traveled to an Asian country, and the opportunity to do so presented a new and exciting educational experience. At my school, I was selected as a Global Scholar, meaning that the school gave me a scholarship to participate in a school trip to an international destination.
This opportunity gave my peers and me the opportunity to tour China and then interact with local students at a two-day cross-cultural leadership summit focusing on social responsibility in the new global economy, organized by EF Education First. At the summit, students from America and China worked together in teams to tackle a social issue that they are passionate about and build 21st century skills.
As a student journalism intern for EF, I had the opportunity to join a press conference during the summit with former U.S. Ambassador to China, Governor Jon Huntsman, Jr. This press conference was our chance to get a bit more personal with Governor Huntsman and learn first-hand about his experience developing Sino-American relations.
During the presser, Governor Huntsman discussed his time in Taiwan, his service as Ambassador, and the biggest challenges that face the world today. Huntsman was a pioneer in his decision to embrace and learn about Chinese culture, as Chinese studies were not at all common when he was a student. Huntsman voiced his belief that listening is the best thing we, as the next leaders of the world, can do to instill trust in each other and create better relations between nations. He said that one of the biggest challenges we face today is how fast technology is improving. The constant invention of "the next big thing" tests morality and makes the old-fashioned face-to-face conversation something of the past. At the Global Student Leaders Summit, however, person-to-person conversation was necessary for group members to communicate their ideas and work together.
At the start of the summit, all of the Chinese and American students were mixed together and assigned to a small group and told to create a social enterprise that fell into a given category. These four categories were Universal Rights, Education, Environment, and Health and Safety. Each group would have two days to complete their business idea and design a prototype, which would be displayed at the Summit's culminating event, the Innovation Village. This event allowed each group to present their ideas and their final concept to judges and attendees in a science-fair type setting.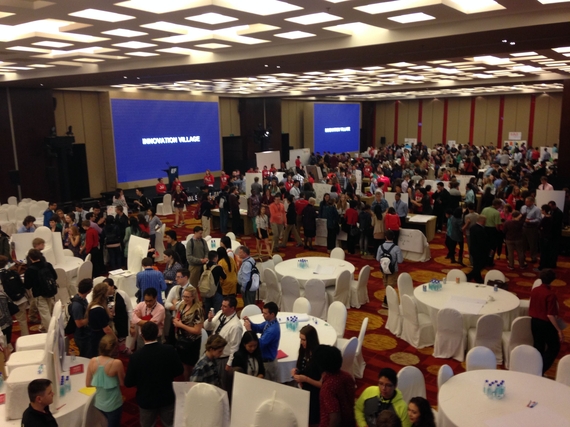 As a member of a small group, each person had to listen to others' opinions, brainstorm, and work together to create a final product. As I witnessed firsthand, this process was not always smooth, as failure dominated our first day of innovation. After abandoning the topic of bullying and turning to something more specific, my group began to work together and produce ideas that the majority of the group agreed upon. This process simulated how teams work together to create new products that we use in all areas of our lives. Whatever failure we encountered during the process worked to our advantage as we took first place in the popular vote with our product to eliminate texting and driving, a problem that affects both the United States and China. Through this project, we experienced what it means to be a social entrepreneur.
Social entrepreneurship is important because it is what drives change in the world. Social entrepreneurs hear about or see unnecessary suffering in the world, and they become passionate about changing it. They work to improve conditions in areas such as health, education, the environment, and human rights. As we all live in this world together, we must work together to find lasting solutions to the problems that we face. Social entrepreneurs actively pursue these solutions and measure their success in the positive effect that their work has on society, thus continually improving the world that we live in.
At the Summit, I learned what kind of challenges social entrepreneurs face and what factors are needed to make a social entrepreneurship venture successful and sustainable. One of the most common challenges is funding for projects such as schools, hospitals, housing, or food programs. One of the speakers, Sasha Fisher, offered a solution to this problem by sharing her positive experience with small loans to improve communities. With my new knowledge, I can set out to forge my own path of change in an area that I am passionate about.
The Global Student Leaders Summit included some inspiring speakers, my personal favorite being Adam Davidson and Alex Blumberg from NPR's "Planet Money" and Sasha Fisher, Co-founder and Executive Director of Spark MicroGrants.
Davidson and Blumberg narrated an interactive presentation in which members of the audience had the chance to go up on stage and be a farmer, a merchant, a factory worker, a royal, an office worker, a doctor, or an entrepreneur. Through these different characters, they demonstrated how the world went through its various stages of development with the majority of people being farmers in the beginning, to more people working in factories, and finally, to a growing number of professionals and entrepreneurs.
Sasha Fisher leads an organization that benefits the lives of over 31,000 people mainly in Rwanda but elsewhere as well. Spark MicroGrants promotes sustainable growth by providing funds for communities to launch social impact projects such as schools, health centers, and farms. Instead of an outside organization coming in to build something and then leaving when they are finished, the community members work on the projects themselves and get to see the results of their hard work. It was obvious that Sasha loves what she does, as her excitement about the projects she discussed swept through the audience and made others want to act upon the social responsibility that we all have the duty of fulfilling. Sasha Fisher proved that one person can in fact make a difference.
The overall Summit experience was trying at times, but in the end it was rewarding and worthwhile. Seeing all of the great ideas that each group came up with, and hearing the stories of individuals currently making a difference, gave me faith that the rising leaders of tomorrow, no matter where they are in the world, can work together to tackle important global issues and be socially responsible global citizens.
Carolyn Cross is a junior at Wilbraham & Munson Academy in Wilbraham, Massachusetts.