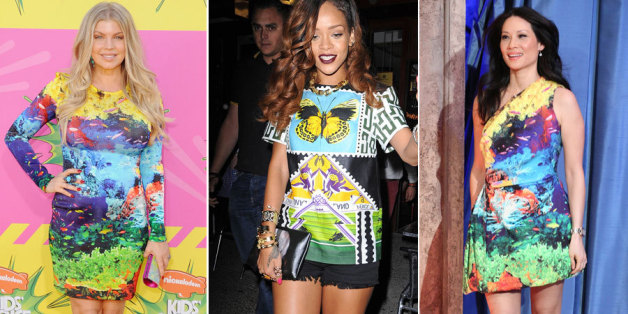 Su nombre puede parecer impronunciable pero su estilo es sin duda inconfundible. Mary Katrantzou, con su estampados alucinantes y sus formas delineadas, es hoy en día uno de los talentos más sólidos y relevantes en el mundo de la moda.
La joven diseñadora griega empezó su carrera académica en Estados Unidos con la intención de convertirse en arquitecto. Pero su verdadera vocación la llevó a trasladar sus estudios a Central Saint Martins College of Arts and Design en Londres, el alma mater de titanes de la moda como Alexander McQueen, John Galliano y Stella McCartney.
En Central Saint Martins, Katrantzou se enfocó en diseño textil para interiores y desarrolló lo que se convertiría en la icónica identidad de sus piezas. Su estilo está definido por estampados alucinantes y diseños surrealistas, algunos salpicados con referencias gráficas al Pop Art. Katrantzou utiliza la técnica de estampa digital que le permite ilustrar tejidos a través de una foto fiel. El resultado son piezas que crean efectos ilusorios y absorbentes.
Su estilo inconfundible ha marcado todo su trabajo, desde la primera colección que presentó en su graduación del College hasta su más reciente Resort 2014.
Para su primera colección, Katrantzou imprimió imágenes de enormes collares sobre los vestidos que lucieron sus modelos y sobre ellos colocó los collares reales, idénticos al estampado. El resultado, un juego entre la realidad y la ilusión, es la dualidad que está siempre presente en sus diseños. A Katrantzou le gusta jugar con las formas, diseña frunces que se convierten en cortinas o colgantes que se convierten en candelabros.
Su éxito ha sido meteórico. En un corto tiempo, Katrantzou logró reclutar a figuras de la moda como Anna Dello Russo, Alexa Chung y Blake Lively. Además, obtuvo patronage de sus prendas, que son de factura impecable. Grandes firmas como Christian Louboutin, Topshop y Longchamp han realizado exitosas colaboraciones con sus diseños.
FOTOS: (MÁS ABAJO PODRÁS VER ENTREVISTA EN VIDEO)
PHOTO GALLERY
BEFORE YOU GO
Famosas y modelos vestidas de Mary Katrantzou
PHOTO GALLERY
Famosas y modelos vestidas de Mary Katrantzou
Desde el comienzo de su carrera, he tenido el honor de poder apoyar a Mary Katrantzou y desarrollar una relación que nos ha permitido colaborar en proyectos. Es una diseñadora con infinito talento, con una visión maximalista y alucinógena.
No te pierdas mi entrevista con Mary Katrantzou aquí: