First published on the History of Text Technologies.
In 2010, Christie's sold a beautiful, de luxe Book of Hours that had been made in Northern France in about 1460 and contained over two hundred and fifty leaves. It was described here.
The book went under the hammer for £25,000 + auction fees and was sold to a trade buyer. Christie's description demonstrated the significance of the book: its artistic qualities are outstanding, as is the case with so many other extant Books of Hours. Foliate decoration embellished with gold leaf enhances multiple pages; the regularity of the Gothic cursive script suggests an accomplished and experienced scribe. Written into the last opening is a set of unpublished fifteenth-century French prayers. Seventeen full-page, gold adorned, illuminations will have provided meditative image-space for users of the book. Thus, notwithstanding the guesstimated 10,600 surviving Books of Hours, it is a unique and rich witness to private devotional book production at the apogee of the manuscript age. Moreover, in the nineteenth century, when so many antiquarians meddled with manuscripts in ways that varied from vandalistic to fetishistic, this manuscript seems to have been touched up by none other than the artist Caleb William Wing, a famous intervener, who 'improved' manuscript images and worked for well-known book collectors, such as John Boykett Jarman. This manuscript, then, has quite a bit of its post-facture history and provenance intact, and is a fascinating case study of a book's life.
Life. And death.
I now own the 'book.' Or at least, I might be said to own the 'book', since I possess the nineteenth-century binding, the pink silk flyleaves with the book's distinguished provenance, and eleven folios of the original medieval core, including the French pairs. But I do not possess the book and will never be able to put it back together. Why? Because it has, since 2010, been broken up deliberately and sold (mostly via EBay, I think) piecemeal in an act of shocking and greedy deconstruction that I have uncovered in the last two weeks. I should say, too, that I bought the binding and intact leaves from a trusted American book-seller, and purchased them specifically for teaching, assuming the codex had been fragmented decades ago.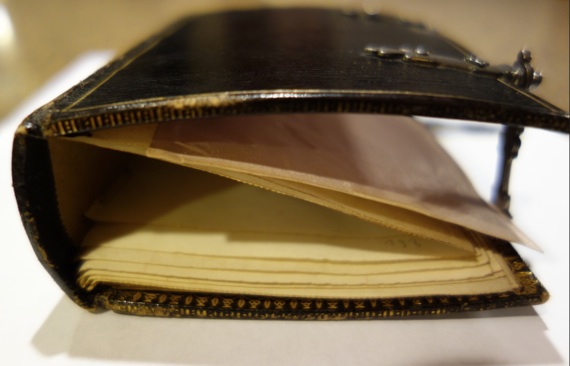 This shattered shell of a book has proven improbably easy to trace. It was owned in the nineteenth century by a well-known collector, Edward Arnold, whose ex libris is still in situ on the front pink endleaf. Edward Arnold's very substantial collection was sold at major auctions in the 1920s and 1930s. In the Catalogue of Manuscripts Belonging to Edward Arnold, this book is his number 615, as still recorded in pencil on the verso of the second flyleaf. The Catalogue entry reads:
615. B. M. v., cum Calendario, illuminated MS, on vellum, 252 11. [Flemish 15th century], 17 full-page illuminated miniatures with designed and floriated borders, decorated with angels, birds, fruit, and grotesque figures, over 250 of the pages having beautiful painted leafy borders heightened with gold, with many hundreds of illuminated initial letters, stout small 8vo, modern black morocco extra, with metal clasps, gauffred gilt edges Saec. XV
I don't yet know who bought this book during these auctions, but the book clearly made its way to Christie's for their sale in November 2010. Currently, the individual leaves or individual bifolia are being sold on Ebay by the 'International Art and Antique Gallery,' a shop in Leipzig, owned by 'kunsthandel' Chidsanucha Walter e.K (see here).
This seller has individual leaves listed on EBay in a variety of languages and with no meaningful context provided. The miniatures are selling for $2,300 or so; individual leaves for up to $150; bifolia for about $400, depending on the extent of gold leaf or foliate decoration. I am screen-grabbing every folio as it appears. And in a crisis mode, twenty minutes before the clock ran out, I discovered two Calendar bifolia for sale on EBay. So I bought them, plus one other leaf with foliate marginal ornamentation, so that I could show students how this Book of Hours might have looked (would have looked, just three years ago). I realize that I thereby directly contributed to the appalling trade in dismembered books, but these are the only leaves I will buy, despite dealing with a continuing feeling of desperation as I watch this manuscript literally fragment into irrecoverable bits. Buying these leaves has given me the opportunity to comment publicly on EBay about this particular Leipzig-based seller, which I have duly done, noting that fragmented books are sold by this dealer.
I have alerted Christie's to the history of this book since they sold it whole. I have also spoken to colleagues in the antiquarian book trade and scholars in early book history. There is so much more that can be done to stop this myopic and destructive profiteering and I intend to make as much noise as possible about it and to try and think of ways to help stop it, where possible. I calculate that the person selling the body parts of this book won't have made much more than $20,000 in profit. Is biblioclasm of this scale really worth that?