Did you know that the hotel workers hosting the big DC inaugural events are members of UNITE HERE Local 25? They are busy making sure that guests have a memorable stay for this historic occasion that unions like ours helped make possible. The unionized workers you see around the big hotels in DC are wearing their beliefs on their sleeves (ok, on their lapels) this week.
Members are wearing buttons saying "UNITE HERE! Employee Free Choice: There oughta be a law!":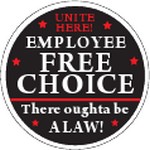 I interviewed UNITE HERE member Myron Gorham, a dishwasher at the Marriott Wardman Park in DC.
Q: What will you tell hotel guests who ask what that button is about?
Myron Gorham: "Its for the Employee Free Choice Act-- a bill to help people more easily unionize without threat from their management. To make it so that management can't take some people and bribe them to ruin the boat while the rest get screwed over in the process"
Q: How do guests benefit from staying at a union hotel?
MG: "Unionized workers are generally more happy --- and when you have happy people working to help you it will be a more pleasant experience."
Q: How will staying at visibly unionized hotels impact folks here for the inauguration?
MG: "Usually When you go to a hotel you don't really know ifsomeone is unionized or not (NOTE: You can find out by checking our online guide here). I think the buttons will raise awareness not just about Employee Free Choice but about the benefits of unions because the customers will say "oh, these workers are unionized" and when the guests go home they might see the difference in the experience between union and non union hotels."
Q: What are your hopes for the Obama administration?
MG: "I hope he undoes everything Bush did as far as labor. The Bush labor dept set the labor movement back. We hope Obama undoes what bush did. Labor works hard to get workers what we got and it wasn't fair what Bush did to hurt unions"
So true. If you happen to see any UNITE HERE members at events you go to in either hotels or the DC Convention Center be sure to say hello.