A month before my wedding, what will probably be the most self-indulgent event of my life, I decided to live in extreme poverty.
This wasn't a gimmicky weight loss scheme (though, brides, I did lose two pounds). Rather, it was a chance to try and see -- really see -- what it means to have only a handful of change to spend on food.
To be honest, when my co-worker suggested we join the "Live Below the Line" campaign, I thought we'd just be giving up on some guilty pleasures -- organic meat and overpriced chopped salads and such. It was only after we excitedly tweeted our commitment to our 40,000-plus followers that I realized that we'd be nearly starving, the way 1.4 billion people across the world are right this very minute.
We will be living on $1.50 a day next week raising money for @unicef #belowtheline livebelowtheline.com/me/hpimpact

— HuffPost Impact (@HuffPostImpact) April 26, 2013
The campaign asked that supporters eat just $1.50 worth of food a day for five days to raise poverty awareness and charity for a number of causes -- we chose UNICEF. It was brutal, but the initiative actually goes easy on its participants. According to the World Bank, people living in extreme poverty rely on the equivalent of six quarters for everything.
Every. Single. Thing.
This campaign hoped to show that if stretching $1.50 on food felt torturous, than using that amount for every expense would just seem unfathomable.
It really was torture.
And this isn't coming from a woos who can't handle physical pain.
I've raced in half marathons and Olympic distance triathlons in the dead of summer. I've done juice cleanses and actually fast for 25-hour periods multiple times a year for Jewish holidays. I've hiked in scorching deserts and I slept in a hammock in the Amazon with a machete by my side (just for one night, but still).
But this was by far the most physically frustrating experience to which I've ever voluntarily subjected my body.
After five years of tutoring kids in a rough New York City project, and nearly two covering poverty-related issues, I thought I had a decent idea of the struggles underserved people face.
However, it wasn't until I had to reach for gloves in May, while my head throbbed, and, (sorry for the TMI) pretty much had no use for the bathroom, that I started to get the idea.
Sure. Some of our critics (and we had plenty) argued that temporarily restricting our food intake while still having access to iPhones, laptops, mass transit and every other first-world convenience couldn't have possibly begun to replicate extreme poverty living. (These naysayers didn't even know that I was also filling up on dressmaker appointments, ballroom dance lessons and Jimmy Choo look-a-likes for my wedding in my free time.)
But, as I experienced last week, just restricting calories and nutrients does cut straight to some of the world's most devastating problems.
This is what a diet of deprivation looks like:
To make it work, my co-worker and I pooled our change, bought groceries in bulk and made the same dish for lunch and dinner each day. No, I couldn't take free snacks and drinks at work -- though, suddenly, it turned into National Free Cupcake Week at our offices last week (or at least it felt like it). I couldn't accept freebies from friends or beg on the street (though I really was tempted).
I did go to sleep with hunger pangs and my first meal of the day -- a cup of black instant coffee and a hard-boiled egg (total: 35 cents) -- was nothing to salivate over.
We stretched a pound of spaghetti, with peas and a dollop of tuna over the course of eight meals.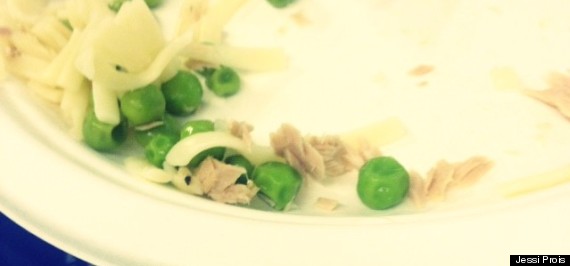 We each had about eight bites of potatoes, carrots and tofu (a whole three squares) for lunch and, again for dinner, one day (though I ate my supper on the subway because I was so too hungry to wait until I got home to eat like a civilized person).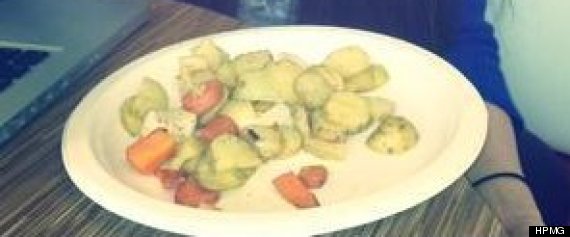 Peanut butter, the food that tided me over most, was my favorite lunch even though I ate it on stale white bread.
Now, I'm 5'1, and not a huge eater, and even with our careful planning and consulting with my nutritionist mom, I never felt full.
The problem with living on such a restrictive budget is that even if the portions are decent, affordable foods are not nutritionally dense, like their whole wheat and fibrous counterparts, which means staying satiated was never really option. And working out was completely out of the question. I couldn't afford to expend the extra energy.
So, on top of pretty much eliminating fiber, fruits, vegetables and feeling famished, unfocused, tired (and experiencing a strange tingling in my hands and feet), I also couldn't muster the energy to do a damn thing at the end of the day. I just zoned out in the front of the television and waited for sleep to drown out my appetite.
As the week slowly crept to a close, I really just wanted to get back to taking sweaty yoga classes and choosing cupcakes to eat on the dance floor. But at the moment I looked at the heaping plate of food at my "break fast meal," I knew that just being able to kind of, sort of describe what impoverished people go through wouldn't really do anything to alleviate the issue.
Inasmuch as I didn't want to hound the friends and family -- whom I've been treating like human ATMs since I got engaged -- I knew that I needed to get them involved in helping to raise money for kids everywhere who don't have enough of food to eat, or even enough energy to go out and play.
It's a devastating issue that we're not just talking about in far-flung slums.
Right here, in the U.S., as school comes to a close and the ground starts to dry, so do food prospects for millions of poor children.
In 2011, more than 31 million low-income children qualified for free or reduced-price meals through the National School Lunch Program. But once summer started though, just 2.3 million kids participated in the Summer Food Service Program, according to the USDA.
That means that hunger -- that gnawing-in-your-stomach-no-amount-of-water-can-soothe kind of hunger -- that I experienced all last week, isn't something we need to just raise awareness about in countries where safety net programs aren't available.
As Marian Wright Edelman, President of Children Defense Fund, pointed out in a blog last year, hunger becomes a particularly precarious issue in the U.S. once the final bell rings.
Even though many food programs are actually eligible for funding, there simply aren't enough programs available to serve all the kids who need them. Summer schools and youth groups face budget cuts and even when there are decent programs in place, getting the word out often proves difficult.
Even do-gooders who are determined to make a difference on a grassroots level face bureaucratic nightmares when they try getting campaigns off the ground.
After turning her driveway into a dining room for 60 Philadelphia children desperate for a daily meal last summer, Angela Prattis faced hefty fines because she hadn't applied for the proper paperwork, the Philadelphia Inquirer reported. Her food program was funded by the state department of education, yet officials initially threatened to fine her $600 a day until she stopped serving food in a residential area.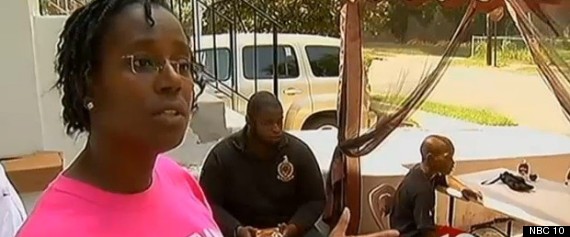 Prattis refused to shut down her program and told the Delaware County Times that she was just "keeping the children out of harm's way." She eventually got free legal help and donations to allow her to continue feeding kids, NBC reported.
But how many Angela Prattises do we have out there?
I wish I could say that feeling the ache of hunger keep me up at night, and make me want to drop out of any and all activities during the day inspired me to come up with some innovative solutions to help put an end to this heart wrenching issue. I don't have any more answers than I did before I tried living on a $1.50 a day. But I do know how easy to save a few bucks at the supermarket, so that I can spend more on trying to help get meals to people who don't have enough to eat.
Feeling inspired? Find out how you can contribute to our Live Below the Line campaign here.