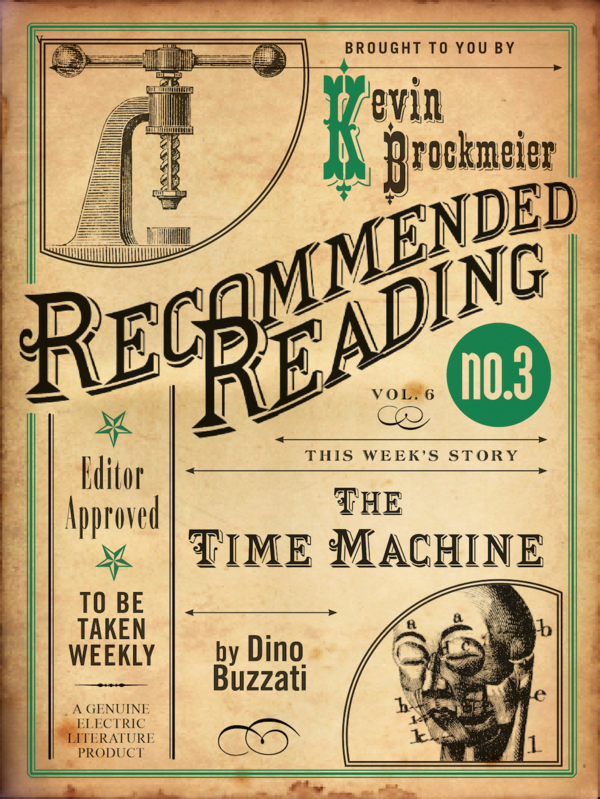 Dino Buzzati is one of the great literary practitioners of the dark marvelous. To my mind, he constitutes one corner in the triangle of indispensable 20th century Italian fantasists, a status he shares with his contemporaries Italo Calvino and Tommaso Landolfi. At his best, Buzzati is the most serene of the three, but also the most pessimistic. The satisfactions his fiction provides are every bit as abundant as Calvino's and Landolfi's, but each of them offers his readers a distinct sensation of travel: through Calvino's books I feel that I am flying, through Landolfi's that I am striding, through Buzzati's that I am sinking—though his voice is so quiet, so reassuring, that I am never sure whether I am sinking into sleep or into the sea.
"The Time Machine" is one of his emblematic stories. I admire it for the jolt of human feeling Buzzati brings to what is, at its core, a work of hard science fiction. For the grace and precision with which he shapes his prose. For the potent simplicity of the conceit he adopts: Diacosia, which doubles its inhabitants' lifespans by halving the pace of time, could be one of Calvino's Invisible Cities (though in fact the tale preceded Calvino's book by nearly twenty years). For the way the story's air of magazine journalism shades gradually over into poetry. For its curious mathematical interlude, whose cadence so unexpectedly reproduces the phenomenon it describes, requiring us to slow our reading to a crawl before returning us to a sprint. And for the frightening vision around which it revolves—of lives that begin in stillness and leisure before they quicken suddenly into deterioration and old age. Remind you of anything?
It has been my misfortune as a reader, again and again, to fall in love with writers whose work has been only sparsely translated into English: Augusto Monterroso, Michal Ajvaz, Angélica Gorodischer, Ferenc Karinthy. Of Dino Buzzati's books, three are readily available to American readers, each of them a jewel: his graphic novel Poem Strip, his illustrated children's novel The Bears' Famous Invasion of Sicily, and his masterpiece The Tartar Steppe, which I think of as the novel Ernest Hemingway might have written if he had been Franz Kafka, a battlefront epic without the battle, about the ease with which a life can be squandered on nothing more than hopes and routines. Five more of his books can be found in decades-old English-language editions: A Love Story, his semi-autobiographical novel of tortured romantic obsession; his SF novel Larger Than Life—an early examination of artificial intelligence that, alas, represents his lone misfire; and the story collections Catastrophe, Restless Nights, and The Siren, from which "The Time Machine" is taken.
Remaining to be translated are many more of Buzzati's stories, essays, letters, and poems, along with his second novel, an allegorical fantasy called The Secret of the Old Forest; his meditation on mortality and the mysteries of the grave, In That Precise Moment, written following the death of his dog Diabolik; The Miracles of Val Morel, his book of illustrations and commentaries about 39 votive offerings honoring the miracles of a fictitious nun; plus a stage play, an autobiography, and five librettos.
Because I do not know Italian, I despair that I will ever read these books.
I'm looking at you, Dalkey Archive.
I'm looking at you, New Directions.
-- Kevin Brockmeier
Author of The Illumination
Kevin Brockmeier is this week's guest editor of Electric Literature's Recommended Reading, where you can read "The Time Machine" by Dino Buzzati.