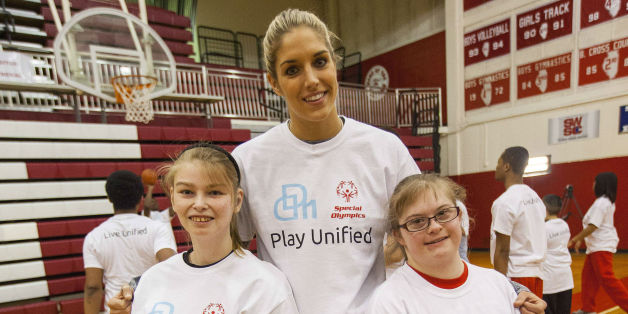 Chairman Tim Shriver once said, "Everyone has a gift and the world would be a better place if we recognized it." As a society we are too often blinded by our differences, failing to see the unique gifts that each and every one of us possess. My sister Lizzie faced many hardships from birth having been born without sight, without hearing and with cerebral palsy. At a young age I learned how to communicate with Lizzie through hand-over-hand sign language, and although we could never interact through sight or hearing, we developed our relationship through touch, smell, and other sensations.
I had been blessed with gifts that the world recognized: height, agility, coordination and strength. These gifts aided me in becoming a top recruited women's basketball player and now, an exciting career in the WNBA. In my senior year of high school, the decision I had to make wasn't "Would I play college basketball?" it was, "Where would I play?" I accepted an offer to play for the top-ranked program in the United States, the University of Connecticut Huskies. From an outside perspective, I was living my dream, playing for the best college basketball team in the country, but I wasn't happy. I missed my family and in particular Lizzie more than I could have imagined. Lizzie and I couldn't maintain our relationship through phone calls or text messages; I needed to be with her. Being apart from my family was more of a difficult adjustment than I had anticipated and I decided to leave the University of Connecticut and return home, a decision that many found hard to believe. My family and others who had followed my basketball career wondered if I would ever return to the sport. Just one year after returning home and enrolling at the University of Delaware, I got the itch to play basketball again, joining the Delaware Blue Hens. It finally felt right and has ever since.
Lizzie's gift to me was opening my heart to embrace our differences and inspiring me to make the world a more inclusive and respectful place. It is because of Lizzie that I am so devoted to ending the use of the "r-word," a word that engenders divisiveness amongst individuals with and without intellectual disabilities. Whether the "r-word" is used casually or with intent to degrade people with intellectual disabilities, is hurtful and derogatory.
The Special Olympics movement is one that I have always held close to my heart. For me it unites my two loves, basketball and the promotion of acceptance, inclusion, dignity and respect for individuals with intellectual disabilities. Earlier this month I was invited to play in the NBA Cares Special Olympics Unified Sports Basketball Game with eleven Special Olympics basketball players from all around the World. I had such a fantastic time playing on the court with these impressive Special Olympics athletes; it was truly a moving experience. The basketball skills they displayed in the game exceeded the expectations of everyone on the court and in the audience. The energy in the stadium was contagious and everyone was smiling from ear to ear. There was one athlete in particular that blew me away, Jacob Majors, a Special Olympics athlete from Louisiana with cerebral palsy. Jacob can only dribble and shoot with one arm, but what an arm he has. He moved around the court dribbling the ball so naturally and was putting up three pointers left and right.
Through Special Olympics Unified Sports, people can see and experience for themselves the talents, competitive spirit and abilities of people with intellectual disabilities, changing perspectives and encouraging people to replace the "r-word" with others like, athlete, friend, peer, and idol. Please join me in pledging to respect all people, those with and without intellectual disabilities, and end the use the "r-word." Go to r-word.org now and take the pledge to end the use of the r-word.
This post is part of a series produced by The Huffington Post and the Special Olympics in conjunction with Spread the Word to End the Word awareness day on Wednesday, March 5. To find out more about the Spread the Word campaign, please visit the website. Join us in taking the pledge at R-Word.org. Read all posts in the series here.