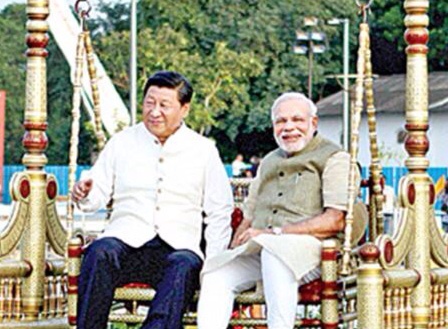 Co-authored by William Witenberg a contemporary artist focused on abstract painting

During the opening, September 27, of the United Nations General Assembly, Prime Minister Modi will address the delegates. Prime Minister Modi on September 29th travels to Washington for the much discussed meeting with President Obama. Prime Minister Modi has in the last 90 days met with the leaders of three of the world super powers: Russia, Japan and China. With the upcoming meeting with President Obama, PM Modi will have strategically established India's role in international politics with all the major economic and political powers in the world. Additionally, these meeting have enabled Prime Minister Modi to implement both his economic and political agenda for India.

As a long term ally of Russia, Modi and Putin's meeting reinforced the most favored nation status between the two countries. Prime Minister Modi indicated that in areas of nuclear power, defense, and energy the long established relationship would be broaden. When American sanctions were announced on Russian military equipment Indian government rejected them. India is estimated to likely be world's largest oil importer by 2020. Russia will supply financing for infrastructure to transport Russian oil to India. Russia is promoting India's being given a permanent seat on the United Nations Security Council and has encouraged India to play a larger role in the Shanghai Cooperation Organization (SCO).

Prime Minister Modi'a five day visit with Japanese Prime Minister Shinzo Abe was warm and resulted in a commitement from Japan to invest 35 Billion in government and private investment in India to build smart cities and to clean up the Ganga River. The two countries reached agreements in defense exchanges, cooperation in clean energy, roads and highways, and agreed to speed up negotiation on civil nuclear projects. Japan lifted a long standing ban on six Indian entities including Hindustan Aeronautics Limited (HAL) which had been imposed in the aftermath of 1998 nuclear tests.

Prime Minister Modi used his meeting with Chinese President Xi Jinping to both strongly express a desire to resolve the long standing border disputes so that the two countries could develop the "true potential of our (their) relations", and to receive significant economic support from China. China committed to investing 20 Billion to assist in bringing India's railway system up-to-date, help build industrial parks in Gujarat and Maharashtra, and most significantly give more market access to Indian products. While the border disputes are still a long way from being solved, this meeting hopefully is the first step in resolving them. At a minimum the framing of the need for a political solution in the terms of how resolution would allow for true potential of India-China relations by Prime Minister Modi suggesting, that it is in both countries interests to solve the border disputes sooner rather than later.
With the above meetings behind Prime Minister Modi, one has to wonder what President Obama and Prime Minister Modi's conversation will focus on. Undoubtedly, America wants to get India's support for its Russian sanctions. But it is very unlikely that America can get India to abandon it's long term Russian ally. Furthermore, the sting from Modi's having been denied a visa due to his supposed Hindu Nationalist views, prior to his election as Prime Minister, can not make political sanctions popular with him. Obama is likely to follow the same economic template that the other country leaders have and give economic support to India in the same areas that Japan, Russia, and even China did. So look for major infrastructure support, work on civil nuclear power, and a lot of words about the natural friendship between the world's largest democracy and America. It is likely that America will be critical of Chinese border claims; and it will be interesting to see America's response to Russia's request that India becomes a permanent member of the Security Council.
The result of the meeting between the world's largest democracy and President Obama promises to be interesting particularly since it comes after Prime Minister Modi has meant with the three major world powers.