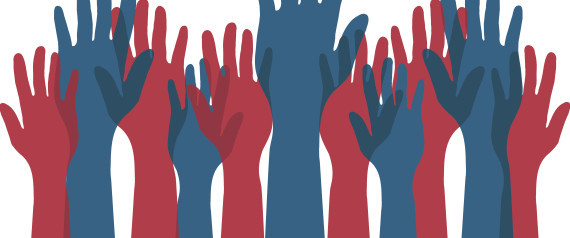 To say we've been busy this past year would be an understatement. The League of Women Voters' mission -- Making Democracy Work® -- means that we advocate for a democracy in which every citizen has a say and every vote is counted. In 2014, this has meant providing voter education information to millions of voters, fighting voter discrimination measures across the country and pushing back against the flood of money into our political system.
This year, we pushed our leaders to pass legislation to protect equal access to the ballot box and stop attacks voting rights at both the federal and state levels. Thus far, Congress has stalled out on moving the Voting Rights Amendment Act (VRAA) forward, but our supporters have made their opinion clear sending over 50,000 letters to Congress in support of the legislation. Despite this advocacy, we saw voter discrimination strengthen its foothold in 2014. State legislators across the country introduced 2,210 bills relating to voting rights -- many of which would make access to the polls more difficult for millions of voters. These anti-voter measures included onerous voter photo ID laws, reducing or eliminating early voting, and ending same-day voter registration.
The League helped defeat more than two dozen of these anti-voter laws. But others went into effect, restricting access and suppressing turnout among thousands of voters. What's more, voters also faced last-minute election law changes that threatened turnout. Four states -- Wisconsin, Texas, Arkansas and North Carolina -- were in court into October to finalize their election laws, causing massive confusion among voters.
Luckily, the League was there for voters. League volunteers registered tens of thousands of voters, held hundreds of candidate debates and issue forums, and provided nonpartisan candidate and ballot information through millions of printed and online voters' guides. The League's award-winning online election resource, VOTE411.org, was continually updated to provide voters with accurate, up-to-date information on what they needed to vote. Nearly 1.5 million people used VOTE411.org to find accurate information on voting rules, polling place locations, candidate positions and more this election cycle.
At the same time, the League continued to help lead the charge against money in politics -- a dangerous flood of money that threatens to dilute our democracy and drown out voters. Outside groups spent $689 million in the 2014 midterm elections, almost 20 percent of all spending this election cycle. Big money is winning, and voters are losing. And the League won't let voters go down without a fight.

League supporters across the country will continue to do everything in their power to see that we're Making Democracy Work®, but the fight requires the help of all of our supporters.
We accomplished a lot this year, but we have even more to do in 2015; we won't stop as long as our democracy is threatened. In 2015 and beyond, we will continue our work to push for reforms to get money out of politics and to ensure that every voter has equal access to the ballot box. We ask that you think of the League as you reflect on the need to strengthen our great democracy through increased political participation.
#GivingTuesday is propelled by those who believe that passion and commitment can make a difference. League supporters will match every #GivingTuesday donation up to $10,000. Support the League on December 2!