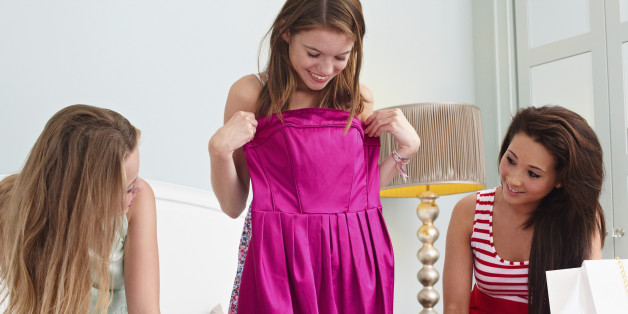 Fall is always full of tons of exciting things to look forward to in high school. The first day of school, changing leaves, reuniting with friends, pumpkin spice lattes, football games, and most importantly, homecoming. As a girl, once you've been asked, ask someone, or decide to go stag/with a group, there is always the inevitable crisis of figuring out what to wear.
Being the fashion addict I am, I always keep my eye out for dresses in case of such event.
Recently, I saw a picture of a fabulous homecoming dress online and rushed to a local boutique to try it on, only to discover it was $330. For a homecoming dress. Now, I am all for a fashionable splurge once in a while, but let's be real, however much we may say we are going to wear a school dance dress again, it doesn't actually happen. Not to mention the fact that I am 16, and do not in any way need a $330 beaded cocktail dress, no matter how beautiful it may be. I think the amount some people spend on high school dances can get a little crazy at times. Once you add up the dress, shoes, jewelry, professional hair, makeup, and nail appointments, limo, cost of pictures, and tickets for the dance, it's enough to make you want to scream.
With all this in mind, I set out on a mission. I wanted to find a homecoming look for $100 or less, including dress, shoes, accessories, and a new makeup item. So I did. And then found three more. So, here are four homecoming looks for $100 or less, each a little trendy, and with a specific style.
First is the Sweet Look. Blush and gold are the perfect ethereal and adorable combination. The dress even has cute cut outs, because who said cut outs can't be sweet? Delicate gold jewelry compliments the pattern, and the pink shoes are just perfect. Makeup for this look should be simple -- why not just copy the model? Rosy cheeks, a pink lip (like this NYX lipstick in Castle), and an easy topknot for your hair. There you go, stylish, trendy and sweet as can be.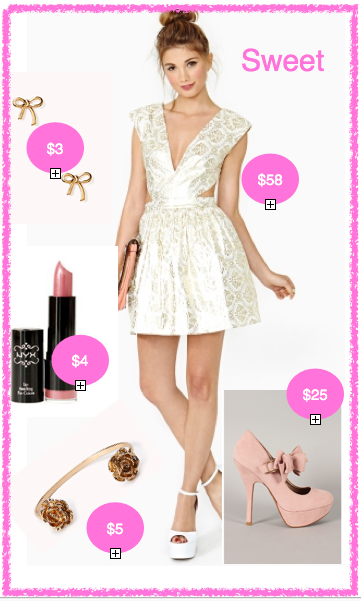 Secondly, we have our Edgy girl. Again we have cut outs, but in a completely different light. These are a bit more risqué and all kinds of edgy. Leather touches on the dress tough it up a bit more. Then, pair it with these kick-a** booties with gold hardware and boom. Edge to the max.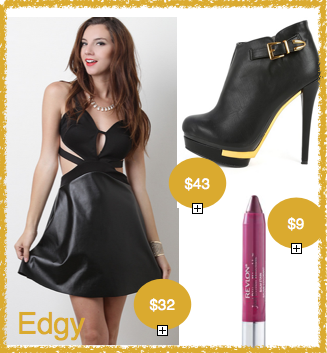 A simple plum lip pen looks super cool with this look, and a cat eye would be a great addition. (For those of you who cannot yet execute the cat eye, here is a tutorial.) Hair-wise, a sleek pony or just straight shiny locks would polish this look off nicely.
Third is for the Artsy-Cool ladies out there. From one of my favorite brands, we have a photo-real printed sheath with giant flowers. On trend and gorgeous. Then, you can pick up the minty blue in the print with these simple suede pumps. An big silver braided accent necklace tops this outfit off. The makeup item is a deep purple eye pencil to line all the way around eyes. Purple eyeliner looks beautiful on any eye color and is far more interesting than black. A fishtail braid or chignon bun would both be good choices for this look.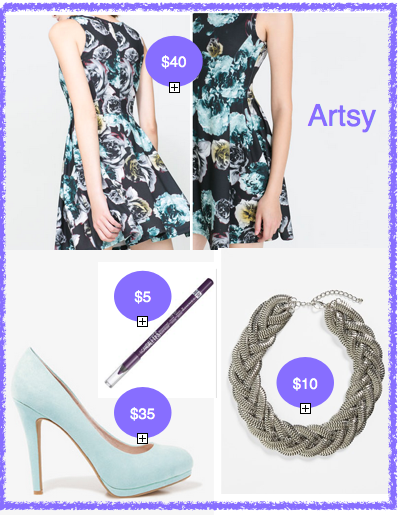 Fourth and finally is for all the girls who hate getting dressed up and just want something simple with not too much to worry about. It isn't without glitz or glam, but has a classic feel. This navy dress is comfy and unique with the tulip hem and deep V. Gold strappy shoes contrast the deep blue in just the right way. The clutch adds just the right about of sparkle and shine to the situation. Finally, a baked navy eyeshadow is great for achieving a smokey eye without the intimidation of possible raccoon eyes that you get with black. For your hair, soft waves like the model look pretty and classy.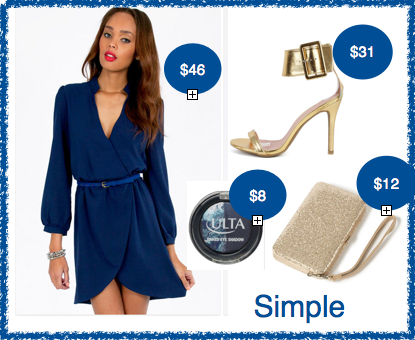 I hope this post has helped to inspire all of you homecoming beauties on a budget out there! Please tweet/ email me pictures of your homecoming looks. I'll be sure to post mine when the day comes.
Outfit Credits:
Sweet
Dress
Shoes
Earrings
Bracelet
Lipstick
Artsy
Shoes
Dress
Necklace
Eyeliner