This post represents the first installment of AWE's Inspirational Female Leaders Showcase Series. Founded by Elise Lelon, AWE, The Association of Women Entrepreneurs & Executives, will be featuring a woman each month whose leadership has proven transformational for her colleagues, clients, company and/or community. Thanks to those of you around the world who nominated exceptional women from varied industries to be showcased. We appreciate your generous spirit of elevating women by simply recognizing them.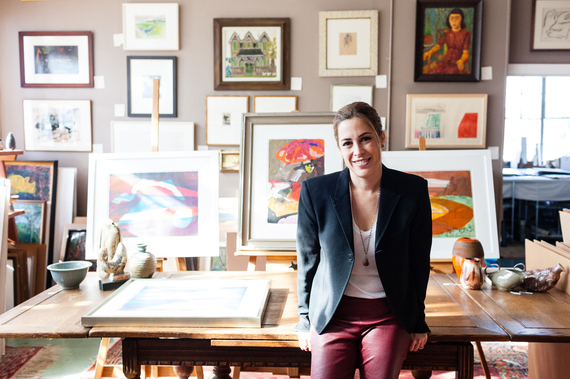 There's a whole lot to love about Ali Pincus. But, the thing that makes her an inspirational leader is what she loves most: other people.
At a time when traditionally feminine values such as cooperation and nurturing are being heralded as "the operating system of 21st century prosperity*," Ali Pincus, the uber chic Co-founder of One Kings Lane, stands out as a model for the rest of us to follow. Long before thought leaders John Gerzema and Michael D'Antonio wrote The Athena Doctrine, Ali was demonstrating why and how women can make extraordinary leaders by using their strength as women rather than by trying to be men.
Combining her skill as a female entrepreneur with an eye for killer style, Ali partnered with Co-Founder Susan Feldman to create One Kings Lane, a leading online destination for home décor. Exemplifying what colleagues refer to as Ali's "It Can Be Done" attitude, One Kings Lane (OKL) was launched in late 2008, smack in the middle of the financial crisis. Since then, they have raised $229 million in capital and have grown the company's post-money valuation to almost $1 billion.
In a winner-takes-all business world, Ali is a leader who isn't threatened by the success and contributions of others. She doesn't think in terms of power. "I show up every day as part of the team," she explains. "The notion of power doesn't really occur to me. It's not my focus." Instead, what Ali focuses on is empowering others. She does that by supporting, stretching and rewarding her team members for their hard work rather than hoarding accolades for herself. This has served the OKL culture by developing trust and loyalty throughout the ranks.
Among the loyal OKL crew is Andrea Stanford, who oversees the vintage and antique merchandise group and is now General Manager of Ali's latest brainchild, C2C marketplace, Hunter's Alley. Stanford describes Ali as a "huge collaborator." She explains, "I have never worked with anyone who is so amazing at giving credit to other people. Ali is not at all territorial. She gives people opportunities to shine and brings supportive energy to the equation. She genuinely wants others to succeed. People want to work with her."
When asked what Ali is most proud of as a leader, she points to the "incredible team of people" around her and a sense that the company is a rewarding place for them to work. She clarifies, "When I say rewarding, I am speaking about the fact that people are signing up for challenging jobs here. With challenging jobs come great opportunities. From the start, this has been a fast-moving business. People who are excited by the challenge of such a dynamic environment love working here. This is a place where people can really excel and grow."
The continuous process of personal and professional growth is a part of Ali's own daily ritual too. An avid note taker, she carries a notebook with her at all times. "Every night, I like to go through and review my notes from the day and see if I did everything I needed to get done, "she says. "I try to look for key learnings and takeaways from meetings that day. The next morning, I start fresh with a new page informed by the pages before." It might well be this daily reflection discipline that spurred Ali's latest example of iteration: Hunter's Alley. This curated resale marketplace allows everyday design enthusiasts to buy and sell their own furnishings.
Known by colleagues as a leader who pushes beyond the status quo, you won't see Ali kicking back any time soon on one of the Louis XV-Style vintage sofas that keep OKL's 10 million members coming back to shop. Not only does she see herself working for "a really long time," Ali deeply values the intangible reward of giving back. "It brings me joy when I have inspired someone else. What is most valuable and rewarding to me is to be able to inspire other women, other people. That's what it's really all about."
Stay tuned for the next installment of AWE's Inspirational Female Leaders Showcase Series. To Learn more about AWE visit us at http://www.MyAWEonline.com
* The Athena Doctrine