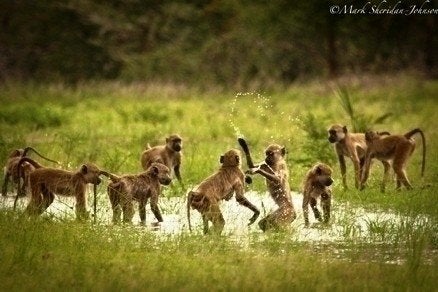 When in rains in the Selous Game Reserve of southern Tanzania, not all the animals look for cover. As this troop of Yellow Baboons show, a puddle and a sense of fun are enough to make for a memorable afternoon.
The so-called "green season" in Africa is often considered to be one of the slower times, in terms of wildlife, but we've always found that at Sand Rivers Selous it throws some surprising moments into the mix. Aside from animals that seem to just burst with the joys of life, the lush green bush, dramatic thunderstorms and swollen rivers show a side to Africa that is both beautiful and bountiful.
Photos and text by Mark Sheridan Johnson at Sand Rivers Selous on behalf of Nomad Tanzania.