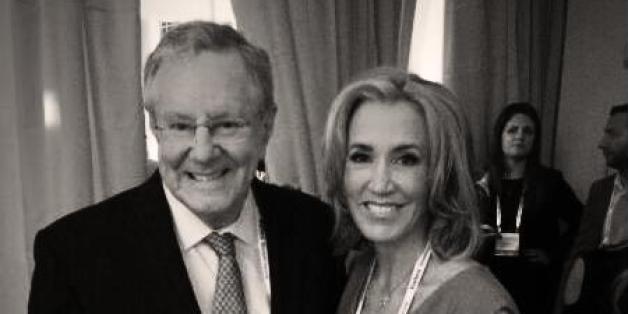 It was one of the best summits for women that I have ever attended. And I have attended, organized or co-hosted quite a number of international gatherings in the past 15 years! But what was particularly exceptional about the recent 2nd Annual Forbes Women Summit in New York, hosted by publisher and journalist Moira Forbes, was that all 250 women who were present had these three elements as common denominators: vision, passion and lack of fear. I was honored to be invited and part of the conversations. The topic this year was 'Power Redefined'.
What does "power" mean? How do we define it? And how do we need to redefine it again and again in life, as we go, grow, get challenged, fail, learn, succeed, mature?
Power is such a... powerful word! Is power about money or authority? Is it about holding a senior executive position? Well, yes, because traditionally power has been perceived as the ability to affect change. However, the most significant form of power is the one that comes from within and the one that makes us do things, challenge norms, challenge ourselves and succeed -- even if we had to fail numerous times before. It is this inner urge that has been described so well in the famous Nat King Cole song, "Pick Yourself Up":
Nothing's impossible, I have found
For when my chin is on the ground
I pick myself up, dust myself off
And start all over again
The only difference is that those lyrics, back then, were written by a man and addressed to his peers:
Work like a soul inspired
Until the battle of the day is won
You may be sick and tired
But you'll be a man, my son
Will you remember the famous men
Who had to fall to rise again?
So take a deep breath,
Pick yourself up,
Dust yourself off,
And start it all over again
Not less inspiring, no. But... oh well, ha! Power isn't a synonym to manhood and it definitely does not come in a one-size-fits-all package. Power is more of a synonym to having an entrepreneurial spirit. Whether it's leading a multinational firm focused on innovation or launching a start-up that may solve a decades-old challenge or spearhead a social movement that will improve the lives of millions -- it's all entrepreneurship.
It so happens that being a mother and bringing up kids is a form of entrepreneurship. All moms need to: draw effective short term/long term strategies for their children's upbringing, be superb at project management (from cooking supper to medical emergencies to homework supervision), control finances (otherwise the "enterprise" will go bust!), keep "staff" motivated and happy (who can live with a constantly whining choir?), take risks all the time and do effective crisis management as well! Getting the message?
Having an entrepreneurial spirit means being innovative, a risk-taker, being resilient, able to adapt and succeed in ever changing and increasingly demanding environments; and this is what "being powerful" means.
As one fellow participant argued during one of the Salon Dinners: "There is always the presence of a storm in our lives: We either head into a storm or we are inside the storm or we are just coming out of the storm! We like it or not, that's it and it is a reality that we have to accept in order to survive. And, actually, thrive."
The conversations were fascinating. Among the stellar line-up of panelists: Goldie Hawn, Felicity Huffman, Diane Von Furstenberg, Moira Forbes, Tory Burch, Bobbie Brown, Cherie Blair, Robin Roberts, Jessica Simpson who was interviewed by Steve Forbes on being a Hollywood celebrity, a beautiful woman and a successful entrepreneur!
Interestingly, the likes of Goldie Hawn and Felicity Huffman were not there as Hollywood superstars only. They were there because on top of being A-list actors with legendary careers, they have founded initiatives that promote social good, positive change, create happier people.
All of us know Academy Award winner actress, film director, producer Goldie Hawn. But how many of us are aware that Goldie is a child-advocate and philanthropist, who 10 years ago launched The Hawn Foundation, an organization that equips children, educators and parents with vital social and emotional literacy skills across five continents!
Or how about multiple-award winner film, stage and TV actress Felicity Huffman, who is actually the brains and force behind a website dedicated to women and mothers: whattheflicka.com?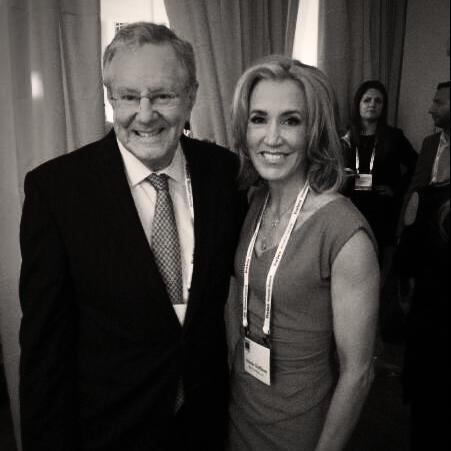 Forbes CEO Steve Forbes with multiple Award-winning actress Felicity Huffman, Founder of What The Flicka
Felicity is addressing what often is an "embarrassing secret" among mothers: post natal depression, feeling terribly useless as a mother, going through a challenging relationship with one's kids. And she not only brings down the myth of "the perfect mother," but she actually helps women become better parents by accepting that motherhood can have its downtimes as well as its high times and there is nothing wrong about it, its normal, its OK -- you know?
One of the most powerful moments of this year's summit was when widely loved, TV persona Robin Roberts shared painful memories of her recent health ordeal but also the devastating loss of her beloved mother that happened while she herself was physically and psychologically battling for her own life.
In an interview with Moira Forbes, Robin's responses were breathtakingly candid and when asked about the legacy that she'd want to leave behind she said that: "I want people to know there are infinite possibilities in life to be grateful for." -- Robin Roberts, Good Morning America
Another iconic woman was Vice Admiral Michelle Howard, the highest ranking woman in the history of US Navy(!). We were stunned by her remarkable journey and her well-deserved ascent to what is a super well-guarded, male-dominated profession. What 'glass ceilings"? Michelle Howard has broken a ceiling made of thick concrete! Her secret of success? She has said:
The qualities that allow a person to succeed are...qualities like a sense of humor, professionalism, diligence, compassion, and sense of deeper understanding of life.

Fundraising and attracting investment was another hot topic and it was so enlightening to hear from Tory Burch about her fundraising efforts when her company was still a startup. Or to listen to the most powerful female venture investor in the Silicon Valley Theresia Gouw, who shared her insights on attracts investors' interest.
Some of the adjectives that best characterize this high-powered crowd: visionary, pioneering, hard-working, fearless. Two hundred and fifty invited participants, 250 change makers. And, by the way, this is not about "feminism," it is about a paradigm shift that is underway and about more and more women discovering their leadership potential! Under the capable leadership of (a powerhouse herself) Moira Forbes, this multi-generational gathering of women influencers succeeded in forging new partnerships, discussing solutions and actions to make the world a better place.
And we have found that nothing's impossible, so:
Work like a soul inspired
Until the battle of the day is won
You may be sick and tired
But you'll be a [queen, yes, hon!]
Will you remember the [great women]
Who had to fall to rise again?
So take a deep breath,
Pick yourself up,
Dust yourself off,
And start it all over again!
Perhaps Diana Krall should amend the lyrics a bit to reflect a rapidly rising women power? After all, we ARE powerful and, against any odds, we are changing this world for the better!