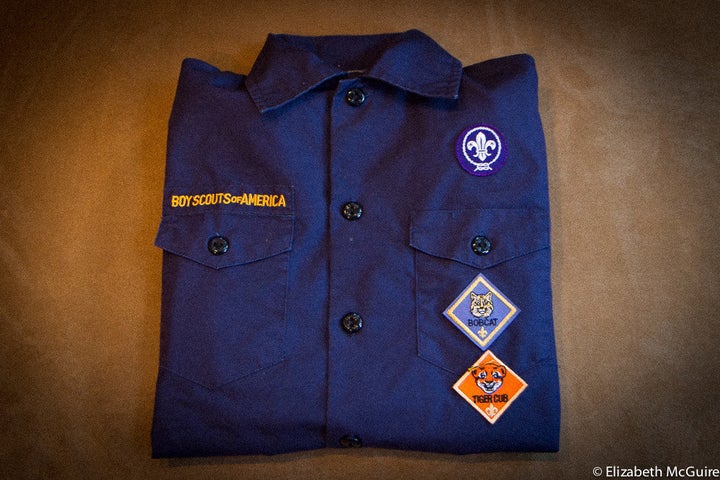 No matter how casually you preface the moment, kids can sniff out A Talk from miles away.
"Am I in trouble?" my 8-year-old son asked with a sigh when my husband and I surrounded him on the couch one recent afternoon. We assured him no. "There's just something on our minds," I said. "Something important we want to discuss with you."
And so began our family talk about quitting the Boy Scouts of America.
This moment, this talk, had been building for months, fueled by the persistent stories of the BSA's unwavering anti-gay policy.
My husband and I had been quietly discussing our options and had finally decided we were done justifying, done shaking our heads, done waiting for new leadership to bring compassion and common sense to the 102-year-old organization. Though we found our local den and troop open-minded, we couldn't support the narrow-minded policies from the national level. Our conclusion? Our family was quitting scouts.
When our kids have quit activities in the past, it was always with considerable discussion and solid reasoning. Part of our parenting philosophy is to walk the line between letting our kids feel free to try various activities while also encouraging them to stick them out past the honeymoon phase.
In several cases, the activities clearly were not a good fit for our kids. My son loves music but hated the tedium that piano lessons required. He gave it a year before quitting. Karate spanned two years but when his interest waned, we happily banked both the significant money and time it required.
But this time, we weren't talking about fit, because scouting, it seemed, was actually made for him.
Our boy is happiest outside, over-turning rocks, wading through creeks or building elaborate structures out of scrap wood and recycled bottles. He's a camper, an explorer, a leader. Even though this was only his second year of scouting, our son was willing to try almost anything new to earn awards. "How do I get a skateboard badge?" "Will you teach me to tie six cool knots?" "Can we build a bonfire in the backyard?"
No, we were not quitting because of compatibility. That fact alone made the decision feel so complicated, but there was more. My husband and I very much respected our local leaders and fellow scout families. Our son's den of 8-year-old boys was full of classmates and buddies whose parents were neighbors and friends in our social circle.
I agonized over how I would explain that sometimes, ethical decisions are messy like this. Sometimes, it's hard to do what's right for you, even though your friends choose another path. I struggled with words to clarify that our friends who stay in scouts have their own reasons, and that's perfectly fine. Instead of judging their choices, I would tell him, we're just going to focus on ours.
At one point, I even questioned whether I was trying to make a big social statement at the expense of our son's happiness. Who is this really about? Why not leave well enough alone? He's only 8, after all. Because, I thought. Because as parents, we wanted our son to learn that even though he's just one scout in millions, his vote matters. Because small changes can add up to bigger ones. Because even a single message of tolerance, when thoughtfully shared, is worth stating.
Yes, he's young. But not too young to understand something as simple as this: Son, even if you're not gay, even if none of your friends are gay, even if nobody in your entire troop is gay, it's still not OK to exclude gay boys from Scouts.
All those thoughts swirled around my head before we sat down with him to talk. I wanted so much to choose my words carefully, to approach the situation with calm and clarity. Like almost every male I love, my son's patience for long, philosophical meanderings is limited, so I wanted to have my words and thoughts organized. I wanted to get it right the first time.
My words came out something like this: "The Boy Scout leaders at the very highest level are making decisions and rules that your Dad and I strongly disagree with."
"What kind of rules?" he asked.
"Boys who are gay cannot be in Scouts," I said. "Boys who realize they are gay long after joining scouts can be denied awards they rightfully earned. All for no other reason except that they are gay."
Immediately, quietly and firmly, our son said, "I don't want to do scouts anymore."
He obliged us a few more minutes of talking, but he only had one question. "Why would they make those rules?"
I didn't even pretend to know the answer.
The next day I tried to ask him about it, hoping we could discuss ways to handle this news with friends. He shrugged. "Mom, can we be done talking about this?"
A few weeks later, I overheard him answering a question about why he "quit" Scouts. His reply carried the same calm and resolute voice. "I retired," he said. "Because of unfair rules against gay boys."
Turns out the decision wasn't so complicated after all.