Living in New York City is no easy feat, especially as rent prices show no sign of dropping. For the last three consecutive quarters median rent in New York City has been climbing, with a six percent increase since the previous quarter. More impressive though is the 22 percent increase in median rent price in the Big Apple year over year. One and two bedroom rental units have largely contributed to this trend with 12 percent and 26 percent year over year growth, respectively.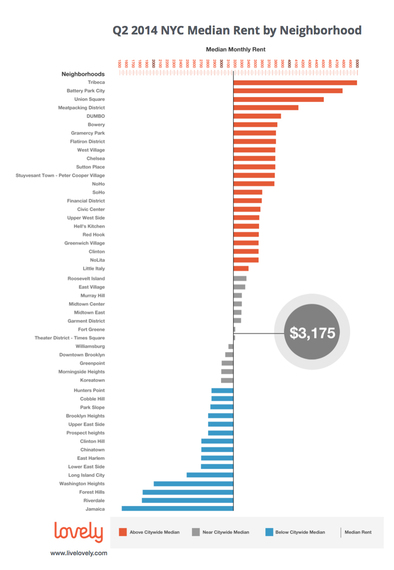 The team at Lovely put together a list of the most expensive neighborhoods in New York City, featuring each neighborhood's Q2 2014 median rent price. Check it out:
1. Tribeca: $4,900
2. Battery Park City: $4,755
3. Union Square: $4,500
4. Meatpacking District: $4,130
5. DUMBO: $3,875
Stay tuned for more of the most expensive neighborhoods in other major cities across the U.S.! To check out the entire Lovely Rental Market Report, visit blog.livelovely.com.