When you consider that SCUBA diving has only been around since the 1940s, it's not surprising that we still frequently discover new species in the ocean. As new technologies let us explore ever deeper and more remote areas of our oceans, we are learning more and more about the amazing bounty of life they harbor.

Understanding where marine species are and how healthy they are becomes increasingly important as we better grasp the many ways our lives, livelihoods, enjoyment, and economies depend on our oceans and the species within them. Like all life on earth, different marine species are found in different places, and to date we've had an incomplete picture of life beneath the waves.
To sustain the oceans' incredible diversity, we have to identify the places that harbor the greatest numbers of species or great concentrations of endemic species -- those species that are unique to a particular place or region. Then, to guide efforts to conserve marine life, we need to know which of these essential areas are most and least impacted by human activities.
A recently published study by scientists at Conservation International, the University of California - Santa Barbara, Albert-Ludwigs-University of Freiburg, the International Union for the Conservation of Nature, and Birdlife International brought together an extensive set of maps on marine species, detailing where some 12,500 different fish, marine mammals, seabirds, corals and other species are located, along with data on where the risks of damage from impacts like overfishing, climate change, marine-based pollution from shipping and ports, and land-based pollution such as the run-off of fertilizers used for farming are highest.
This study gives us the best picture to date of where important concentrations of marine biodiversity are and where they are most and least threatened by human activities.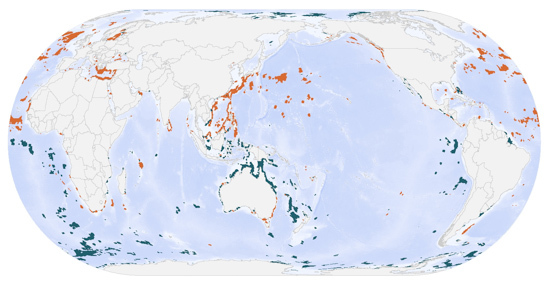 Priority areas for marine biodiversity conservation. Orange areas have high
human impacts and blue areas have low human impacts.
This information is already proving essential as conservation organizations and development institutions target efforts to sustain the oceans we depend on.
Here are some of the countries that have the greatest extent of marine priority areas within their waters: