If your brood is anything like mine, traveling with the little ones is not exactly all sunshine and cupcakes -- more like overcast with a chance of hysterical temper tantrums. Thankfully, if you're clever about your destination, at the end of interminable plane/train/car/mule journeys lies salvation. So hop online, book a kid-tested, mom- and dad-approved room in one of our top family picks below, and stock up on Xanax (for you) and "Spring" Oreos (for them, although I confess I'm a little curious how they managed to get the filling to be so... yellow) and you'll be relaxing in harmony in the blink of an eye.
As always, visit www.poshbrood.com for the latest and greatest in family travel tips, deals, and chatter. If you have an outstanding family travel tip or pick, share on Poshbrood.com. We'll see you there!
Hotel ZaZa, Houston, Texas
Hotel ZaZa scrapped and overhauled the faded grand dame Warwick Hotel in 2006. The swanky palace erected in its place has been broadcasting Houston's "chic city" cred -- big, bold, and Texas-style -- ever since. Zaza features giant, quirkily designed theme suites marrying style and cheeky nods to the hotel's Texan roots.
Our Favorite Room: The Houston, We Have a Problem Suite
At 1,035 sq ft, the room caters to every kid with an astronaut fantasy, starting with the life-sized spacesuit waiting at the door and the in-room telescope. With a moon-inspired couch and a space-age bubble chair, this suite is an ideal launching pad for your Houston area mission.
Other suites are similarly clever, and Zaza's food, services, and extras are sure to please the whole brood.
The "Houston We Have a Problem" Suite is $499/night. www.hotelzaza.com
[Read our full review of Hotel Zaza here.
Hotel Helix, Washington, D.C.
Featuring swanky design and a luxurious atmosphere, Hotel Helix is a welcome sigh of relief for moms constantly sacrificing style for practicality. Helix offers great amenities, including pizza parties, ice cream, games, and accredited babysitting during a lovely free champagne and wine happy hour every evening. Also, Helix is ideally located in Logan/DuPont Circle -- decidedly the coolest area of D.C.
Our Favorite Room: The Bunk Room
Modern and stylish for us, this room offers a king bed for the parents and a separate bunk bed area for the kids, including a TV and a built-in DVD player. In a city not particularly known for style or fun, Helix offers your crew both. Use it as a base while you try to pass off "education" as "vacation" for one more year.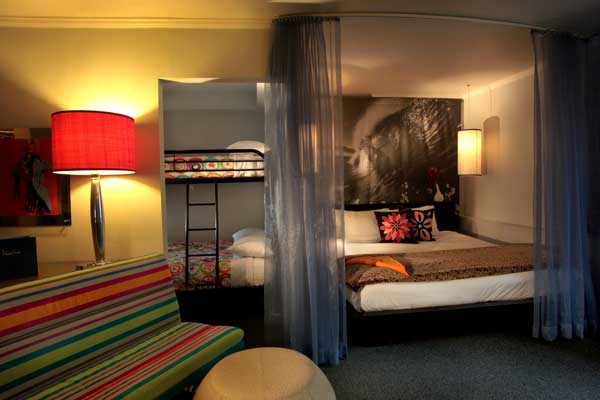 Bunk room rates start at $179/night. http://www.hotelhelix.com/
Read our full review of Helix Hotel here.
Great Wolf Lodge, Niagara Falls, NY
There are a handful of Great Wolf Lodges scattered around the country, and we can't recommend them highly enough for active packs looking for real kid-focused experiences. These lodges feature water parks, indoor and outdoor activities, restaurants, shopping, spas- the whole shebang. Most are located in close proximity to major theme park areas, like Sandusky, Ohio and Sheboygan, Wisconsin, but our bets are on Niagara Falls. Parents, seize the unique opportunity to sneak in an international experience: take your kids across the border to see Niagara Falls from the Canadian side. The thrill of seeing the same thing from a different country will delight the kids, and you'll appreciate the Canadian side for its distinctly prettier surrounds.
Our Favorite Room: The Trademark Wolf Den Suite
Sleeping four to six, the Great Wolf Lodge's signature suite includes an in-suite cave with bunk beds and personal TVs for the cubs. For the leaders of the pack, there are queen beds, full-size sleeper sofas, and private balconies. Although Great Wolf Lodge is definitely a kid-focused experience, the little ones will be so distracted by the abundance of offerings directed their way that you'll have a chance to kick back and relax -- finally.
Rates for the Wolf Den Suite start at $259/night. Maximum occupancy is 6. /www.greatwolf.com/niagara/waterpark
NU Hotel, Brooklyn, NY
Let's face it: although New York City is a travel mecca for kids and adults alike, it is not known for its affordability -- or kid-focus. We're happy to share a great insider tip: NU Hotel, just over the Brooklyn Bridge in downtown Brooklyn. Eco-conscious, stylish, and affordable, NU Hotel is a great base from which families can check out the city without breaking the bank. Although NU's location makes hopping in and out of Manhattan a breeze, we'd encourage you to check out the cool Brooklyn scene. Ask the team at NU -- they'll be more than happy to recommend top picks in the area.
Our Favorite Rooms: All of them!
Guest rooms include bunk beds (confirm when you book), chalk-walled bathrooms, hammocks, wireless, flat-screen TVs, and more. Some rooms even include padded surrounds, which is perfect. Blast some tunes on NU's cutting-edge satellite music system and let your hyperactive little guys leap around until they exhaust themselves. In the meantime, you can zen out, comfortable that NU reflects your eco-values by using recycled materials, organic bedding, and lead-free paint.
Rates from $149/night. www.nuhotelbrooklyn.com/
Kokopelli's Cave B&B, Farmington, New Mexico
Channel your inner Neanderthal and stay in a cave. Seriously. This unique accommodation is built into vertical cliffs 300 feet above the La Plata River Valley and the suite (cave) itself is located 70 feet below the surface. The cave is accessed by walking down a sloping path and carved steps to a three rung ladder. From the ladder you access the flagstone porch and the front entrance to the cave...keep this in mind while packing! The climb out of the cave and back up the incline to your car is the hardest.
Kokopelli's Cave B&B is in the heart of the breathtaking Four Corners area where New Mexico, Colorado, Arizona and Utah come together.
The cave is 1650 sq. ft and has one bedroom with a queen-sized bed, a kitchen, dining room, den and a fire pit. The cave also features a bathroom with a waterfall shower cascading off a ruins style wall. There is a large living room with a futon which will sleep an additional two people so this cave is perfect for a family of four. All of the rooms are situated around a sandstone pillar, giving the cave an open concept.
The kitchen is stocked with breakfast and lunch items and there is also a gas grill should you wish to barbecue. There is also a stereo/CD player, TV/VCR and DVD player complete with movie selections.
There are many activities in the area, including spectacular nature walks, archaeological ruins, fishing, golf, hunting, hiking, mountain biking and much more.
Rates are $300 a night for 3-4 people. http://www.bbonline.com/nm/kokopelli