While safaris are packed with game-watching, I often have clients ask about opportunities to interact with animals while on safari. Elephants always seem to be at the top of that list, so I pulled together a few of my favorite opportunities for elephant interactions in East and Southern Africa.
Elephant Interactions and Research: Kenya
While opportunities to interact with and even ride elephants are more common in Southern Africa, there are a handful of great opportunities to interact with elephants or learn about on-going elephant research in Kenya.
Daphne Sheldrick Orphanage (Nairobi)
I always recommend a visit to the Daphne Sheldrick's Elephant Orphanage for travelers spending a night or two in Nairobi. The orphanage was founded and is still managed by Daphne Sheldrick, the widow of David Sheldrick, a famous naturalist and warden of Tsavo National Park from 1948 to 1976. The center is a nursery and rehab center for infant elephants that have lost their families, as well as the occasional rhino, zebra and other wildlife. Daphne Sheldrick was the first person to successfully raise orphan infant elephants, developing a system and feeding formula that is now used widely. The orphans are eventually released into the wild at Tsavo East National Park, living in groups with other orphans who have been successfully reintroduced to the wild. Visitors are welcome to watch the 11 a.m. feeding for just a few dollars (see the picture below) but here is a tip: if you "adopt" an elephant (minimum $50.00) then you are entitled to a more exclusive visit in the afternoon where you can actually interact with the baby elephants. Find more information on the orphanage and other Nairobi activities here.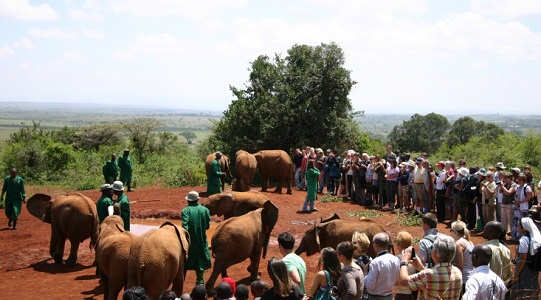 Sheldrick Elephant Orphanage

Amboseli Trust for Elephants (Amboseli National Park)
The Amboseli Trust for Elephants was founded by Cynthia Moss in 1972 and is home to the Amboseli Elephant Research Project, the longest continuous study of wild elephants in the world. In their research they aim to understand the lives and ensure the future of 1,500 elephants in the Amboseli ecosystem while the Trust's non-profit arm works to ensure the long-term conservation and welfare of Africa's elephants through scientific research, training, community outreach, public awareness and advocacy. Guests are able to visit the Trust's research station in Amboseli, learn about the elephants and the day-to-day work of the research project. It is important to note that the minimum donation required to visit the ATE and learn about their work is $500, so the activity is most realistic for groups, but if you are ready to pay the $50, you can go on your own! You can also be a star and donate $3,000 dollars to adopt and name and elephant!

Save the Elephants (Samburu National Park)
Samburu National Park is home to the Save the Elephants research station. Save the Elephants was founded by Iain Douglas-Hamilton, one of the world's leading elephant researchers who pioneered the first in-depth scientific study of elephant social behavior in Tanzania's Lake Manyara National Park decades ago. Although Save the Elephants works throughout Africa, the Kenya research station is the center of their research, protection, advocacy and communication programs. Visitors to the research station tour the center and learn about the STE's work. You will not see any elephants while at the research station, but will see lots while on safari in Samburu! Instead, this is a chance to visit an active research station and it is truly fascinating to see the giant tracking collars, talk to the staff and learn about the project. Keep an eye out for the skeleton of a Land Rover crushed by a charging elephant. The research station is closely affiliated with Elephant Watch Camp, which is owned and managed by Oria Douglas-Hamilton (Iain's wife), but anyone staying in Samburu can pay ($50 a person) to visit the station.

Elephant Rides and Elephant Back Safaris:
South Africa and Victoria Falls
Elephant-Back Safaris are easiest to find in South Africa and at Victoria Falls)
Elephant Whispers, Hazyview, South Africa:
Elephant Whispers is driving distance from the main airport that connects tourists to Kruger National Park. Elephant Whispers offers half and full day elephant interactions and rides for adults and children of all ages. Elephant Whispers' six tamed and trained elephants were rescued from planned game reserve culling operations by Elephants for Africa Forever (EFAF).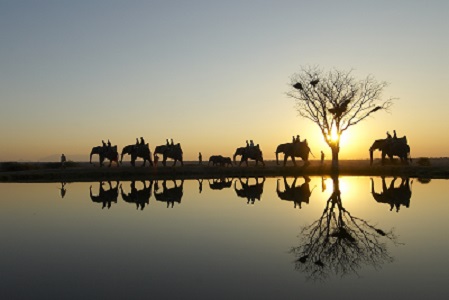 Sunset Ride at Camp Jabulani

Camp Jabulani, Kapama Game Reserve, Kruger National Park: Camp Jabulani is a luxury safari lodge in the private Kapama Game Reserve near Kruger National Park owned and managed by the Roode family. The members of the camp's herd are a close knit family rescued overtime by the Hoedspruit Endangered Species Center. Visitors to Jabulani have the opportunity to observe and interact with the elephants and go on daily elephant rides, including a unique sunset ride. Guests of other properties in the Kapama Reserve have access to Jabulani and the elephant back safaris at 11:30 a.m. daily but for the rest of the day access is limited to Jabulani's guests.

Elephant Camp & Wild Horizons Wildlife Sanctuary, Victoria Falls, Zimbabwe: Offers elephant feeding, interactions and rides to guests of Elephant Camp as well as outside visitors. Definitely consider the sunrise and sunset rides.

Zambezi Elephant Trials, Livingstone, Zambia: On the other side of the Falls within the Mosi-oa-Tunya National Park on the banks of the Zambezi River near Thorntree Lodge, is Zambezi Elephant Trails. Together with this ecologically friendly method of game viewing, a strong emphasis is placed on an elephant experience, rather than just a ride, and guests are encouraged to interact with the six members of the herd. Guests are able to walk through the bush with Madinda, Marula, Mashumbi, Lewa, Danny and Bop and watch them feed, play, socialize and sometimes swim. At the end of every walk or ride, guests have a chance to interact with the elephants, learn about their individual personalities and training process from expert guides and handlers. The training techniques used by Zambezi Elephant Trails are based on the positive reinforcement method, as opposed to the controversial discipline and submission technique commonly associated with Asian Elephants.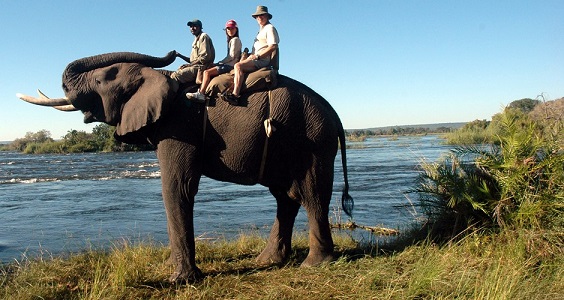 Elephant-Back Safaris at Victoria Falls

There is a "dark side" to elephant-back safaris, with adult and juvenile elephants being captured inside national parks and used for commercial purposes (find out more here), but I have complete confidence in the properties and companies I have recommended here. For example, Wild Horizons of Victoria Falls openly acknowledges the complexity behind the decision to use any animal for the pleasure of human beings and that this is especially true for animals as intelligent elephants. They have made their opposition to the capture of elephant for commercial purposes known and their herd is comprised of elephants orphaned by past cullings in national parks.
Ultimate Elephant Interactions: Botswana
Probably the two best opportunities for elephant interactions are in Botswana at Sanctuary Stanley's and Baines Camp and Abu Camp both in the Okavango Delta.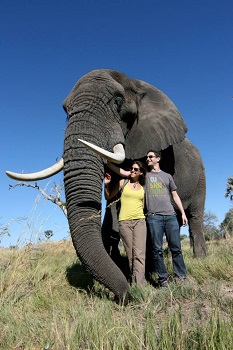 Stanley's Camp Elephant Interaction
Sanctuary Stanley's and Baines "Walking with the Elephants"
Although you don't get to ride the elephants, the elephant interaction at Sanctuary Stanley's and Baines Camp in the Okavango Delta is probably one of the most wild and unique elephant interactions you can find in Africa. Guests accompany three orphaned elephants-Marula, Thembe and Jabu-on a walk through the bush. The three elephants were brought up in the area by their guardians Doug and Sandi Groves and every morning a few lucky guests join on them a walk as the forage for food, followed by a picnic lunch. This is an incredibly unique opportunity to see Africa through the eyes of an elephant and has made a lasting impression on everyone I know who has done it. Read a firsthand account of the experience here.

Abu Camp
Also in the Okavango Delta is Abu Camp's. The Abu herd offers an incomparable opportunity to intimately engage and physically interact with elephants through varied activities. Shortly after arriving at camp, guests are introduced to the herd and the activities that follow over the remainder of their stay offer an all-encompassing and satisfying experience in the world of the elephant. Guests have the opportunity to do everything from observing, to walking with, to riding, to learning about elephant conservation and care from expert guides and local researchers. Abu's Camp also offers traditional game-drives and the property itself is beautiful!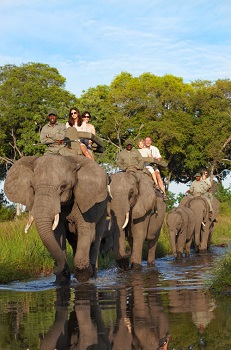 Abu Camp