The "comeback kid" is a recurring theme in American life, defining who we are as a people and how we see ourselves. We admire stories of people getting battered, knocked down by life, then standing up to defeat and winning -- the ultimate triumph.
The story of my niece, Sasha Rau, now 39 years old, running the 26.2 mile New York City Marathon in four hours, 25 minutes, and 58 seconds, two years after being diagnosed with breast cancer is such a triumph for Sasha and inspirational story for all of us who know her. But it is much more than that to me.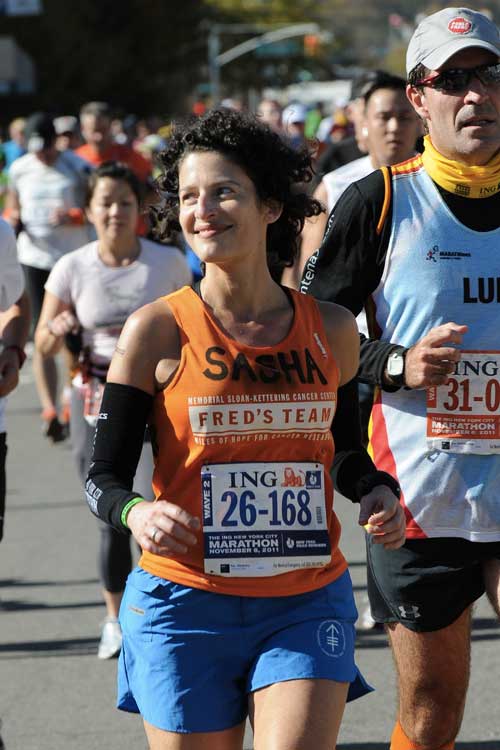 There she is in a photo at the finish line, looking radiant on November 6th, 2011 wearing an orange running shirt. Hers is decorated with her name in bold handwriting -- "Sasha. Breast Cancer: 2009. Marathon: 2011." She ran with Memorial Sloan-Kettering's Fred's Team, to raise money for breast cancer research, and she dedicated her run to one of her dearest friends Jennifer Wise Merendino, who has stage 4 disease. Sasha's face is flushed and smiling and her newly grown-in hair is a mass of shiny curls.
This story begins with acts of courage. In April 2009, Sasha found lumps in her breast. She saw multiple surgeons. Symptoms were not taken seriously. No mammogram was ordered. Unreliable fine-needle aspiration biopsies were performed and an ultrasound yielded no findings. She persisted with a second and third facility, and finally got a mammogram on her own. And that's when the findings came back on August 11th: "suspicious abnormality."
In September, she finally found a surgeon who took all of her symptoms seriously. An excisional biopsy was performed on September 21st. On October 1st the pathology results confirmed: "invasive lobular cancer with positive margins."
Preparing for mastectomy and the unknown road that lay ahead, Sasha posted a photo of her running shoes on November 8th in the blog she created for family and friends, writing "last 15 mile run." November 11th was her surgery.
Surgery cuts not only into your body, changing it forever, but also your mind. Twelve days post surgery, Sasha writes, "Continue to feel confused and frightened by each new sensation: hardness, lumps and aching tightness." A few days later, she quotes the validating phrase from her new support group, "After diagnosis, it feels like every mole is melanoma, every headache, a brain tumor."
On December 22nd Sasha begins her first round of chemotherapy, cutting off her long hair and donating it to Locks of Love.
Two months later, she is finally able to walk an entire block without getting dizzy and short of breath. But each day of feeling better is followed by days of feeling worse. She quotes a fellow survivor: "When you finally start feeling okay, they knock you back down. It's like they've perfected the art of torture."
For the next months her blog alternates between "nausea, bone pain, body aches, dizziness, fatigue, despair," to small advances. On February 24th, she writes that she went to the gym for the first time since beginning chemo. "Got some cheers from the staff even though I looked like a heart failure patient on the treadmill."
Running becomes a path back. On March 9th, she manages to run five miles. But she sees reflections of her fear and pain everywhere that she photographs and posts on her blog -- from signs that read "danger, submerged rock," to a stuffed animal discarded in a trash pile. There is danger in her body, which could rear up anytime. Perhaps one of the most compelling images is a photograph she took of the Brooklyn Bridge suspension, writing "suspended en route, from one place to the next."
She keeps running, though. In April, she writes:
Despite the cumulative effects from chemotherapy, I have been running 12-14 miles weekly for the past month. I now realize that this is insane. I had thought it was reasonable given my previous level of fitness and mileage, my slow transition from walking to running, and because it felt great. I didn't want to lose anything more to cancer. I didn't want to let cancer win. Now I am teetering on the edge of injury and confused. How do I find that middle ground?
She has dreams about running, asking herself if she's running AWAY FROM or TOWARD "hope, avoidance, escape."
After completing chemotherapy, new symptoms provoke her first scare with metastatic disease, but Sasha continues to run. On September 12th, 2010, she completes her first race post-diagnosis. Running keeps the "emotional beast" -- the fear, the doubt and the worry -- at bay.
Almost a year after her first surgery, she is finally able to run 15 miles, which she writes, "feels like the return of part of my former self." Yet, running is a struggle and represents the larger themes of survival, re-entry and time lost:
At first I kept thinking of all the miles, minutes, and hills ahead, wondering "How will I? Can I?" Each time I had to remind myself to look only at the pavement just in front of me, and remember I was exactly where I should be, as fast or as slow as I needed to be.
On December 9th, 2010, she must remind herself of what she's accomplished:
I took this photo [a photograph of a license plate with the words: "I Will Run"] during treatment when I couldn't run, couldn't even imagine it, couldn't walk half a block without getting dizzy and winded. Now I'm running. Can I please remember that?
The New Year dawns and she runs a snowy trail:
Yesterday, I ran 15 miles next to snow-covered sand dunes and beach grass on a lane called "Further." Before cancer, almost 2 years ago, I tried to run the same path but couldn't complete the distance. I didn't know what I'm trying to know now: how to listen to my body, fuel and pace myself. It was a perfect day for it: not too cold or warm, sun shining, a white swan in the center of a defrosting pond.
Then Sasha sets a goal -- to train to run the 2011 NYC Marathon with Fred's Team and raise money for breast cancer research at Memorial Sloan-Kettering. It is a goal of giving back.
The winter, spring and summer of 2011 are filled with working at her job, training, and helping other young women go through breast cancer treatment, including a childhood friend.
She begins to see hope in the landscape around her, which she photographs and posts on her blog. A sign says STOP, but then says GO. She photographs a dead tree with new branches sprouting from its crumbling stump.
On May 23rd 2011, Sasha writes of running her first half-marathon:
Part of me is still operating as if I have to outrun cancer, as if each run is the last and I must run quicker, harder, better than the previous one. I'm compelled to perform like I did before cancer. After mile 12, I thought of stopping. I wasn't sure how I would make it from mile 13 to the finish. Deep down I felt disappointed that I didn't or couldn't pace myself as I had planned, disappointed by my time.
There are setbacks contending with effects from ongoing treatment: moments when she has to stop and sit on the sidewalk to prevent herself from passing out. And there are moments when she performs well.
Throughout it all, there is societal pressure to pretend that all is okay, that the cancer is over, a distant memory, but she can't sugarcoat her reality. She tells her support group leader how important it is to be honest about cancer's fallout, to have a place where she can be herself, unfiltered, in a room full of others who understand. Cancer has changed her body and mind.
On November 6th, she runs the NYC marathon. It is a triumph, but not in the sense of the cultural story we tell of the comeback kid, when the curtain goes down and all is happy ever after. This race is not finished for Sasha and the other women in the breast cancer community. They will have enormous victories, but many will also experience ongoing side effects, fears about the future and unimaginable loss. It is time to rewrite this cultural story.
To me, the moral of the story is that Sasha had a goal and she worked toward it, day in, day out. Her goal was about helping others through helping herself. That is the victory my beautiful niece Sasha achieved!