Since retiring from the NBA, John Salley has only gotten betta. He's just launched target BettaLifechallenge, an inspiring, energizing jumpstart into the vegan world.
The goal is to "initiate you into this healthy way of life, to try it out for 22 days," he says, "to give people small, easily digested information to live a better life all the time." In addition to little bites, BettaLifechallenge offers bigger ones, with a 22-day detox meal delivery service through organic, plant-based DL revAMP and has plans to launch regional detox programs and retreats.
Salley, who led the Chicago Bulls, LA Lakers and Detroit Pistons to victory, spent much his life and his professional career "eating what they told me was food" -- steak, eggs, burgers, fries. "My fifth year of NBA wasn't going right for me. I found I had high cholesterol." Rather than going on drugs, as his doctor urged, Salley "got on the path." He went macrobiotic. . . and then he stopped. He was vegetarian, but "a lying vegetarian, eating shrimp, eating turkey on Thanksgiving." Then eight years ago, Salley did a PSA for PETA. "All the food was vegan."It was delicious and compassionate. "I decided I'm not going to be a liar any longer. A true vegetarian is vegan."
Being vegan is how he makes "this athletic body stay the way it is." At 50 years old and 6'11" of lean, solid muscle, vegan looks great on him.
It'll look great on you, too. Salley ticks off all the areas of stress in our lives "physical, financial and emotional, and then the stress of putting flesh in your body. It's the wrecking crew you brought into your system."

Salley's seen it. "I watched my dad die of cancer," he says. "I'm not going to die from what they say is food." He follows Chef AJ's unprocessed, oil-free diet. He's also a fan of raw. That said, the man likes to have a good time, charming the crowds and towering above them when he spoke at Seed Food and Wine Festival this fall.
"He's got such a great way with people," says Grey Hunt, his BettaLifechallenge partner. "He's so approachable and accessible, always genuine when he's connecting. It makes it really wonderful experience to be part of."
Salley was not only a featured speaker at Seed, he brought the wine. He's partner in the plant-based winery the Vegan Vine, one of the festival's sponsors.
With the Vegan Vine, "you don't have to wonder if it's sustainable, organic, vegan. We use nature to help nature grow," he says. And it's not just ethical. "It's really good California wine," he says. "We all know vegan food used to be Styrofoam with barbecue sauce. With the Vegan Vine, somebody got it right. This is something that tastes good that's vegan."
So what does Salley like to pair a bottle with? "Field Roast Italian sausage, sweet potatoes, spinach. After I massage it and clean it, I saute it in a small amunt of coconut oil -- it helps keep my liver clean -- or with water and onions. "
Great food and great wine offer great opportunities. "That's how you get into the conversation about animal products in everything," Salley says. Since becoming vegan, "I see things differently. I've evolved into a better person." Salley wants you in the game with him. That's what BettaLifechallenge is about. "I'm going to help as many people as I can."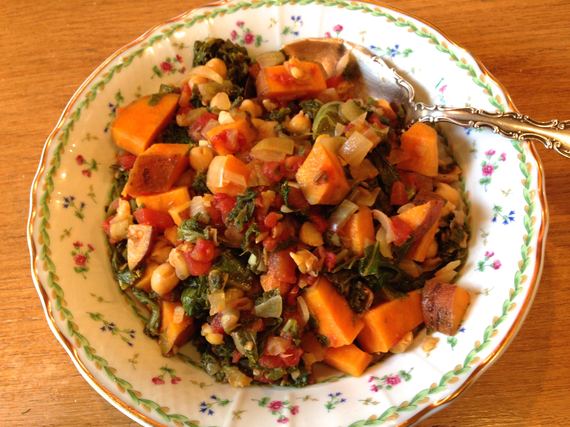 BettaLife Saffron Sweet Potatoes and Chickpeas with Kale

Suitable for holiday feasts and a bottle or two of the Vegan Vine, this elegant dish requires only 10 ingredients. None of them are oil. The olives provide both saltiness and healthy, whole fats.

BettaLife saffron sweet potatoes and chickpeas keep well covered and refrigerated for several days.

Serves 4.

1/2 teaspoon fennel seds
1 onion finely chopped
3 garlic cloves, minced
1 15-ounce can chopped tomatoes
1 good pinch saffron
1 sweet potato, chopped
1 15-ounce can chickpeas (or 2 cups cooked chickpeas), drained
4 cups raw kale, chopped into bite-sized pieces
1 handful pitted kalamata olives
1/3 cup dry white wine, such as The Vegan Vine chardonnay

Heat a large skillet over medium high heat. Add fennel seeds and chopped onion. After three minutes or so, the onion will start to sizzle. stir in chopped garlic and all the juices from the can of chopped tomatoes. After a minute, when the tomato broth has warmed, add the pinch of saffron and stir to combine.

Reduce heat to low, cover skillet and allow the onion to sweat in the tomato-saffron broth for 10 minutes.

Remove cover, increase the heat to medium and add the chopped tomato from the reserved can, the chopped sweet potato and the chickpeas. Stir and cover. Cook for about 20 minutes, stirring occasionally.

Add the chopped kale by the handful, the olives and pour in the white wine. Stir gently, until kale begins to wilt. Reduce heat to low and cover for another 10 to 15 minutes, or until everything is tender.

Enjoy.