No one loves lentils more than I do, unless it's the people in Pullman, WA. Pullman is in the heart of the fertile farming region called the Palouse, one of the nation's largest producers of lentils. They grow a hefty 150 million pounds of them each year.That's a reason to party, and the folks in Pullman aim to do just that. This weekend, they're set to celebrate the 26th annual Lentilfest.
Lentilfest began in 1989, but what it celebrates has been around for much longer. Lentils date back to 800 BC Babylon and they've been a hit ever since. With reason -- earthy and umame, that satisfying, savory flavor people crave, lentils are called the poor man's meat. A bag will only set you back a dollar or so but provide many meals with more nutrition than any animal. Disc-shaped lentils (from the Latin for lens) may be small, but they're loaded with protein. Half a cup of dried lentils has 9 tasty grams. One serving also provides 90 percent of your daily requirement of folic acid, plus a generous dollop of all those things you know you need -- complex carbs, fiber, iron and vitamin C. They're good for whatever ails you.
Lentils are cheap and nutritious yet fashionista-friendly. There's your basic brown variety, Pullman's specialty, but also chic French green lentils (lentils du puy), teensy beansy Indian red lentils and exotic black beluga lentils. Just as they come in a palette of colors, so do they vary in size, from the wee to the infinitesimal.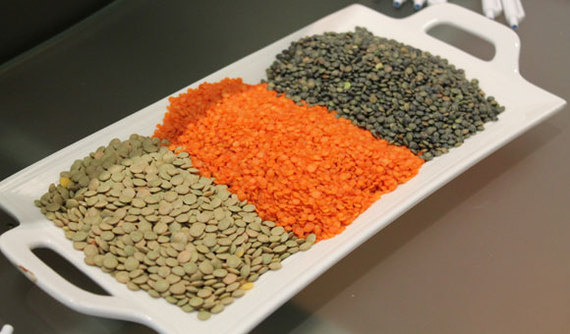 You needn't be a celebrity chef to prepare them, either. They require no overnight pre-soaking and cook up quickly, with a mildly nutty flavor that goes with everything. Lentils are a legume for all cuisines and all seasons. As we head into fall, think of dal, that spicy, soul-satisfying Indian curried lentils, then warming lentil soup for winter. Spring, lentils feature in significant salads, maybe with a stylishly French mustard vinaigrette. Summer means lentilburgers on the grill. Now, as summer melts into autumn, make lentils a player in pilafs (handy recipe below). Lentils keep in the pantry indefinitely, so they're ready whenever you are.
The people of Palouse are ready now. Lentilfest features a parade, the Lentil 5K Fun Run, 50K, 100K and 150 K bike rides and a lentil pancake breakfast. Debuting this year, a brand-new lentil golf tournament but back by popular demand are everybody's festival favorites, the legendary lentil cook-off and the giant bowl of lentil chili, 400 gallons of it.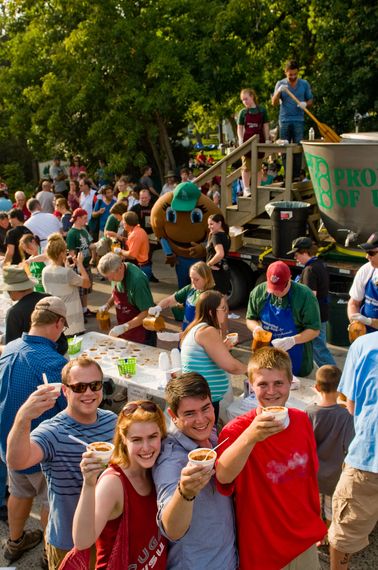 As always, Lentilfest is free. Well, that's right friendly of the Pullman folks. What else would you expect from the people who grow the friendliest legume?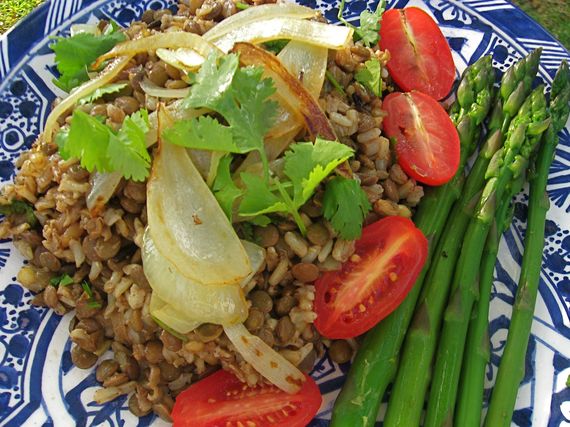 M'jeddrah

A classic Middle Eastern dish both simple and elemental, the lentils and rice cook together, taking on flavor and qualities greater than themselves. The rice and lentils soak separately before cooking, which brings the tenderness out in the rice and encourages the lentils, which normally require no presoaking, to keep their shape. We should all be so lucky. It's traditionally topped with sautéed onions and benefits from hot sauce, if you're so inclined. Add a salad or brassica something-or-other and you've got a meal.

Serves 6 to 8

1 cup brown lentils
1 cup brown rice
4 cups water or vegetable broth
1 bay leaf
2 tablespoons olive oil
1 large onion or two medium, sliced thin
1 teaspoon cumin, optional
Sea salt and fresh ground pepper to taste

Pour lentils into a small bowl. Cover with cold water. Do the same with the rice, in a separate bowl. Leave 'em to soak for 30 minutes at a minimum, for 2 hours, if you've got the time.
The lentils and rice don't need any fussing with, just let them sit.

Bring water or vegetable broth to boil into a large saucepan. Strain lentils into a sieve. Rinse in cold water. Add to broth. Do the same with the brown rice. Toss in bay leaf. Reduce heat to low and cook, covered, for 30 to 40 minutes, until lentils and rice are soft and fluffy and have soaked up all the liquid. Remove cover, remove from heat and set aside.

Just before serving, heat oil in a large skillet over medium-high heat. Add sliced onion and cook, stirring, for 3 to 5 minutes, until onions start to soften and turn golden and fragrant. Reduce heat to medium, and cook, stirring, another 10 minutes or so, until onions are brown and tender. Season with sea salt and fresh ground pepper.

Stir lentils and rice together gently. Remove bay leaf and season generously with sea salt, fresh ground pepper and optional cumin. Serve pilaf lavishly topped with onions.

Revisited/revamped from a post which originally ran August 24, 2009.