"My biggest goal in life is to empower people to don an apron and not be afraid in the kitchen," says Miyoko Schinner. God knows the girl has tried, with vegan cooking classes, her star turn on "Vegan Mashup" and books from her first vegan cookbook, "Now and Zen Epicure Cookbook" back in 2001 to 2012's "Artisan Vegan Cheese." People wanted vegan cheese. What they didn't want -- the empowering DIY part. They wanted MDI -- they wanted Miyoko to do it. Schinner's obliged. Welcome to Miyoko's Kitchen.
Just launched in September, Miyoko's Kitchen is producing nut-based cheeses with depth and flavor and a creaminess you thought you kissed goodbye when you went vegan. From creamy winter truffle to a hard aged smoked farmhouse, there's nine different varieties, all artisanal as anything.
While "Artisan Vegan Cheese" gave you the tools you need to make artisanal and animal-free cheese at home, Miyoko's Kitchen is on another scale entirely. Industrial. "We have bigger equipment, we don't have a single blender on the premises, we don't soak the nuts." Gone, too, is rejuvelac, a water-based ferment made from soaking sprouted grains. It's okay for small batch "Artisan Vegan Cheese" recipes, but for commercial production, Schinner wanted reliable, standardized and plant-based. She spent two years "to find cultures that could work that were vegan" and that earned her seal of approval. "I won't compromise."
Her cultured nut products -- Schinner's term, which is accurate if not romantic -- reflect that ethos. Meatless since the age of twelve, she loved cheese, especially the rich, ripe cheeses she enjoyed traveling around Europe. Cheese didn't love her back. She went vegan, not just for her own health but to save animals. "That's why I do this," she says. Schinner maintains compassionate, vegan and pleasure all go together like vegan cheese and wine. "I have a firm belief in making real food. I'm not interested in a product -- it's laboratory food." The cheeses from Miyoko's Kitchen are made with the culturing and aging techniques of artisanal dairy cheese, but without the dairy.
She's doing something right. With her small staff, Schinner's working to keep up with artisanal vegan cheese demand, "making 500 to 600 units a day" and is ramping up to double production. You may never have to whizz up a homemade batch of cashew cream cheese again. But Schinner hopes you do. Her upcoming book, "The Homemade Vegan Pantry: The Art of Making Your Own Staples," due out July 2015 may be what it takes to lure you into the kitchen.
With all the hours she's putting in at Miyoko's Kitchen, the author's own vegan pantry has never been so bare. Instead of the sumptuous homecooked meals she's used to preparing, "We've been eating very simply. I'm a rice girl, so we'll have brown rice and veggies." It's all for a good cause.
Though Schinner hopes to get back to her own kitchen in time, with Miyoko's Kitchen, "I really feel blessed," she says. "I'm doing some good. This is my mission, vegan mission-based job."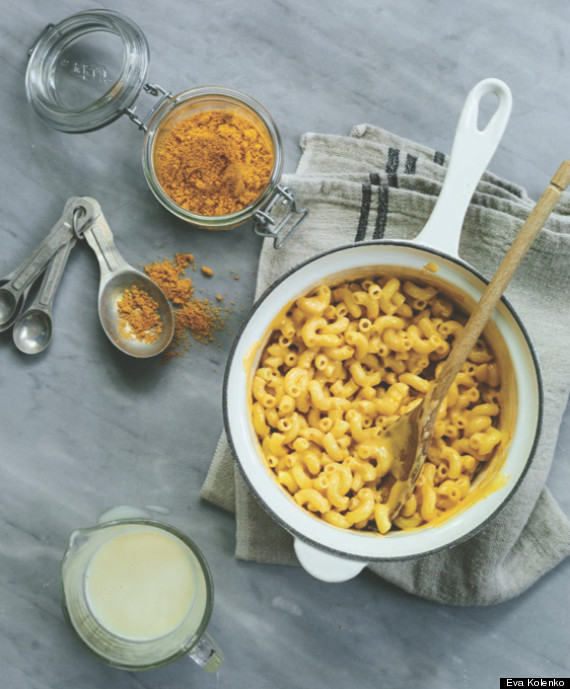 Well crafted macaroni and cheese mix

This exclusive recipe is reprinted with permission from "The Homemade Vegan Pantry: The Art of Making Your Own Staples," by Miyoko Schinner, copyright 2014. Published by Ten Speed Press, a division of Penguin Random House, Inc.

Unless you were raised by macrobiotic hippies, you've had it. I've had it. And there's no shame in saying it-- we've all had macaroni and cheeseout of the box. My kids would plead with me to buy it, and I was thrilled when the vegan stuff came on the market. Maybe you don't crave it anymore, but it sure is convenient to have some on hand for the kids or the babysitter. But there's no need to buy it, because you can make the instant cheese sauce mix yourself in just a few minutes! This version is richer than the variation that follows, utilizing glorious cashews.

1 cup cashews
3/4 cup nutritional yeast
1/4 cup oat flour
1/4 cup tapioca flour
1 tablespoon paprika
1 tablespoon organic sugar
2 teaspoons powdered mustard
2 teaspoons sea salt
2 teaspoons onion powder

Add all of the ingredients to a food processor and process until a powder is formed. There should not be any discernible chunks or large granules of cashews, so this may take 3 to 4 minutes of processing. Store this in a jar or portion out into 1⁄3-cup increments and put in ziplock bags and store in the pantry for a month or two or in the refrigerator for up to 6 months.

MAKES 1 2/3 CUPS, OR ENOUGH TO COAT THE EQUIVALENT OF 5 STORE-BOUGHT BOXES INSTANT MACARONI AND CHEESE

HOW TO USE WELL-CRAFTED MACARONI AND CHEESE MIX
Cook 1 cup of dry macaroni according to package instructions and drain. Combine 1⁄3 cup mix with 1 cup water or unsweetened nondairy milk in a saucepan over medium-low heat. Whisk well and bring to a boil. Simmer for 1 minute, then toss with hot cooked macaroni.

These mixes are also a great answer for turning yesterday's leftovers into a quick casserole. Just combine leftover pasta, potatoes, or grains, some veggies, and any other odd scraps you think might be a good fit and mix it in a casserole dish with some of the cheese mix and water. You can add additional spices and herbs if you wish. Then bake it all up into creamy goodness. You can also use the mix to make quick sauces for veggies or add it to soups for extra cheesy flavor and richness--it's quite versatile.