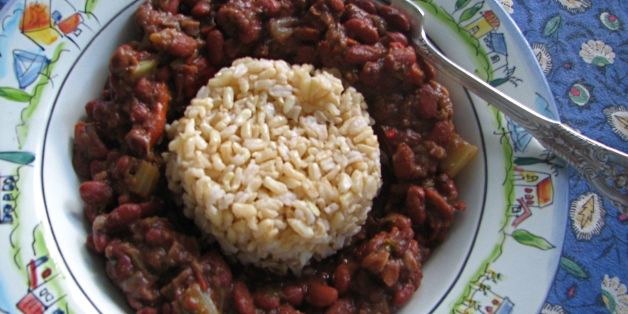 It's Memorial Day, honoring those who died in service to our country, and for most of us, it's an extra day off. An extra day off is a such a luxury, a delight, a bonus. So why doesn't an extra meal give us the same thrill? I've never understood why some people sneer at leftovers. Do the work once in the kitchen and you get multiple payoff, multiple meals. Think of them not as leftovers but as free food. Leftovers need rebranding -- I prefer to call them lagniappe, the Creole term for a little gift or something extra for free.
Spurning leftovers does not honor anyone, especially not the environment. We throw out a third to a half of our food. We can't afford that kind of nonsense and neither can the planet. Waste heats up our already overheated planet. Our carbon output is already way above the sustainable level. It's the thing that's driving catastrophic climate change.
Wanna try and lower our temp and our risk? Waste less and and eat plent-based more. Every time you choose a meatless meal, you reduce your carbon footprint. For a cooler planet and a meatless recipe that gives you that little something extra, you can't beat dried beans. They're your great source for lagniappe. Bought in bulk, they have little packaging and keep in the pantry, so there's nothing to waste. They stretch a dollar, stretch a meal and provide abundant plant-based protein and fiber. Beans feed you now and feed you later, too, by feeding the soil. That's right, beans even offer a little something extra to the earth. Every summer, I plant a cover crop of cowpeas to replace nitrogen in the soil and enrich my vegetable garden.
Today, we can honor those we've lost and honor what we have, too. Monday has traditionally been a day of lagniappe in New Orleans. It's the day for RBR, red beans and rice. Used to be Mondays meant household washing day, when you didn't have time to mess with cooking. Throw a few ingredients in a pot and RBR can simmer all day, unattended. Time is its friend, and yours.
There's an extra reason RBR is a Monday dish. Fridays were regular paydays. You'd get to take your salary, have a wild weekend. . . and not have much money come Monday. And yet you could feast through the week on a pot of RBR. It's not just beans, it's lagniappe, it's part of New Orleans' soul. Louis Armstrong used signed his letters, Red beans and ricely yours.
The classic version comes with a little something extra you may not want -- sausage. Not friendly for the planet, not friendly for pigs, not good for you, either. You can substitute meat analogs, but they, too, come with potentially unwanted extras including soy isolates and GMOS.
Red beans and rice doesn't need that something extra. Smoky, sludgy, stewy and burnished red from the beans themselves, nary a tomato, it's a slow-cooked dream of a dish that's delicious tonight but tastes even better as the week progresses. That's lagniappe.

Red Beans and Rice
The beans need to be soaked overnight beforehand. Plan ahead.

Ladle over rice -- white rice is traditional in New Orleans, brown is healthier.Keep the hot sauce handy -- for a little something extra.

1 pound dried red beans (aka kidney beans), picked over, rinsed and soaked overnight
6 cups water
8 garlic cloves, 2 whole, 6 chopped
3 bay leaves
1 dried pepper (optional)
3 tablespoons olive oil
2 large onions, chopped
5 stalks celery, chopped
2 red or green peppers, chopped
2 teaspoons fresh thyme leaves from a few sprigs of thyme or 1 teaspoon dried thyme
2 teaspoons of your favorite hot sauce (more if you like it hot)
1 teaspoon allspice
2 teaspoons smoked paprika
1 dried pepper, crumbled or pinch red pepper flakes (optional)
generous sea salt and fresh ground pepper to taste

Rinse and drain soaked beans.

Bring 6 cups of water to boil in a large soup pot. Throw in two whole garlic cloves, 1 bay leaf and the optional dried pepper. Add the beans. Cover and reduce heat to medium. Leave the beans to themselves for 2 hours, or until tender but shapely.

In a separate large pot, heat the oil over medium-high heat. Add the 6 cloves chopped garlic, the chopped onions, celery and peppers. Cook, stirring, until vegetables soften and glisten with the oil, about 10 minutes. Add the thyme, hot sauce, allspice and smoked paprika and optional and dried pepper. Carefully tip the beans into the pot of vegetables. Stir to combine.

Bring to a boil, then reduce heat to medium or medium-low, until you reach a very low simmer. Continue cooking, uncovered for 2 to 3 hours. The longer it cooks, the happier the beans and you will be. You need only give it an occasional stir. When you until you have a pot of creamy red and you can't tell where the beans start and the vegetables end, you have achieved RBR.

Remove bay and whole garlic. Season with sea salt and pepper.

Serves 6 to 8.

This post originally ran on May 27, 2013. It's still a goodie. We hate to waste.