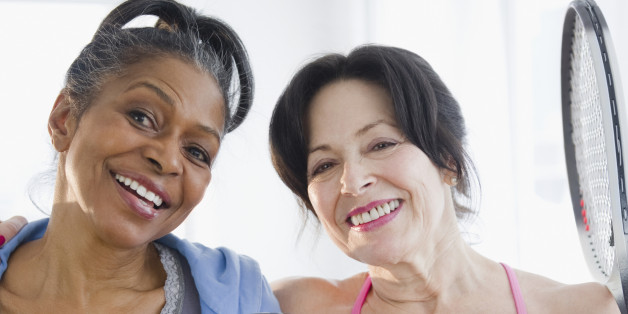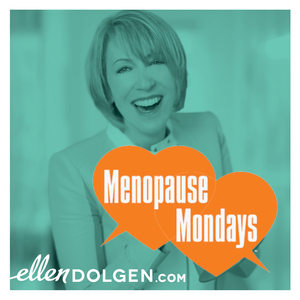 You may feel like you're going through perimenopause or menopause all alone, but if you're married, your husband probably feels like he's going through it with you! Every night you toss, turn and throw off the bed covers is probably an eye-opener for him. Literally. Every time you complain about hot flashes, he sweats it out. No doubt he's been the brunt of your menopausal mood swings. And sex? It's a good test of his memory.
So this Father's Day promise hubby you'll take care of yourself... to show how much your care for him.
Find excuses TO exercise
Exercise is important at any age. For women in the midst of perimenopause and menopause, however, exercise is more important than ever. If your ever-tightening waistband isn't enough reason to get you moving, these facts should:
And on the seventh day...
Just as your body needs exercise, it also needs to rest. Your body repairs and rejuvenates itself when you rest. Here are a few shout-outs for shut-eye:
Inadequate rest can adversely affect your mood.
Lack of sleep/rest can have a boomerang effect, making you overtired -- and making it harder to fall asleep at night.
Meditation can alleviate stress, an unwanted byproduct of perimenopause and menopause
Exhausted at the end of the day? If so, it's unlikely you'll want to get frisky with hubby. (Notice how we keep coming back to sex? Remember, it's not all about you!)
A balanced diet
When I say "diet," I don't mean a strict weight-loss plan. I'm talking about healthy eating as a way of life. Here are a few reminders of what you should -- and shouldn't -- be eating:
According to the Academy of Nutrition and Dietetics, focus on vegetables, fruits, whole grains, low-fat dairy products and lean protein foods.
Limit yourself to one alcoholic beverage a day. (Yes, you can toast dad on Father's Day.)
Avoid super-sized portions. You might want to use a smaller plate, bowl and glass. It's a mental thing; your plate will look full but will contain less food (and fewer calories).
When eating out, select healthy menu options. (Yes, you can go out on the town for Father's Day.)
Cook more often at home so you can control exactly what you're eating. (You can make hubby's favorite foods... and include healthy options for yourself, too.)
Watching your diet can help you in the battle of the bulge, keep your weight in check... and make you feel sexier in the sack. (Yes, we're back to sex again.)
Forget the silk tie this Father's Day (unless we're talking a Fifty Shades type of celebration!). Instead, start taking care of yourself. But don't stop there. Make it an ongoing priority. And if you feel a hot flash coming on, you can shed your clothes and tell hubby you're feeling amorous. (It'll be our little secret.)
Happy Father's Day!
For more by Ellen Dolgen, click here.
For more on women's health, click here.
Ellen Dolgen is an outspoken women's health and wellness advocate, menopause awareness expert, author, and speaker.
After struggling with her own severe menopause symptoms and doing years of research, Ellen resolved to share what she learned from experts and her own trial and error. Her goal was to replace the confusion, embarrassment, and symptoms millions of women go through-before, during, and after menopause-with the medically sound solutions she discovered. Her passion to become a "sister" and confidant to all women fueled Ellen's first book, Shmirshky: the pursuit of hormone happiness. As a result of the overwhelming response from her burgeoning audiences and followers' requests for empowering information they could trust, Ellen's weekly blog, Menopause MondaysTM, was born.
Menopause MondaysTM is a platform from which Ellen reaches the true needs of her readers through varied and substantive discussions of menopause, women's health, and the modern woman's life today as a menopausal woman. Her weekly newsletter provides readers the most current menopause news and research. With her updates, women gain access and the knowledge needed to take charge of their health and happiness. Her motto is: Suffering in silence is OUT! Reaching out is IN!
In addition to Ellen's ever-growing social media presence, EllenDolgen.com has fast become "the place" on the web for informative and entertaining women's menopause and wellness engagement. Ellen is #1 on Dr. Oz Sharecare.com Top 10 Social HealthMakers on Menopause. In 2012, 2013 and 2014, EllenDolgen.com / Menopause Mondays was named first on the list of the "Best Menopause Blogs" by Healthline. Ellen is also a regular contributor to over a dozen leading women's health blogs.
Click here to read Ellen's full bio
Like Ellen Dolgen on Facebook, follow her on Twitter and Pinterest, connect with her on LinkedIn, Google+, and Klout, watch her videos on YouTube, and subscribe to her newsletter.