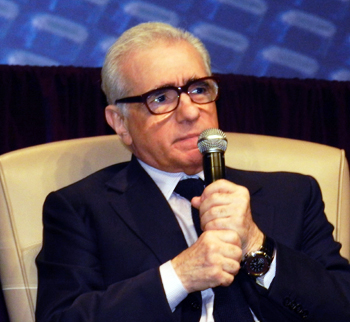 Imagine you're watching Raging Bull, Martin Scorsese's (left) towering 1980 film about boxer Jake LaMotta.
LaMotta, played by Robert DeNiro, is in the ring and fighting hard against Sugar Ray Robinson or Marcel Cerdan or, really, against any opponent. Imagine that he is about the land a hard punch and that as his fist is about to make contact with his opponent on the screen, you flinch.
Well, that probably didn't happen to people sitting in the audience watching the Raging Bull, when it was released. But, suppose it were released today and had been shot in 3D. If that were the case, it's likely that you could feel the force of the oncoming blow and would, indeed, flinch.
Well, if Scorsese were to do Raging Bull today, there's a good chance that would be the case. The same with Taxi Driver. In fact, he said at a seminar on Wednesday, "I would have practically done all my films in 3D."
Scorsese, along with fellow director Ang Lee, was talking at CinemaCon, the annual gathering of the National Association of Theater Owners (NATO) in Las Vegas last week.
In fact, Scorsese said, he would have liked to shoot all his films in 3D but only first used the format for Hugo in 2011. The film has been hailed by many as the best example of 3D filmmaking that exists today.
Lee, for his part, said he'd probably shoot The Incredible Hulk in 3D. His first foray into that technology, the upcoming December release Life of Pi, several minutes of which were shown at the convention, left viewers practically screaming with joy. But, Lee said, admitting he was intimidated by shooting in 3D, "We're still novices at this. It's hard to shoot in 3D, but it makes it more interesting. The experience is more intense."
At the Sony Pictures 2012 preview, footage from their upcoming Sparkle drew some ooh's and ahh's as Whitney Houston came onscreen. The film, in which Jordin Sparks plays the title role, also stars Cee Lo Green and Mike Epps.
Other films on the Sony slate -- including Men in Black 3, Skyfall, the next Bond film, Adam Sandler's That's My Boy, along with footage from The Amazing Spider-Man, Hope Springs, starring Meryl Streep, Tommy Lee Jones and Steve Carrell, along with Total Recall left the theater owners in the audience very happy.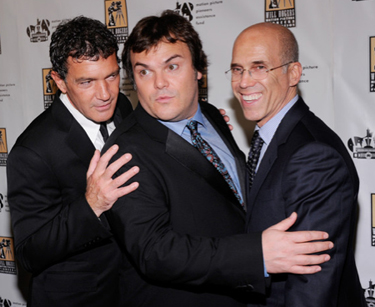 Wednesday night, the annual Will Rogers Motion Picture Pioneers Foundation's Pioneer of the Year Award honored Jeffrey Katzenberg, CEO of DreamWorks Animation. The dinner was hosted by Jack Black, Antonio Banderas (with Katzenberg in photo at left) and Cameron Diaz. In accepting the honor, Katzenberg, noting that he's been in the business for more than 40 years, quoted Will Rogers advice that, to be successful, a person must "know, love and believe" in what they are doing.
Twentieth Century Fox unveiled a slate of big films to be released over the rest of the year. The greatest highlight among many was the above-mentioned Life of Pi, Ang Lee's film of Yann Martel's 2001 best-seller about a 17 year-old boy trapped on a small boat with a Bengal tiger.
Introducing it, Lee stressed that the audience was about to see an unfinished work. He said he is "so happy I got to make that attempt and learn the 3D language."

Also shown was previously unseen footage from Prometheus along with scenes from Abraham Lincoln: Vampire Hunter, Diary of A Wimpy Kid: Dog Days, Ice Age: Continental Drift, Won't Back Down, Taken 2 and the Thanksgiving release Parental Guidance starring Billy Crystal, Bette Midler and Marisa Tomei.
The studio announced a Planet of the Apes sequel, The Wolverine sequel starring Hugh Jackman and a remake of The Secret Life of Walter Mitty to star Ben Stiller.
Celebrating its 100th anniversary, Universal showed bits of a varied slate of movies for the rest of the year. Charlize Theron and director Rupert Sanders introduced Snow White and the Huntsmen. Later, Seth MacFarlane introduced footage from Ted, his first venture into filmmaking. It's the story of a man (Mark Wahlberg) and his Teddy bear, a childhood gift that came to life.
MacFarlane said he enjoyed movies, as opposed to TV, because he could use as many "f***s" as he wanted in the movies.
Jeremy Renner was there to talk about The Bourne Legacy, in which he continues the franchise that formerly starred Matt Damon.
There was very early footage of Universal's Christmas film, Les Miserables, starring Hugh Jackman, Russell Crowe and Anne Hathaway, along with This Is 40, Judd Apatow's sequel to Knocked Up. Next year was represented with a bit of 47 Ronin and the Tom Cruise film, Oblivion, to be released next April.
The highlight of this presentation was Oliver Stone's Savages about dealing drugs in Mexico. Stars John Travolta, Salma Hayak and Taylor Kitsch, along with Stone, were there to talk about the movie.
The four days of CinemaCon were capped with the CinemaCon Big Screen Achievement Awards ceremony. Hosted by Billy Bush, the night led off with the Fandango Fan Favorite Award for the favorite movie of 2011 voted by fans. The winner was The Help.
Sylvester Stallone kicked off the presentation with the Career Achievement Award. Other honorees were Male Star of the Year, Jeremy Renner; Female Star of the Year, Jennifer Garner; Distinguished Decade of Achievement in Film, Charlize Theron; Cinema Icon Award, Michelle Pfeiffer; Comedy Star of the Year, Anna Faris; Award of Excellence in Filmmaking, Judd Apatow; Male Star of Tomorrow, Taylor Kitsch; Female Star of Tomorrow, Chloë Grace Moretz; Breakthrough Performer of the Year, Josh Hutcherson and Rising Star of 2012, Diego Boneta.
In addition to the studios talking about their upcoming films, tech companies discussed their new technology. More on what it means to audiences and theater owners to come.
Photo of Banderas, Black and Katzenberg: Ethan Miller, Getty Images
All other photos © Ellen Sterling