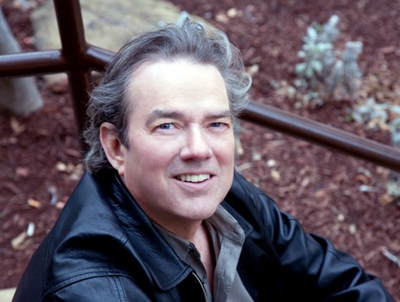 It's probably a sure bet that there are few, if any, people who don't know at least one of Jimmy Webb's songs. Just consider his catalog which, among many others, includes "Up, Up and Away," "Didn't We," "Highwayman," "Wichita Lineman," "Galveston," "By The Time I Get To Phoenix," "MacArthur Park," "The Worst That Could Happen" and heaps more. Like the list of songs he wrote, the list of recording artists with whom he's worked and for whom he's written -- with one notable exception mentioned below -- is a list that includes the greatest singers ever. In return, those singers were able to sing Webb's iconic, timeless songs that are so deeply ingrained in the history of American music.
I was able to talk to Webb in Australia where did a series of shows earlier this summer. At the Adelaide Cabaret Festival, he performed his act and, as a bonus, held a Q-and-A session where he also talked informally about his life in music.
Jimmy Webb was born in Elk City, Oklahoma, a preacher's kid. His parents loved music so much they named their sons -- Jimmy and Tommy -- after the Dorsey brothers. The music he could listen to as a child was closely monitored by his father. It may be ironic that the first record he ever bought for himself was Glen Campbell's Turn Around, Look At Me.
Webb's family moved to Southern California and, when his father decided to return to Oklahoma, he decided to stay and pursue music. His first job as a songwriter saw him signed to Motown's publishing arm. The first commercial recording of one of his songs was "My Christmas Tree," recorded by The Supremes for their 1965 holiday album.
"Motown," he says, "was Harvard for songwriters. It was a great place to learn, very supportive."
He met Johnny Rivers, who recorded Webb's "By The Time I Get To Phoenix" in 1967. Later that year, he was introduced to Glen Campbell, who took one look at the songwriter with the long hair and told him to, "Get a haircut." But Campbell also recorded "By The Time I Get To Phoenix" and continued to record Webb's music.
Despite that and despite the fact that Webb's and Campbell's politics are diametrically opposed, the two formed a partnership that has become legendary, with Webb writing Campbell's biggest hits. In an interview a few years ago, Campbell said of Webb, "His writing just touches something in me. I love it. I think it's the chord progression married with an incredible melody. He's an excellent musician, conductor, arranger. It all fits."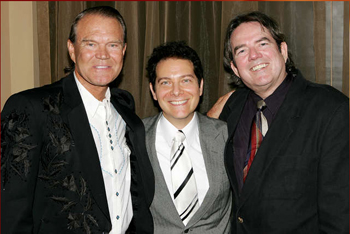 Webb and Campbell perform together around the country. (In the photo right, Campbell and Webb flank Michael Feinstein at his Manhattan club, Feinstein's at Loew's Regency, in June, 2005.) In June, 2011, Webb did a concert with Campbell who, shortly afterwards, announced that he has Alzheimer's disease. Webb says, "He performed really well, singing everything. His memory may be affected -- he used a teleprompter for the lyrics -- but not his voice."
In 1968, there was another major breakthrough for Webb and, as a result, a major change in popular music. That was the year Richard Harris recorded and released "MacArthur Park."
Webb explained that he and Harris met at an anti-Vietnam-War rally in Los Angeles. "We got to be good friends and we'd drink and sing Irish songs. I thought he sang very well in Camelot," Webb says, "and we talked about working together. Then, one day, he sent me a telegram that said, 'Dear Jimmy Webb, come London, make record. Love, Richard.' So I went.
"Richard Harris," he says, "was a sweet man and he became a very important part of my life."
One of the songs they recorded was "MacArthur Park." At more than seven minutes in length, its popularity changed popular music on the radio forever. "It was played on FM radio," Webb recalls, " when AM radio was the standard and the DJs were the stars. Then it all changed with that song."
He acknowledges that lots of people are still mystified by the meaning of the song. While there have been all sorts of speculation and theories -- including the fact that the cake in the song was laced with weed and the song arose out of Webb's heartbreak when a girlfriend left him and married another man in a park -- the one fact that is crystal clear after more than 40 years is that MacArthur Park remains one of the most successful songs ever. It has been covered by scores of singers, even in a disco version by Donna Summer, and it remains a touchstone for the 60s generation.
And, of course, one must ask, where the line "someone left the cake out in the rain" originated.
Webb says, "Everyone wants to know that. The line is from the poet W. H. Auden. He said when he looks in the mirror his face looks like a cake someone left out in the rain.
The late songwriter Sammy Cahn, who wrote the Sinatra classic All the Way, said, "I think one of the real, real geniuses is Jimmy Webb. His MacArthur Park is a major piece of work, major. I'd almost compare it to Gershwin's Rhapsody in Blue in size and scope."
Jimmy Webb is the only artist to win Grammy Awards for music and lyrics and for best orchestration accompanying a vocalist (1969 for "MacArthur Park").
"By the Time I Get To Phoenix"was the third-most recorded song from the 1960s to the 1990s and "Up, Up and Away" was in the top 30. Although every song he writes doesn't get recorded, he says, "It's very flattering" when I'm asked to write a song by an artist.
Webb has worked with all the greats but, when he speaks of one of them years after the fact, he still seems a bit awed. That would be Frank Sinatra -- to whom he always refers as "Mr. Sinatra" -- and it is worth noting that Sinatra said "By The Time I Get To Phoenix" was the greatest torch song ever written.
Webb has composed for musical theater, noting, "I probably have six or seven Broadway scores. The first two were with [A Chorus Line director/choreographer/originator] Michael Bennett. I also worked with Peter Stone [librettist of many Broadway hits including 1776]. And, now, "MacArthur Park" is enjoying new popularity as it's featured in the Broadway show, Priscilla: Queen of the Desert.
His 2010 album, Just Across the River, features collaborations with Campbell, Billy Joel, Mark Knopfler, Lucinda Williams, Michael McDonald, Jackson Browne, Linda Ronstadt, Vince Gill, J.D Souther and Willie Nelson, with whom he sings "If You See Me Getting Smaller". Of the latter song he recalls, laughing, "I was watching that Gwyneth Paltrow movie Country Strong. I wasn't really paying attention until she said at the end, 'Like Waylon sang to Willie...If you see me getting smaller, I'm leaving.'
"Waylon," Webb says, "didn't say that to Willie. And, if they were using my song, they should have told me."
Webb has continued to write and record with a range of talent. Asked if there's anyone he would like to work with that he hasn't, his response is immediate. "Paul McCartney," he says.
When the interviewer comments that "there's still time," he shakes his head and raises is right arm. "No," Webb says, "he's way up here. The rest of us," he adds, lowering his arm, "are down here."
Webb's favorite non-work pastime is boating. "I love it," he says. "I love the pristine water." He and his wife, PBS executive Laura Savini, whom you may see on PBS pledge drives across the country, live in a waterside community on Long Island, New York. "I'm in my boat as often as possible," he says.
Today, Webb does about 50 dates a year and, clearly, really enjoys performing. He plays around the world in concert halls and clubs. "You don't necessarily think your music is so well-known to people all over the world. It's very satisfying," he says.
At the Adelaide Cabaret Festival in Australia, he opened his show with his haunting song Highwayman, the story of four souls -- a highwayman, a sailor, a construction worker building the Boulder (Hoover) Dam and a "starship captain" -- that, though it was recorded by others, was a massive hit for Johnny Cash, Waylon Jennings, Willie Nelson and Kris Kristofferson who formed the supergroup The Highwaymen and recorded it.
He went on to sing, talk and entertain an audience familiar with his work and one that, quite obviously, enjoys it.
This year, Jimmy Webb succeeded Hal David as chair of the Songwriters Hall of Fame (SHoF), the organization founded in 1969 by Johnny Mercer and music publishers Howie Richmond and Abe Ohlman, to celebrate the best practitioners of art of writing poplar music. Based in New York City, with a new dedicated gallery in Los Angeles at the GRAMMY Museum, each year the SHoF inducts those deemed deserving and also has an awards gala.
While he says that he listens "to about 80 percent classical music," Webb is a deep believer in the SHoF's mission. He says, "My mission and the mission of those of use who sit on the boards of [music rights management organizations] ASCAP and BMI is to somehow keep this music in play, to see the whole songwriting tradition doesn't die. We really are in lots of trouble; the songwriting tradition is in lots of trouble. There's a lack of interest.
"The one thing that may save the music at the end of the day," he adds, "is that people will fall in love, get married and have children and, for each of these occasions, they will want an appropriate song.
"Music," Jimmy Webb says firmly, "can save the world. It already has done so more than once. It will do so again. But, we have to save the music."
Jimmy Webb was profiled on CBS Sunday Morning on July 31. It is a fine portrait of a man who loves what he does. You can watch it just below and, if you have the opportunity, you will probably really enjoy his show.
Photos above used by permission.